My Visual Record of the West Street
Yangshuo, once a small fishing village, has become a more and more popular spot. The beautiful sceneries, simple folklore, and the soft air of romance make it the first choice for office workers to relax themselves.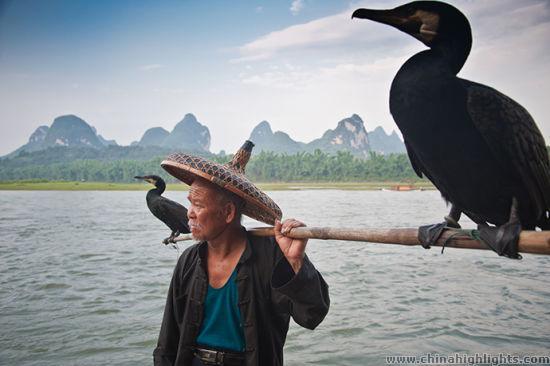 On the quayside of Yangshuo, a fisherman with his cormorant provided a photographing service. Travelers can pay for taking photos of him. In Yangshuo, there are many local people speaking simple English on business, which is interesting and convenient for foreign travelers. I remembered my last trip to the Lijiang River. With a backpack, some steamed buns, I had visited the Lijiang River on foot, enjoying freely the beautiful sceneries along the river. Things are different now. Travelers need to spend 120 Yuan on a ticket to hike along Lijiang River.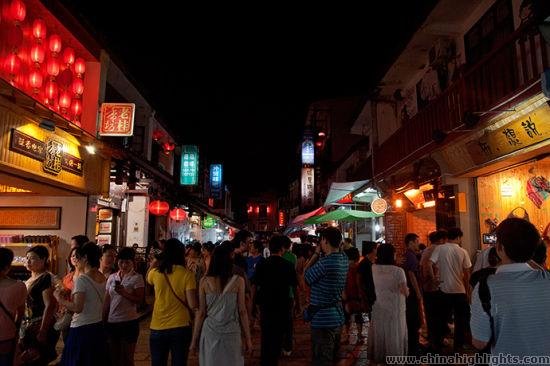 The Thronged West Street
Years after, I visited West Street again, only to find that great changes have take place since last time. I wanted to take photos of fishing lights on Lijiang River so I chose a when it's dark. The Lijiang River at night is really fascinating though it's difficult to shoot.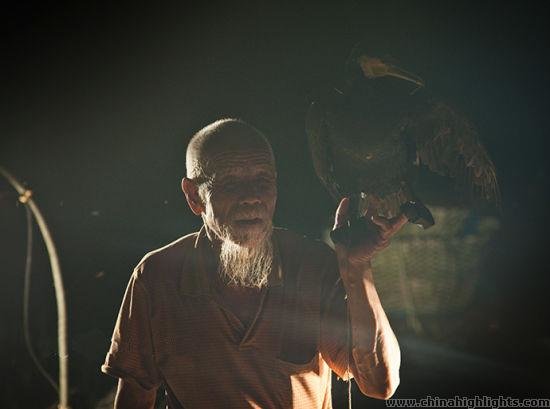 Now, these fishermen don't need to fish on the river.
I met an old fisherman when he was plying the river with cormorants to catch fish. Nowadays, these old fishermen don't need to catch fish day and night because they earn their living by providing performance for traveler to take photos of them.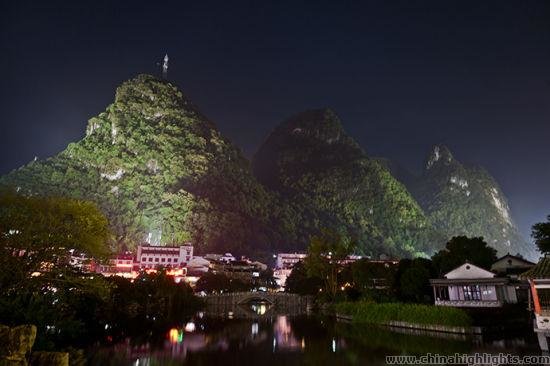 Yangshuo County at Night
I was impressed mostly by the Lijiang River, the mountains along the river, and the cheap but great rice congee in the old food market and various vegetable with that. But now, they are replaced by a new market.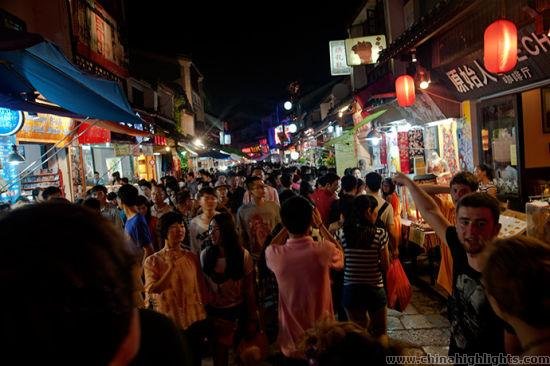 People Coming and Going on the West Street
Mountains standing in Yangshou County are as brightly lit as in daytime because of tremendous searching lights.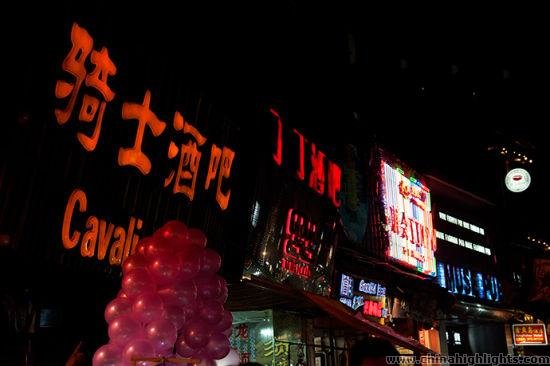 Pubs and Clubs on West Street
At night, every corner of the West Street is thronged with travelers. Travelers can have a talk with friends or relax in pubs or clubs after a day trip. Crowds of travelers coming there make the Street busier than before. Maybe Some one like me will miss the relatively quiet Street.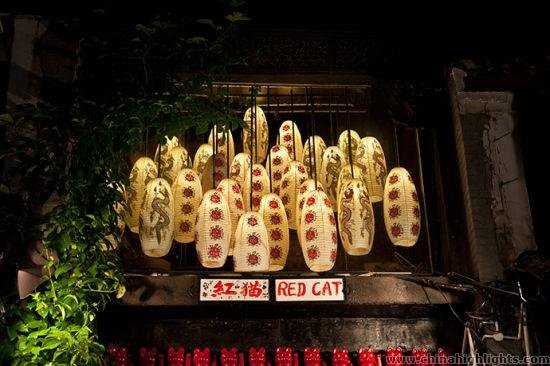 A Special Pub
Apart from travelers, the West Street is busier than before because of scattered shops and stalls. Travelers are easy to be dazzled by a variety of delicate small items and attracted by the local snacks.
There are different types of pubs and bars on the West Street, particularly many heavy metal-themed bars springing up, which appeals to the young from home and abroad.
Roaming the West Street, I enjoyed appreciating those bars and pubs with special names and distinctive appearances. I even had a sudden feeling that I was still in a modern city.
Have a Rest
Because of its convenient location, it's said that Yangshuo is an ideal place for those travelers from Guangzhou and Shenzhen, the two busy metropolises. Travelers escape from the big cities to Yangshuo to relax themselves and enjoy a leisure country life.
Now, Yangshuo, the once fishing village, has become more modern. On the West Street, there are some fancy shops and interesting bars where lots of foreigners will stop to take photos. They seem to look for something different from their countries.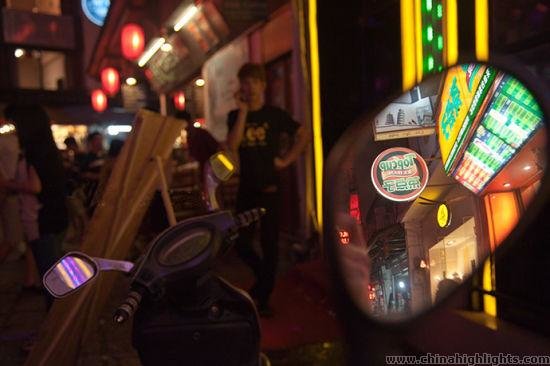 Prosperous West Street at Night
In front of a bar, I saw a sweet girl singing, beautifully, which drew me to go inside. The receptionist invited me in warmly but I was in a quandary about whether to go, for I had thought that such good singers should have sang such songs in a simple environment.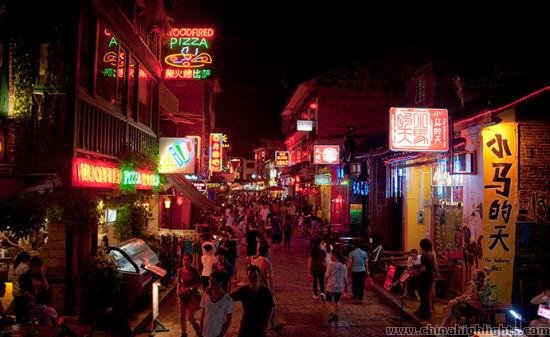 Commercial West Street
Maybe, some people realized that many travelers needed returning to the basics and a life of ease. Therefore, some quite, peaceful, and simple bars appeared among those busy ones.
A waiter in historical clothes stood at the entrance of a bar to receive guests. The expressions on his face were so cute that he became the focus of travelers' attention. He posed to me and made a grimace when I was taking his photograph.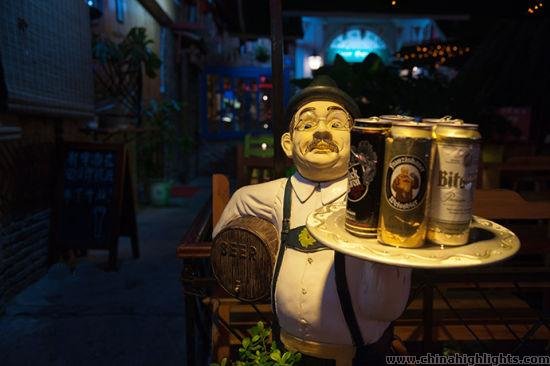 Cute Expression
The bland read Yuan Shi Ren (Primitive Man) shows its idea to get back to the nature and simplicity. The modernization brings much convenience to our life but it also takes something off. Maybe this's why so many people in the city want to get away from it all.
At an entrance of a bar, a vivid waiter-shaped statue with a few cans of beer on a tray attracts the attention of travelers to take photos.
I still remembered that I had ever hung around the pubs or bars on the West Street at one night, wanting to find something even I didn't know. Sitting on a bench on the West Street, drinking coffee, I seemed to see myself idling on the Street.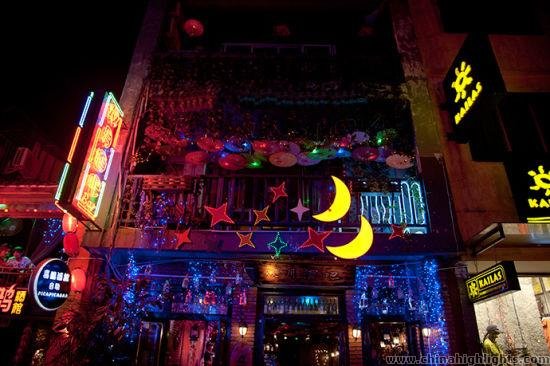 An Unique Bar with Delicate Decoration
There are many foreigners in Yangshuo particularly on the West Street. Foreigners chart in pairs in bars or pubs while Chinese people in groups.
The lovers like to bill and coo in those relative quiet bars or cafeterias. So distinctive may you feel when you enterthem alone.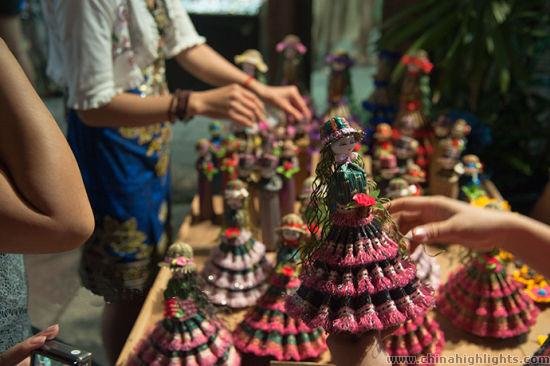 Hand-Braided Barbie Girls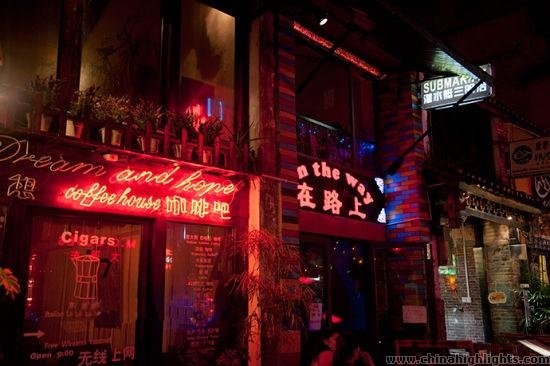 Café
There are many small bars at the back of the West Street. They are quiet and romantic for the lovers.
In summer, there are many travelers on the West Street though it's hot. Therefore, cold drink stalls are always crowed with travelers who were all of sweat.
There are some attractive stalls selling the kinds of beautiful handicrafts, among of which hand-braided Barbie girls are very popular with travelers.  
It's said that the West Street was the paradise of office workers, while I thought it's also epicures' paradise. Travelers often find some special tasty food in unassuming places.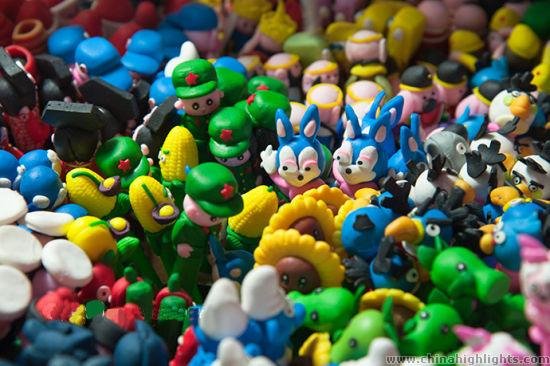 Lovely Dolls
Street food stalls don't have an environment so good as restaurants but they are also popular for their quality food. Travelers enjoy their food here, avoiding the noise of the Street.
The most famous dishes in Yangshuo are stewed fish in beer, stir-fried snails with chili, and Guilin-style rice noodle. They are delicious and popular among local people and highly recommended.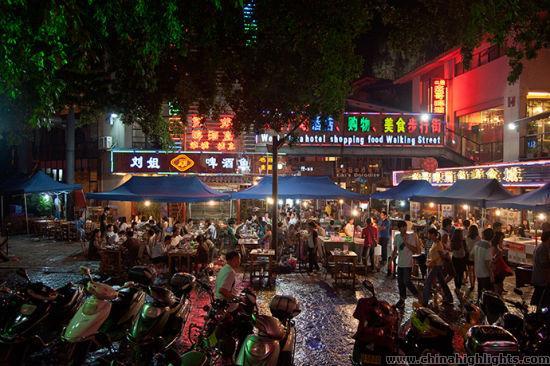 Tasting the Famous Beer Fish (fish cooked with beer)
When it is late at night, the West Street quiets down. There are many hotels on the Street therefore, it's convenient. For those popular hotels, travelers need to reserve in advance. And, travelers can also choose those hotels or inns away from the Street for they are cheaper.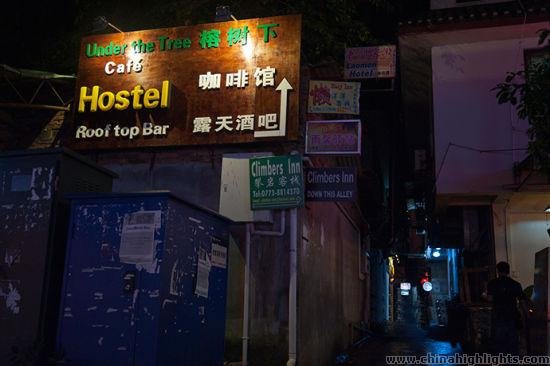 Special inns on the West Street
Now, 20 yuan for a night stay is not common to see in Yangshuo, but there are still some special cheap inns in small lanes. There inns are not luxury but decorated specially. They are the best choices for backpackers. It's easy for backpackers to make friends with each other because they have something in common.