Century Star Cruise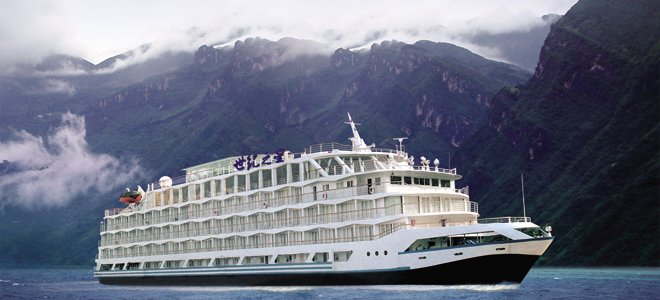 Select your cruise dates
2

Book

3

Expert reply

4

Your cruise is ready!
Select your cruise dates
(price per person, twin sharing basis)
Cruise
Map & Itinerary

Cruise
Introduction

First Navigation
Latest Renew
Length
2003
2005

87

m
Width
Passengers


16m
186
Having first sail on September 12, 2003, the Century Star Cruise is the first representative one of the "Century Star Cruise Series". It is 87 meters in length, 16 meters in width and is six floors high. With a passenger load of 186, it has 93 rooms in total: 2 presidential suites, 7 deluxe suites and 84 deluxe standard rooms. It is designed according to a five-star hotel standard, containing complete facilities, such as advanced navigation equipment, remote control devices, central air conditioning, satellite TV, stereophonic broadcasting and a sound system. The viewing deck, which has maple wood flooring, and the semi-open relaxation bar (beer bar) with large floor-to-ceiling windows are on the sixth floor.
The activities organized on the cruise are varied, combining knowledge and fun. In order to meet the needs of high-valued customers, different activities are arranged at night. These include: excellent acrobatic performances by the Three Gorges Art Troupe, a concert by the Hubei Song and Dance Troupe, and an interactional English lecture from senior professors of the Three Gorges Dam.
In consideration of guests' living habits, morning coffee is prepared for early risers, and three meals are served until the last two hours. In order to create a smooth and leisurely atmosphere on the cruise, all the scenic spot tours are arranged during the day and commercial activities are canceled; only entertainment services are provided so that every guest can enjoy the scenery as much as possible.
Cruise Facilities
A rotary type hall, reception desk, large-scale recreation hall, restaurant, cafe, beer house, indoor viewing room, chess and card room, TV games room, sauna and massage room, beauty salon, infirmary, business center, library, meeting room, Internet club, central air conditioning, satellite communication, satellite TV, stereophonic broadcasting and sound system.

See the video of Century Star.
Bar

Internet Bar

Lobby

Main Restaurant