Century, Victoria and President Cruises?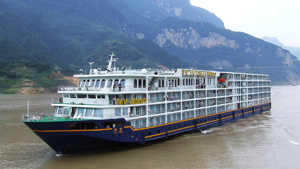 Victoria Jenna
Victoria Cruises is the only American cruise line currently sailing on China's Yangtze River. This series features seven five-star ships, including the Victoria Anna, Victoria Lianna, Victoria Selina, Victoria Empress, Victoria Katarina, Victoria Jenna, and Victoria Prince. The high quality, outstanding service and innovative itineraries have earned the Victoria line the leading position of all Yangtze cruise lines.
Victoria Cruises is the only cruise line with foreign representatives, and it offers a variety of sailing dates. The cabins include standard staterooms, junior suites, deluxe suites, and Shangri-la suites, and all offer HBO and CNN. All Victoria Cruises ships are new or newly rebuilt with enhanced facilities, and are equipped with CDMA wireless Internet access.
Victoria Cruises offers rich Chinese and Western buffets to meet customers' diverse dining needs. You can enjoy a variety of food while appreciating wonderful shows at the same time.
Customers who book rooms above the third floor of the Victoria Anna, the Victoria Jenna, and the Victoria Katarina enjoy free Internet access, and free coffee, tea, and other drinks. They can also dine in one of two restaurants, with one being a buffet in the Elektra restaurant.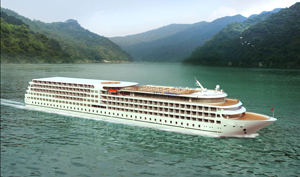 President 8
The President Series cruises, which are typical of Yangtze River cruises, have gained the favor of many overseas tourism enterprises and travelers. This fleet has a regular sailing itinerary and schedule, and sails along the main cities of the Three Gorges between Chongqing and Yichang. All President Series cruise ships suspend their ferry service during the winter.
The staff onboard have deep professional experience and are proficient in many languages, including English, Japanese, French, and Korean. Passengers enjoy standard services based on efficiency, consideration, and enthusiasm. All three meals on board are Chinese and Western buffets, and are varied enough to meet diverse tastes.
Every ship in the President Series has unique characteristics. The President fleet has become one of the most competitive international five-star fleets cruising on the Yangtze River.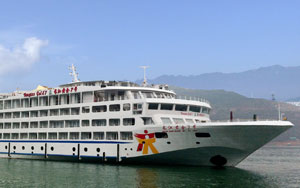 Yangtze Gold 7
Yangtze Gold Cruise is one of the newest and most luxurious cruise series sailing on the Yangtze River. There are seven super 5-star cruise ships, including Yangtze Gold 6, Yangtze Gold 7, and the newest Yangtze Gold 8, which had its first navigation in 2011. Featuring modern designs, professional service, and technological facilities, Yangtze River cruises can bring you to the stunning and breathtaking Yangtze River scenery.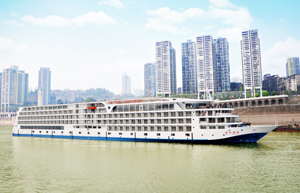 Century Paragon
The New Century series includes four super five-star deluxe cruise ships: Century Sun, Century Star, Century Sky, and Century Diamond. It is the only fleet with a grand atrium lobby on every cruiser and private balconies for all cabins with panoramic sliding glass doors and full-length observation windows. Its fleet also provides the largest area per person and the largest deck, and each ship comes equipped with a direct drinking system.
Managed by Westerners, the fleet provides advanced and completed cruise facilities and excellent services. Meals on the ships are prepared by European and Chinese chefs, and Viking Swiss hotel management oversees the dining experience. All staff members are highly trained, and an English-speaking crew offers a superior level of personalized service.
The itineraries for New Century cruises are designed to give you the best balance between time ashore, scenic cruising, and visits to a variety of places. There are abundant interesting activities offered on board, such as lectures, Tai chi, cabaret shows, feature films, and parties.

Highly Recommended Cruises
Name
Stars
Why choose it
Victoria Series
Victoria Jenna

Since Victoria Jenna Cruise started its first trip on September 6th, 2009, it has gained an average score of 4.61 from customers, the best feedback among the series of Victoria Prince.
To best meet customers' different taste buds, two restaurants are set up on the cruise, one main dining restaurant and one a la carte restaurant.
The cruise is equipped with four elevators, one of the most luxury cruises on Yangtze River.
Customers on the third floor and above are able to enjoy free internet access, free coffee and tea, and two dinner hall service.

Victoria Katarina
 
 
Victoria Anna
 
 
Victoria Selina/victoria lianna
1.The cruise was renovated in 2011, with brand-new facilities best serving customers.
President Series
President Prime

As a newly-launched cruise in 2011, President Prime featuring topflight hardware facilities is the most luxury cruise among all the president series.
The price is $400 every person during dull season and $500 during busy season.
Every room is equipped with an independent balcony for visitors to appreciate the beauty of Three Gorges.
Every room is equipped with an independent balcony, the largest (38.21 square meters) among that of all cruises at the same star-level.

President No.1

Among all the five-star cruises, President No. 1 is no-doubt the most cost effective. With an average score of 4.64, President No. 1 has won the favor of many guests.
The price for President No. 1 is $350 every person during dull season and $410 during busy season. Customers are able to get a luxury room on high floors with only another $110.

Century Series
Century Diamond

Century Diamond is at the same star-level with Victoria katarina and Victoria anna, but it is $50 cheaper.
Century Diamond is a super five-star cruise launched in 2008. It was designed and constructed by top European experts, and now is also managed and operated by top western professionals in the field.

Century Sky
 
 
Century Sun
Although century sun cruise is at the same star-level with century star, its price during the busy season equips that of century star during the dull season.
Century Star
 
 
Also see Top Five Highly Recommended Cruises for 2014.
Yangtze Cruise Best Sellers