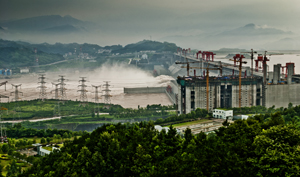 the Three Gorges Dam
The excursion to the dam is absolutely a must portion of your cruise. Over the last 20 years, China's Three Gorge Project has been the world's focus. The whole world is looking at project and every body is talking about it. A visit to the dam provide you chance to find out what all the fuss is about.
The dam site is around 27 kilometers upstream, a 40 minute drive from the city of Yichang. The dam is 185 meters high and 2305 meters wide, claimed as the biggest dam in the world. Tourists are usually allowed to climb up to the view-point site to experience its majesty but this practice may be banned during major public holidays such as the Chinese New Year, National Holiday etc. The layout in the Information Center will provide an overview of the whole project. On a fine day, standing on the scenery-view platform, a clear bird-eye's view of the whole project can be obtained. Read more information of the Three Gorges Dam.
Tips
Books,dam model and stamps on the Yangtze River are available on sale at stalls. If you want to purchase one, you are adviced to ask your guide for help.
Do not miss the Information Center, which has been highly recommended by our former customers.