Top Three Most Luxury Yangtze Cruises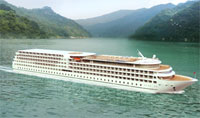 President 8 & 7 are the two largest ships on the Yangtze River. The two ships will begin their voyages in April. The ship boast large cabins with private balconies.
It is Good for families: The 100 deluxe standard cabins can be upgraded into triple rooms for families.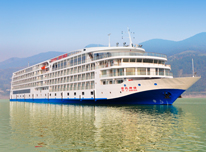 Century Paragon and Century Legend are the most luxurious ships on the Yangtze River. The Century Paragon will start its first cruise in March 2013, and the century Legend will begin its first voyage in May 2013.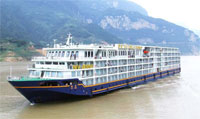 Victoria Jenna is one of our best selling ships. The ship provides passengers with the comfort of a five-star hotel. All cabins have television with HBO and CNN, a private bathroom with a shower and bathtub, and a private balcony.
See Also
Recommended Yangtze River Tours
Destination: Shanghai, Chongqing, Yangtze, Yichang, Shanghai
Shanghai is an intoxicating blend of historic culture and an ultra-modern mega city. Combine this with some of China's most spectacular scenery, cultural treasures and religious and historical sites on the Yangtze River to see the huge contrast which is China.

Destination: Beijing, Chongqing, Yangtze, Yichang
Beijing has been at heart of China's history, government and culture since ancient times and the Yangtze is known as the cradle of Chinese culture and in many ways is the life blood of China. We combine both to give a great insight to our country in 8 short days.

Destination: Hong Kong, Guilin, Chongqing, Yangtze, Yichang, Shanghai, Beijing
Take a cruise on the spectacular Yangtze River and stay in Hong Kong and Shanghai. This is a truly comprehensive and very popular journey exploring China's greatest treasures at a relaxed pace.