President Prime Cruise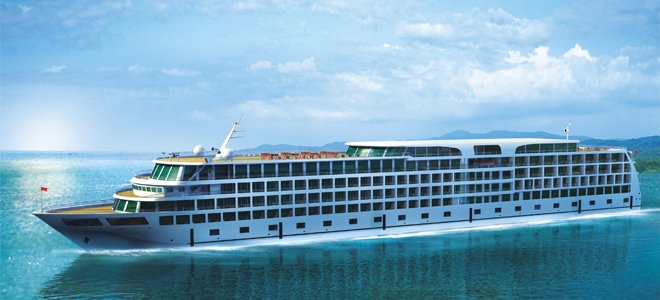 Select your cruise dates
2

Book

3

Expert reply

4

Your cruise is ready!
Select your cruise dates
(price per person, twin sharing basis)
Cruise
Map & Itinerary

Cruise
Introduction

First Navigation
Latest Renew
Length
2011
-

135

m
Width
Passengers


19.6m
374
The President Prime admirably incorporates a deluxe, classical European style and modern comforts. It once had the highest passenger capacity of all cruise ships on the Yangtze River, accommodating 374 passengers in 187 cabins.
Features
The public area, lobby, restaurants, and banquet and conference facilities of the President Prime are spacious and exquisitely designed.
The President Prime has won herself the title "Eden on the Yangtze" due to the elegant European design, safety, and comfort of the environment.
Facilities are comprehensive and convenient on the President Prime. A viewing tower, a library, a sundeck, a bar and coffee shop, a sauna, a beauty salon, a gift shop, satellite communication systems, an in-house movie theater, and a clinic with massage service are provided to make your holiday on the President Prime comfortable and carefree.
Cabins: There are two president suites, two deluxe suites, 32 deluxe business cabins, and 151 deluxe standard cabins. Each room is equipped with comprehensive facilities.
Tipping Special Notes: All passengers on President Cruises sailing between Chongqing and Yichang are required to pay $23/RMB150 per person as service charge. The service charge is payable at the time of boarding. Customers requesting a specific cabin will require an additional fee (RMB150-RMB300) based on the floor plan of the ship.
Cabins
Info
Deluxe Balcony Cabin

Area: 26.50㎡
Bed size: 2.0m*1.1m
Executive Suite

Area: 39.70㎡
Bed size: 2.0m*1.1m
Deluxe Suite

Area: 58㎡
Bed size: 2.0m*1.8m
President Suite

Area: 176㎡
Bed size: 2.0m*2.0m
Deckplans
Info
Sun Deck

Recreation Deck

Bridge Deck

Promenade Deck

Main Deck
Lobby

Observation Bar

Royal Dining Hall

Multifunctional Hall

Presidential Suite

Fengdu Ghost City is the optional shore excursion.