President 6 Cruise (President Prime)
Select your cruise dates
2

Book

3

Expert reply

4

Your cruise is ready!
Select your cruise dates
(price per person, twin sharing basis)
China Highlights offers instant Yangtze cruise online bookings! Pay now to avoid price rises, get FREE UPGRADE for better views, and enjoy our VIP service. Deck Upgrade: The prices are based on the standard cabin. Customers need to pay an additional fee (RMB 200 to RMB 600) based on the floor of the ship.
Note:
1.Child Price Reductions (Based on Full Prices): babies (0–2) occupying a bed 90% off; children (2–12) NOT occupying a bed 25% off; extra bed 25% off
2.Pricing - Yangtze River cruise operators have different pricing structure based on nationality. Please contact us for the detailed pricesnot specified in our table above.
1. 3.Prices may vary according to your travel time and are higher than above price list during Chinese National Holiday (10.1.-10.7, 2015) and Chinese Spring Festival (2.7.-2.13, 2016). Contact us for the detail price.
4.Tipping - All passengers (not include Yangtze Gold Cruises) sailing between Chongqing and Yichang are required to pay $23/RMB150 per person as service charge. The service charge is payable at the time of boarding. Customer request a specific cabin need an additional fee (RMB150-RMB300) based on the floor of ship.
Cruise
Map & Itinerary

Cruise
Introduction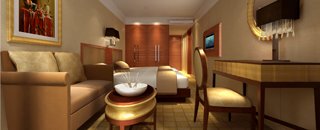 First Navigation: 2011
Length: 135m
Width: 19.6m
Passengers: 374
The President 6 admirably incorporates a deluxe, classical European style and modern comforts. It once had the highest passenger capacity of all cruise ships on the Yangtze River, accommodating 374 passengers in 187 cabins.
Features
The public area, lobby, restaurants, and banquet and conference facilities of the President Prime are spacious and exquisitely designed.
The President Prime has won herself the title "Eden on the Yangtze" due to the elegant European design, safety, and comfort of the environment.
Facilities are comprehensive and convenient on the President 6. A viewing tower, a library, a sundeck, a bar and coffee shop, a sauna, a beauty salon, a gift shop, satellite communication systems, an in-house movie theater, and a clinic with massage service are provided to make your holiday on the President 6 comfortable and carefree.
Cabins: There are two president suites, two deluxe suites, 32 deluxe business cabins, and 151 deluxe standard cabins. Each room is equipped with comprehensive facilities.
Tipping Special Notes: All passengers on President Cruises sailing between Chongqing and Yichang are required to pay RMB150 per person as service charge. The service charge is payable at the time of boarding. Customers requesting a specific cabin will require an additional fee based on the floor plan of the ship.
Tips:
Book the VIP restaurant when boarding the ship for better dining environment.
Learning mahjong is provided at Mahjong Room on 5th floor.
Deck outside the performance hall on 5th floor is better for appreciating the Yangtze River scenery.
Want a stress-free and time-saving way to get to the cruise Port from the airport? China Highlights can provide you with comfortable private transport straight to the Port. Contact us and we can also help you arrange your Yangtze cruise.
Transport Map: Chongqing Jiangbei Airport to Chaotianmen Port, Chongqing North Railway Station to Chaotianmen Port, Yichang New Century Port to Yichang Sanxia Airport
Cabins
Info
Deluxe Balcony Cabin

Area: 26.50㎡
Bed size: 2.0m*1.1m
Floor: 2, 3, 4
Executive Suite

Area: 39.70㎡
Bed size: 2.0m*1.1m
Floor: 5, 4
Deluxe Suite
Area: 58㎡
Bed size: 2.0m*1.8m
Floor: 3
President Suite
Area: 176㎡
Bed size: 2.0m*2.0m
Floor: 3
Deckplans
Info
6F: Sun Deck (Royal Dining Room, Reading Room, Meeting Room, Cigar Room, Obervation Room)
5F: Recreation Deck (Ball Room, Card Rooms, Bar, Guest Rooms)
4F: Bridge Deck (Shopping Center, Guest Rooms)
3F: Promenade Deck (Internet Center, Shopping Center, Guest Rooms, Deluxe Suites, Presidential Suites)
2F: Main Deck (Lobby, Dining Room, Photo Center, Reception, Guest Rooms)
Facilities
Safety Deposit
Beauty Salon
Observation Decks
Shops
Card Room
Live Entertainment
Television
Jacuzzi
Gym
Health Clinic
Conference Hall
Games Room
Disco
Karaoke
Wheelchair
Sauna
Children's Playroom
Free Mineral Water
Smoking Rooms
Restaurants
Central Air Conditioning
Life Jackets
Service
Laundry Service
Internet
Photography
Shore Excursions Tour Guide
Learning Mahjong
Shopping
Welcome Performance
Spa
Medical Care
Karaoke
Beauty Salon
Itinerary 
Broadcast of Itinerary
Carrying Luggage
Fengdu Ghost City and White Emperor City are the optional shore excursions.