Yangzhou Transportation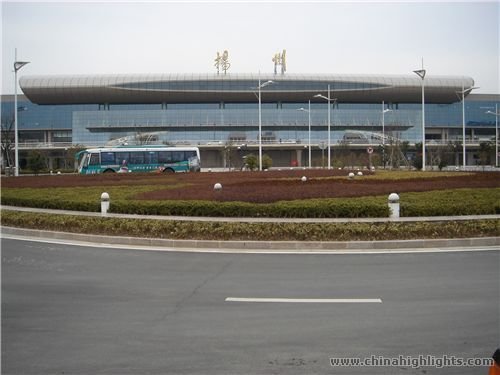 Coming and Going
Yangzhou is not connected by rail, but it is easily accessible. A bus journey from Shanghai takes about 3.5 hours; from Suzhou, about 2.5 hours, from Nanjing about 1 hour.
If you go into Yangzhou from Shanghai or Suzhou, you will pass the 3,740-metre-long Jiangyin Changjiao Daqiao, the longest bridge over the Yangzi River in China.
The nearest airport is at Nanjing - tickets can be booked at major hotels.
Getting Around
City transport is convenient, for most public buses run from 06:00 to 18:00. Taxis are cheap: Starting price of RMB5 or 6.
The bus guide for some substantive scenery spots of Yangzhou: The west bus station (Bus No.21)- Slender West Lake (Bus No.1) - Ge Garden - He Garden (Bus No.19) - the west bus station The Taxi: The started price is RMB5, and it costs less than RMB1O to get to any scenery spot you prefer to go to in the scope of the city. If you have an interest in traveling by tricycle, you should pay RMB5 more or less.

China Highlights
Planning a trip? Ask us here 800-2682918 (USA & CA)
86-773-2831999 (Int'l)
Q:
ycl
Asked on 2013-03-30
Reply
Hi,I wish to travel from Zhenjiang to Yangzhou for a day by bus. Any ideas of the bus time table, the departure and arrival points at Zhenjiang and Yangzhou. Many thanks.Regards
Dear YCL, You could take a bus from Zhenjiang bus station (镇江客运中心站), located at No.67 Zhongshan west Road(中山西路67号). The buses set off at 18:55pm, 19:15pm and 19:50pm. It takes about one hour and the cost is about CNY16/US$2.6 per person. Lussie Lu Replied on 2013-04-01
Q:
C.N.Begley
Asked on 2012-12-22
Reply
Hello,I am now an old man of 80 years. I was born in China and lived there with my parents and my brother and sister until the end of World War II in 1945. When I was a child aged 10 years my whole family were imprisoned by the Japanese in Yangchow (Yangzhou) C prison camp. Yangchow C prison camp had been the American Episcopalian Boys School before the War. It was located in the northeast corner of the City. To get to Yangzhou the Japanese took us by ship from Shanghai to Chingkiang and then on a barge along the Grand Canal. We then marched from the Grand Canal to Yangchow C camp.I am hoping to travel to China later this year with my wife and we would like to visit Yangzhou and if possible find the Camp or the spot where it was located. Could you please advise the easiest way for us to travel from Shanghai to Yangzhou and back to Shanghai and whether we will be able to find the site of Yangchow C prison camp.Any information you can provide will be greatly appreciated.Thank you.

Dear Mr Begley, I just found your post from December 2012 on the China Highlights website. My father, Keith Martin, was interned in Yangchow C as well and I would like to know if you ever find out whether the site still exists. Tessa McDonald guest Replied on 2013-04-14
Dear Mr.C.N.Begley,
Thanks for your E-mail, I am Cecilia at China Highlights, it's my great honor to assist you in planning your special China trip.
On this special holiday season, I'd love to wish you Merry Christmas and Happy New Year! May you and your family enjoy the joy and happiness of the holiday. Wish you a happy and prosperous 2013!
I've searched some information from internet and also contacted our Jiangsu agent, sorry to tell you that they don't know more about the prison camp you mentioned, since Yangzhou had changed a lot with time. However, our Nanjing agent told me that they will try their best to get more information about C prison camp, and I will get back to you once I got anything about it. Meanwhile if you could give us more information, it will be more helpful.
You said you would like to come to China later this year, and you are in Australia if I am right. Please kindly note that it is winter in China now, the weather will get more colder in the following month, I know you are both at a age of 80 years, so you are suggested to come to China at a warmer time, such as spring or summer next year, do you think so? For your group, your safety and healthy will be my big concern, and your comfort is our priority.
Please feel free to contact me at cecilia@chinahighlights.net for further contact.
Kind regards,
Cecilia
Cecilia Peng Replied on 2012-12-25
Q:
Leila
Asked on 2012-12-06
Reply
Hii please, am travelling from Africa-- Burundi and the only flight am getting goes to Hangzhou, and am supporsed to go to Yangzhou university.Is it possible and can i get someone who can pick me up from Hangzhou to Yangzhou university then i pay.
Hi Leila, from Hangzhou to Yangzhou is about 300km, 4hrs by car. If we arrange a car and a driver for you, it would be very expensive. I suggest that you take a taxi to Hangzhou North Bus Station 杭州汽车北站fist, then take a bus to Yangzhou.
Add: 766
Moganshan
Road,
Gongshu
District,
Hangzhou
拱墅区莫干山路766号
Tel: 0571-88097761
The bus to
Yangzhou
departs at 7:40, 9:10, 920, 11:10, 13:25, 15:05, 16:45. It takes about 4.5-5hrs. The price is
CNY120-150
.
After you get to
Yangzhou
, you can take a taxi to
Yangzhou
University.
If you need any tour service in
Yangzhou
or anywhere else in China, please feel free to contact me. Have a nice journey.
Whitney Liao Replied on 2012-12-07
Q:
Wes S. Hsieh
Asked on 2012-10-06
Reply
Hi Good Evening CoCo; I would like to know what is the best way travel fromTaipei, Taiwan to Yangzhou, China during Nov. lst. l2 and Nov. l4. l2? I will not need any other arrangement. Thank you for your kindly assistance.

Hi Wes, There is no flight from Taibei to Yangzhou, but you could first fly to Shanghai, about 2 hours flight trip, CNY 2000 per economy class ticket; then take an express bus to Yangzhou, about 4.5 hours bus trip, CNY 100 per ticket. Regards, Coco guest Replied on 2012-10-08
Q:
Ali MSMK
Asked on 2012-09-16
Reply
Hi there! I am Ali from Dubai. Actually I am departing from Dubai to HongKong and then to Nanjing lukou airport, by tomorrow 6:00pm. I would arrive at Nanjing Lukou Airport on 18th september, at 1:20pm (china timings). And I would like to go to Yangzhou University. Can you please tell me which is the best bus and the timings of the bus that can drop me near yangzhou university''s wen hui lu campus. Also please let me know the price of bus. Thanks alot!
Dear Ali MSMK, You could take a bus from lukou airport to Yangzhou city. The bus is available from 10:00am to 20:30, setting off every 1 hour. It takes about 2 hours and it costs about CNY65/US$10 per person. The bus will arrive at No.617 Yangzijiang Middle road, where is about 1.5 km from Yangzhou University. You could take a taxi to the university, it takes about 5 minutes and it costs about CNY10/US$1.5 per car. Lussie Lu Replied on 2012-09-19