Yiwu Travel Guide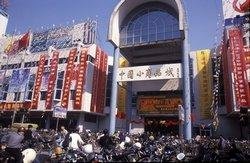 Yiwu Internaitonal Commodity City
Yiwu is located in central Zhejiang Province, 108 kilometers away from the provincial capital Hangzhou. The city enjoys a convenient and exclusive geographic position: linking Guangdong Province and Fujian Province in the south, connecting the hinterland of the Yangtze River in the west, bordering Shanghai, China's largest city and facing the Pacific golden channel in the east. With an area of 1105 square kilometers the city has a population of about 2,000,000 people.
China Yiwu International Commodity City mainly consists of three large-scale wholesale markets, namely the International Trade City, Huangyuan Market and Binwang Market, in which more than 40 million species of small commodities are available for consumers at home and abroad. It has been hailed as the world's largest professional market by the United Nations, the World Bank and other international organizations. At the same time, Yiwu is known as the "land of civility" because people of talent have come forth in large numbers in its local history. Besides, many beauty spots and places of historical interest spread in the city. Among them, the most famous are Shuanglin Iron Tower built in Post Zhou Dynasty (952), Guyue Bridge constructed in the Song Dynasty (1213), and the Huangshan Octahedron Hall completed during the period of Jia Qing Emperor (Jia Qing is the fifth emperor of Qing Dynasty.), as well as the Ming and Qing Tombs.
Food and Restaurants
The most delicious local food are Yiwu top ten dishes, including Yiwu Fotang plain sliced lamb, Shangxi beef offal, Shenxian chicken (Wine steamed chicken), Dongtang do meat, steamed vegetarian stuffed bun, Donghe meat pie, Yiwu handmade noodle, buckwheat cake, Yiwu festive snacks (including Wudian steamed bread, rice dumplings, 红馃) and Yiwu brown sugar.
In addition, other local dining like stretched noodle, Fotang biscuits, Suxi sesame cake, Zhalin bean paste cake, Huihui cake are very familiar snacks to local residents.
Planning a trip? Ask us here 800-2682918 (USA & CA)
86-773-2831999 (Int'l)
Q:
raj
Asked on 2013-04-09
Reply
i HI I am business man from India I need information regarding Electronic Machine USed to Avoid mice All other Pest I want to know Wholesale Market Address REgarding this procuct
Dear Raj, We are a travel agency in China, specializing in designing a tailor made tour to China. I regret that I can't provide the information that you need. Lussie Lu Replied on 2013-04-15
Q:
Joyce Cheng
Asked on 2012-01-07
Reply
I am a businessman from Singapore. According to some
research paper
review, Yiwu China is famous for fashion commodities. What else deserve to see in Yiwu? Can you arrange me a travel there?
hi, yiwu is the special market for the small comedities. for the fashion Guangzhou is better Muhtar Replied on 2012-01-13

Q:
nitigya soni
Asked on 2011-10-28
Reply
are electric guitars available in yiwu?
Hi Nitigya I search the internet and find many some shops in Yiwu seling electric guitars, but I am not sure if they have factory there. When you in Yiwu, you may try some shops there instead of buying in the internet. If you have any tour inquiry please feel free to let me know. William Huo Tour Advisor William Replied on 2011-10-29
Q:
saeed
Asked on 2011-07-18
Reply
hi where is pinghu city
Hi Saeed Pinghu(平湖) (literally 'flat lake') municipality is situated in northeast Zhejiang Province, next to the East China Sea and Hangzhou Bay's north shore, close to China's largest city Shanghai. Prior to the Ming, Pinghu was part of Haiyan county. In 1991 county status was withdrawn and Pinghu became a municipality, now part of Jiaxing .(http://www.chinahighlights.com/jiaxing/) Nero Hou Replied on 2011-07-22
Q:
afaq aslam
Asked on 2011-04-30
Reply
how for xian from yiwu
Dear Afaq Aslam, It's about 1500 km between Xian and Yiwu. There is no direct train and flight to Yiwu. You can take a train(about US$83 for soft sleeper per person, 18-22 hours) or a flight to Hangzhou( about US$199 including tax fee and service fee), and then take a train to Yiwu( about US$8 for soft seat per person, 1 hour). If you need to book the train tickets and fight ticket. You can submit your inquiry through our website. Flight:http://www.chinahighlights.com/china-flights/ Train:http://www.chinahighlights.com/china-trains/ Lussie Lu Replied on 2011-05-03
Yiwu Travel Guide
Yiwu Facts
Chinese Name: 义乌
Chinese Pinyin: yì wū
English Name: Yiwu
Location: Southeast China
Latitude: 29° 32' N
Longitude: 120° 06' E
Area: 1,105 sq. km. (427 sq. mi.)
Time Zone: (UTC+8)
Area Code: 0579
Population: 2 milliom