Yiwu Transportation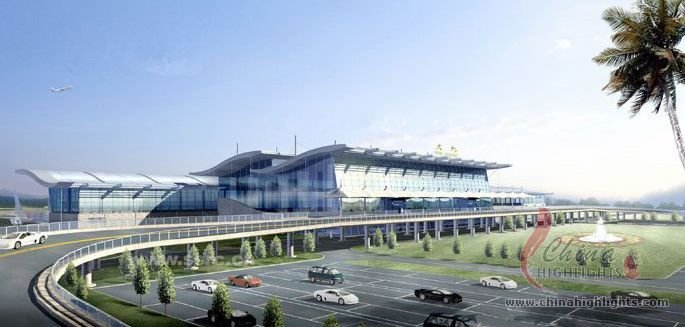 Air
Jinhua Yiwu Airport is located about 10 kilometers away from the Yiwu city and 50 kilometers from Jinhua urban area. It is the largest airport in central and western Zhejiang Province, with airlines to Shanghai, Beijing, Guangzhou, Haikou, Nanchang, Shantou, Wuhan, Xiamen, Fuzhou, and other cities.
Airport Transportation: there is a newly-built bus line from the airport to Yiwu urban area. Buses depart with flights landing at any time. Taxies are also available at the airport. It takes around 30 Yuan to reach the urban area (20 minutes).
Check the flights schedule in Yiwu and Yiwu flights.
Train
Yiwu is the transportation hub in central Zhejiang Province. Yiwu railway station is located in Changjiang Ban Village, about 10 km away from Yiwu urban area. It is the second largest train station after Hangzhou Railway Station in Zhejiang.
Highway
There are two major road passenger transport centers, Binwang Bus Station and Yiwu Bus Station.
Yiwu Bus Station
buses are heading to cities in Jiangsu, Anhui, Hubei, Hunan, Shandong, Henan, Hebei, Shanxi, Guangdong Province in the field coach.
Binwang Bus Station
it is located at the cross of Bingwang Road and Jiangbing North Road. Buses are heading Hangzhou, Huzhou, Jiaxing, Shaoxing, Taizhou, Lishui, Ningbo, Zhoushan and other places within Zhejiang Province.
Nanfang Bus Station
it is located in the weat Chouzhou Road (稠州西路). Most buses to villages and towns in Yiwu depart there. Travelers can take bus line 1, 5, 7, 9, 201, 202, and 209 to get there.
City Transportation
Bus
The most convenient and economical mean of transportation in Yiwu is bus. The city bus lines almost cover most area of Yiwu City. What's more, travelers also can take buses to villages and towns in Nanfang Bus Station.
China Yiwu International Commodity City has been hailed as the world's largest professional market by the United States, and more than 40 million species of small commodities are available for consumers at home and abroad. Visitors can take bus line 121, 122, 7, 19, 20, 26, Y101, 801, and 804 to get there.
The 16th China Yiwu International Commodities Fair will last 5 days from October 21 to 25, 2010. It is an exhibition for consumer goods, and providing lots of valuable information and business opportunities to exhibitors. Visitors can take bus line 20, 301, 302, 308, Y101, and 804 to get there.
Taxi
The flag down fare in Yiwu is 5 yuan (2 kilometers or 1.2 miles), and the price is 1.8 yuan per kilometers (0.6 miles). Some taxi drivers in Yiwu would refuse to take passengers with short haul, passengers can complain by dialing 0759-85220110.
Besides buses and taxis, pedal-powered trishaws are also available within Yiwu City, if travelers need transportation for a short haul, but there is no bus to get there, a pedal-powered trishaw can be taken into consideration, the price is about 3–5 yuan.

China Highlights
Planning a trip? Ask us here 800-2682918 (USA & CA)
86-773-2831999 (Int'l)
Q:
hamid azizi
Asked on 2013-11-11
Reply
when does the first bus depart to Shaoxin?
It is around 7am. The exact departure time is subject to the ticketing time. Ruby Zhao Replied on 2013-11-11
It is around 7am. The exact departure time is subject to the ticketing time. Ruby Zhao Replied on 2013-11-11
Q:
Alaa Habeeb
Asked on 2013-10-09
Reply
How can I go from Yiwu city to Xiangshan? And from where?
Dear Alaa,
There are many place named Xiangshan. Do you have Chinese character for "Xiangshan"? Please let me know more information about "Xiangshan" so that I can check the information for you.
Nancy
Nancy Deng Replied on 2013-10-10
Q:
Melissa
Asked on 2013-09-05
Reply
How to go to Yiwu from Jiuzhaigou?the shortest way.I''ll travel to jiuzhaigou alone,is there any suggestion?I only have 3days 2 night.
You can take bullet train to Hangzhou and fly to Jiuzhaigou. There is one flight from Hangzhou to Jiuzhaigou everyday. Leon Long Replied on 2013-09-05
Q:
kirti gandhi
Asked on 2013-04-04
Reply
i will be arriving in shanghai on 16th june at 17.00pm..from there i want to proceed to yiwu.what will be the best possible mode of transportation?
Dear Kirti, You could take a train from Shanghai south railway station to Yiwu. It takes about 3.5 to 4 hours. It costs about US$7.6 for hard seat and US$24 for the soft sleeper. Lussie Lu Replied on 2013-04-07
Q:
Bilal Amin
Asked on 2013-02-22
Reply
hey , how to go to Hebei from yiwu city any direct flight
Dear Bilal, Hebei is a province, could you please let me know which city you are in, so that I can check which transport you could take to Yiwu. Lussie Lu Replied on 2013-02-22