Zhangjiajie Weather in May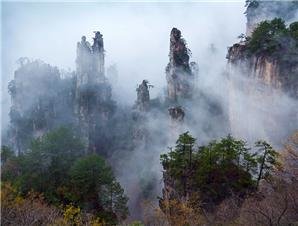 Weather: Spring is beautiful in Zhangjiajie. The average low temperature is about 18 °C (64 °F), and the average high temperature is 29 °C (84 °F). The rainy season begins and extends to August. There is about 160 mm of total precipitation each May, and it rains about half of the days of the month. It is often foggy or misty. Check the current weather and forecast>>
Clothing: Generally a T-shirt and long trousers with a light jacket for the evenings is enough. Bring rain gear too and wear shoes with good traction. If it isn't rainy, the days are clear and sunny, so wear a hat and sunglasses.
Things to Do
Take a spring walk: Enjoy the spring flowers and scenery in Zhangjiajie. There is a beautiful scenic area called Baofeng Lake to see. You can walk along the shore.
Hike up Tianmenshan: The rocky hill has a big hole in the middle of it, and it is the main attraction for most people in the park. The giant hole is shaped like a keyhole, and it is an interesting point to hike to. It is said that there are 999 steps up to it. Try to check the number. Climbing all the way to the top of Tianmenshan takes two or three hours. This hike might be too difficult if you are out of shape.
There is a cable ride up that lasts about half an hour. If you can, get a cable car for only you and your sweetheart — it might be a good date. At the top, there is a famous glass walkway that stretches 600 meters. It is more than a kilometer above the ground below. For a lot of people, walking on that is the biggest thrill of the day.
See the Scenery at Wulingyuan: The green-topped high quartzite rock spires are beautiful. These quartzite rock spires and bluffs inspired generations of painters. One of the amazing pillars is 1,080 meters (3,544 feet) tall. The rock formations are almost unique in the world, and it is a UNESCO Global Geopark. They are reminiscent of sandstone pillars at Bryce Canyon in the US.
Zhangjiajie Tours
Shoulder Travel Season
May marks the start of the peak travel season in Zhangjiajie. Some of the year's largest crowds visit during the Labor Day holidays around May 1. Hotel rooms are up to twice as expensive, and flight and train tickets are more expensive too. It is advisable to book in advance. Let us help you purchase your tickets and accommodations, and we might be able to find you a discount.
Tour Options

See our Zhangjiajie tour packages. Three or four days would be sufficient to enjoy the beauty in the area. Almost all of our customers tailor their tour for their budget and interests.
Combine Zhangjiajie with other regional attractions such as a Yangtze River cruise or a Guilin Li River cruise. A 7-day Zhangjiajie tour combined with a Yangtze River cruise might be ideal. After your hike to see Zhangjiajie's natural highlights, you can dine, relax, and watch the river scenery pass by on the Yangtze River.
Further Reading
Zhangjiajie Climate Information by Month
Questions and Answers About Zhangjiajie Weather in May
HF Lee
2014-02-11
Show Answer
I plan to go in 27/5, is the weather hot and flowers still around ?
Hi HF, the weather is from warm to hot, but not very hot. Some of the flowers are still in around. Whitney Liao replied on 2014-02-12
April Offer $25 Coupon
Send your inquiry before Apr. 30, 2014, and we will email you a $25 coupon.
The coupon is valid till Dec. 31, 2014, for paying tour packages worth $250 or up.
The coupon cannot be used for paying flight tickets, train tickets, hotel rooms and day trips.
Travel Advice or Question? Ask us here

China Highlights
Zhangjiajie Travel Guide