Zhuhai Travel Tips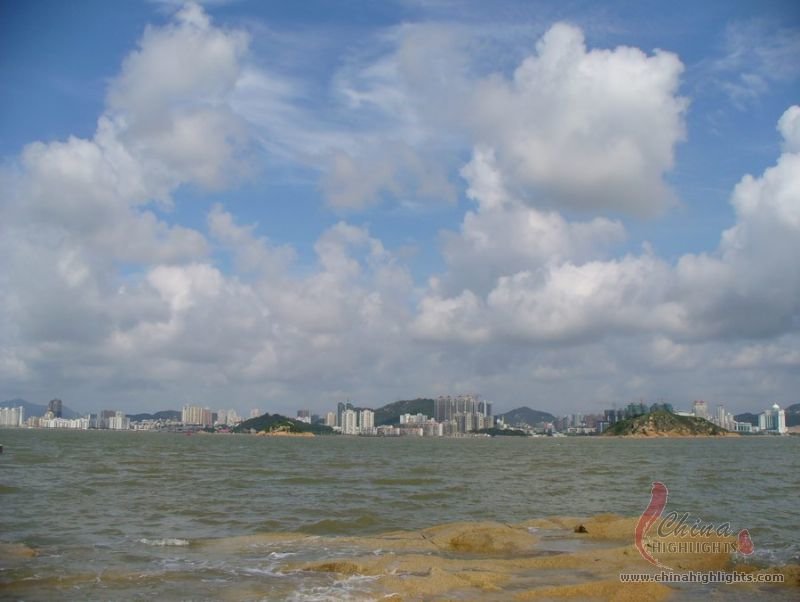 Special Events
China International Aviation and Aerospace Exhibition
Time: every two years in November
Being approved by the central government of China, this air show is one of the most influential air shows in the Asian-Pacific Region, featuring real-size aircraft display, technical exchange, trade discussion, and flying performance.
Zhuhai International Circuit
Location: Jinding Town, Zhuhai
The international auto racing is during every autumn, and other auto racing would be all the year round.
Useful Tourist Information
Bank of China
Zhuhai Branch: No.1148, East Yuehai Road, Gongbei, Zhuhai
Xiangzhou Branch: No.1, Suizhu Road, Xiangzhou District
Doumen Branch: No.51, Middle Zhongxing Road, Jing'an Town, Doumen District
Post Offices
Xiangzhou Branch: 1F, Post Building, No.1072, North Fenghuang Road, Xiangzhou District
Yuehai Branch: No.1043, East Yuehai Road, Gongbei, Zhuhai
Jida Branch: No.57, Jingshan Road, Zhuhai
Hospitals
Zhuhai People's Hospital
Address: No.79, Kangning Road, Xiangzhou District
Gongbei Hospital
Address: No.208, Yuehua Road, Gongbei, Zhuhai
Useful Numbers
Police: 110
Fire: 119
Ambulance: 120

Municipal Government Hotline: 12345
Tourist Complaints: 0756-3336061
Taxi Complaints: 0756-2262628
Consumer Complaints: 12315

China Highlights
Planning a trip? Ask us here 800-2682918 (USA & CA)
86-773-2831999 (Int'l)
Q:
Karine parry
Asked on 2013-09-22
Reply
What is the quicker way to travel from zhuhai to Shenzhen
Dear Karine,
The fast and economy way from Zhuhai to Shenzhen is taking the boat. You are suggested to take the bus from Zhuhai Jiuzhou Port (In Chinese: 珠海九州港) to Shenzhen Shekou Port (In Chinese: 深圳蛇口), it takes 1 hour and cost CNY100-CNY150 per person. It boat available every 30 minutes.
Nancy

Nancy Deng Replied on 2013-09-22
Q:
Lee
Asked on 2012-10-10
Reply
Hi... i will be making a trip to Zhuhai in December.. I will be staying in Gongbei for one night and Imperial Hot Spring in Doumen for 1 night... I have been having trouble trying to find out which bus to take from Gongbei to Doumen and subsequently the Imperial Hot Spring... would appreciate some help.. thank you
Hi Lee, sorry I didn't find any bus from Gongbei to Doumen then to Imperial Hot Spring. A taxi would be the best guide.
Whitney Liao Replied on 2012-10-11
Q:
susan ng
Asked on 2011-12-02
Reply
Hi, I'm keen to know more abt hengqin island, esp. oyster in the restaurent, where can i have all info. tks
Hengqin Dao is an island in Zhuhai, a prefecture-level city and Special Economic Zone in the Guangdong province of the People's Republic of China. It has a population of about 3,000. You can find more information at http://en.wikipedia.org/wiki/Hengqin_New_Area Iris Zhong Replied on 2011-12-08
Q:
yean
Asked on 2011-03-25
Reply
Hi, I will be at Macau and I heard that Zhuhai is great for shopping! Can you recommend which shopping mall to go? How to get to Zhuhai in Macau?
Dear Yean, Thanks for your question, there are many shopping malls in Zhuhai for shopping. Please click this link to know detail of them: http://www.chinahighlights.com/zhuhai/shopping.htm You could take a taxi to Macau Lotus Pass and after you go through that pass, there is a shuttle bus to Zhuhai Hengqin Pass. Nancy Nancy Deng Replied on 2011-03-26
Q:
ck
Asked on 2010-08-21
Reply
Hello, I am very keen to make a shopping trip to either Guangzhou or Zhuhai. Please advise which is a better shopping paradise... Guangzhou or Zhuhai? Thank you!!
Hi, I perfer Guangzhou. The markets are amazing and also it has very good transport condition. If you want more information please check the website www.chinatravel.com KevinMa@chinahighlights Kevin Ma Replied on 2010-08-22
I agree that Guangzhou is a paradise for people who like shopping. I know the market where you can buy leather bags for women, men and bags for travelling! Marina Zhukova Replied on 2012-09-27
Zhuhai Travel Guide