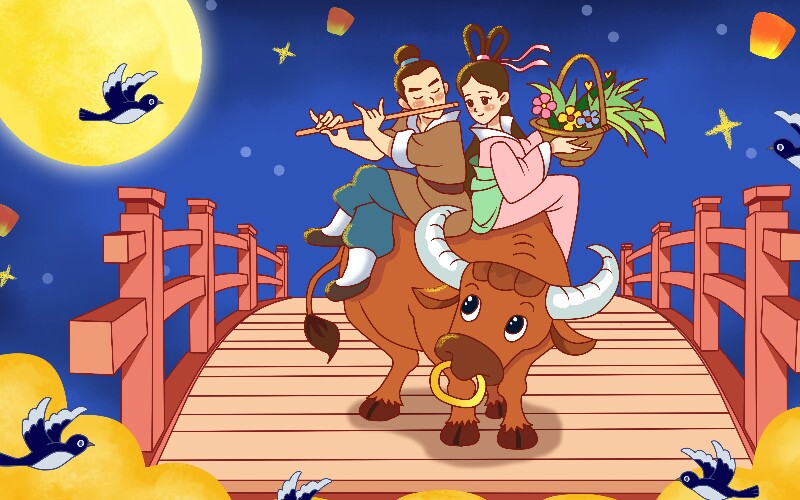 beijing
How to Celebrate the Double Seventh Festival in Beijing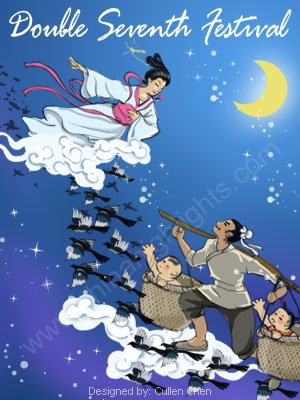 Picture of legend of Double-seventh-festival-Niulang...
The Double Seventh Festival falls on the seventh day of the seventh lunar month. It is called "Chinese Valentine's Day". Most of its traditional customs are disappearing in major cities like Beijing. Now young people celebrate the "Chinese Valentine's Day" in new ways.
If you are in Beijing during the Double Seventh Festival (always some time in late July or August), you must be wondering how Chinese people celebrate "Chinese Valentine's Day". Here is an introduction to the festival's celebrations in Beijing.
Sending Text Messages
Now most people use cell phone text messages or WeChat to greet each other. Sending text messages is the most convenient and easy way to express your heart-felt feelings.
The day before the festival arrives, lovers start searching for the best Double Seventh Festival message online to send to their lovers. It is very popular especially among young people.
Giving Gifts
Just like the tradition of Westerners for celebrating Valentine's Day, giving gifts is the most popular way to celebrate Double Seventh Festival.
Young couples and lovers usually exchange gifts to express their affections, like flowers, chocolates, jewelry, a dress, a fashionable bag, a comb, a necklace, ties, watches, or any other presents that their loved one might like.
Enjoying a Romantic Dinner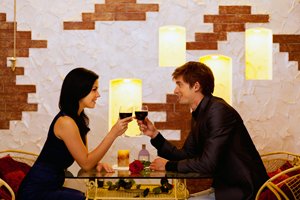 A young couple are enjoying their romantic dinner at a restaurant.
The Double Seventh Festival is not a public holiday in China; people still work during the festival, unless it falls on a weekend. After work, people usually go to have a romantic dinner with their dates. Unmarried lovers usually prefer a romantic dinner for two, while married couples usually enjoy a dinner with their family.
The dinner may be at a romantic restaurant or at home. If Beijingers take the time to prepare a fine candlelight dinner for their loved one, he or she would be very moved and happy.
No matter where the dinner place is, roses, red candles, and wine should be included to add the romantic atmosphere. If Beijingers want to find a romantic restaurant to enjoy a dinner with a loved one, they may pick one of our Most Romantic Restaurants in Beijing.
Watching a Romantic Movie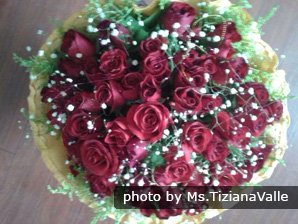 Many romantic movies are released in cinemas during the festival. Most cinemas offer special seats for lovers of Double Seventh day. Beijingers like to enjoy a romantic movie with their loved one after a romantic candlelight dinner.
Here are some recommended cinemas in Beijing...
Capital Cinema
Capital Cinema is the largest digital film theater in the northern China.
Chinese name: 首都电影院
Address: 10th Floor, Joy City, 131 Xidan North Street, Xicheng District 西城区西单北大街甲131号大悦城商场十层
Buses: 22, 47, 626, 690, 808, or 826 to Xidan Department Store
Subway: line 2 or 4 to Xidan, Exit F1
UME Huaxing International Cinema
UME (Ultimate Movie Experience) Huaxing International Cinema is a five-star cinema with the most advanced audio and video facilities.
Chinese name: 华星国际影城
Address: 44 Science Academy Road, Shuangyu, Haidian District 海淀区双榆树科学院南路44号
Buses: 302, 731, 718, or Te 8 (特8) to East Sidong Bridge (四通桥)
Wanda International Cinema
Chinese name: 万达国际影城
Address: Floor 3, Building B of Wanda Plaza, 93 Jiangguo Road, Chaoyang District 朝阳区建国路93号院万达广场B座3楼 
Buses: 810 or 57 to Langjiayuan
Subway: Line 1 to Dawanglu, Exit D, walk south
Beijing Star City Cinema
Chinese name: 北京百老汇新世纪影院
Address: B1, Oriental Plaza, 1 Chang'an Street, Dongcheng District 东城区长安街1号东方广场东方新天地B1楼 
Subway: Line 1 to Wangfujing, Exit A
Promotional Activities
Chocolates are on sale in a supermarket.
Many shops, department stores, and malls seize the opportunity to promote their sales. They try to attract customers through decorations, different promotional activities, and entertainments.
Good discounts and special offers for some goods can be found in most department stores and shopping malls. Beijingers go shopping with their loved ones after dinner, and buy them lovely presents at low prices, which not only saves money, but also makes the day memorable.
Taking Part in Interactive Love Activities
Many interesting love interactive activities are held on Double Seventh Day. For example, some parks or shopping malls of Beijing hold kissing contests. Hundreds of couples take part, and compete by kissing in various poses. The winners, who kiss the longest, are awarded a diamond ring, mobile phones, a well-organized tour, or cash.
This romantic contests offer a good chance for couples and young lovers to express their love, and add fun to their lives.
Boating on Shichahai Lake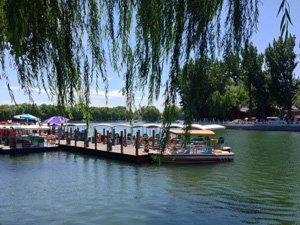 Boats in Shichahai Lake for rent
At night Beijing lovers rent boats to paddle on Shichahai Lake. Under the moonlight, they listen to leisurely music played on an erhu (a traditional Chinese string instrument), appreciating the charming lakeside landscape, and feeling the air around is full of romance. They also float small paper boats, with lit candles and well-written wish notes inside, on the water, as a kind of prayer for their love.
For more on where Beijing lovers go, see our Most Romantic Places and Activities in Beijing.
Book a Romantic Beijing Tour with China Highlights
If you want to experience the Double Seventh Festival like Chinese people do, China Highlights can offer you our assistance. Contact us and we can help you arrange a romantic Beijing tour according to your requirements. Just let us know what you want.
Related Articles

beijing
How to Plan a Trip to Beijing