The glorious Enduring Memories of Hangzhou live-action show is a new version of Impression West Lake. It made its stunning debut for the G20 Summit in 2016. It is a beautiful performance of outdoor dance and singing, taking West Lake as its stage, and combining reflections and colors that dazzle.
Introduction
Enduring Memories of Hangzhou is directed by Zhang Yimou. For inspiration, it has the rich history and picturesque natural landscape of Hangzhou, merging ancient legend and the beautiful scenery of West Lake into the show.
The performance includes symphony, dance, Shaoxing opera, playing of Chinese zither, cello and piano. The show's current version is somewhat modified from the G20 summit version.
Tour Itinerary
Show Times:
first performance 19:45–20:45, second performance 21:15-22:15 (the second performance is not available every day)
Please Note:
1.ID documents (passport/Chinese ID card/Travel Permit) are required when booking the ticket and entering.
2.Tickets cannot be changed or cancelled after they have been issued.
3.Seats are allocated randomly. We cannot book specific positions.
4.If the show is stopped due to situations beyond the organizers' control, including rainstorms, thunderstorms, geological hazards and device failures, you will receive a full refund.
How to Collect Tickets
After your e-ticket is issued online, you can pick up a paper ticket with your original ID document at the ticket office, after 18:00 on the day of the show. The ticket office is just opposite Yue Fei Temple at the performance venue. The address is 82 Beishan Road, Hangzhou(Chinese: 杭州北山路82号岳王庙对面).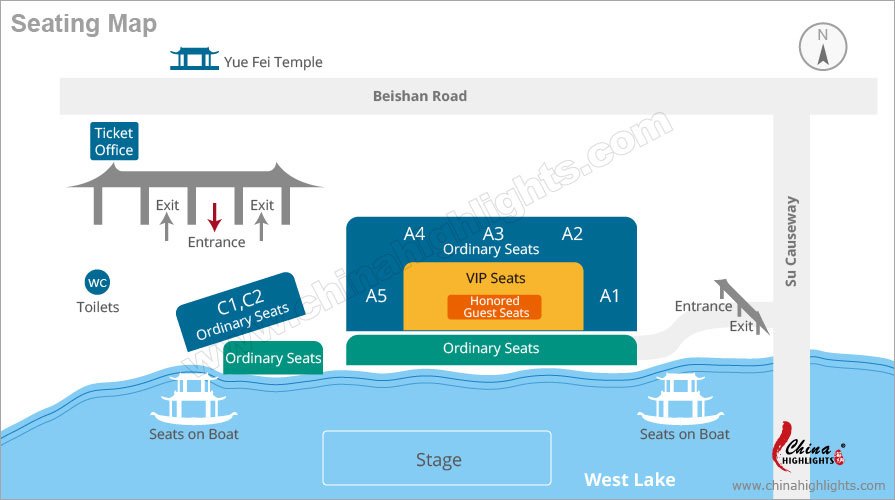 Tour Price
Price Per Ticket
Ordinary Seat
VIP Seat
Honored Guest Seat
Seat on Boat (First Floor)
Seat on Boat (Second Floor)
Book This Tour
Exclusions
Food and drinks
Hotel pickup and drop-off