FAQ on Guide & Tipping
How to meet your guide?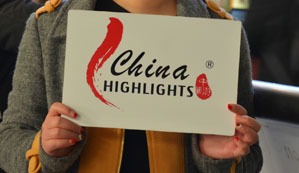 China Highlights meeting sign
Our guide uses China Highlights meeting sign. When you choose our package tours with guide service included, your local guide will meet you at the airport, the railway station, the port or at the hotel. When the guide meets you at the airport, port or train station, he/she will hold a greeting sign indicating the name of your group. This is usually the name of the person who contacted with us and organized the tour. The guide will stand in the place where she/he can be easily seen as you come through the arrival gate. In some cases the guide will need to meet you at the hotel where you are staying. The guide will call you the night before to arrange the time and place to meet in the lobby. 
Do I have to tip in China?
We pay our guides and drivers a base salary plus a performance bonus however we realize that some people might like to tip guides and drivers for their service. The amount of your tip is your decision. As a guideline 80-150RMB/day would be usual for the guide and half amount to a driver, given separately to each person is preferable. Remember tipping is at your discretion.
What about the Chinese tour guides?
China has tens of thousands of trained and licensed tour guides. Some of them are professors, librarians, and teachers, working part time. There are exams once in a couple of years. Only the passed are qualified to work. China's travel companies are categorized into three classes. Class 1 can work directly with foreign tour operators. Tour guides working for this class are usually more experienced. English language is the first foreign language and most spoken by tour guides. They work according to pre-arranged schedules by his employer and talking about your tour sites is his basic job.
What should I do if I can not find my guide?
Upon your arrival: Our guides will surely be waiting for you at the airport upon your arrival. However, if for some extraneous reason you cannot find our tour guide upon arriving at the airport, and then please call our toll free number or you travel advisor for help. It is wise to keep you confirmation letter which contain all contact numbers in an accessible place in the unlikely event that you have a problem. At scenic areas: Some of the popular tourist spots in China can be crowded during the peak seasons and China's public holidays. If you find the guide is not with you and can not find him or her in the immediate area, please follow the steps: 1. First of all, don't be Panic, realize that your guide is not far away and he or she is actively looking for you. You will be found soon. 2. Secondly, stay where you are and let the guide find you. Do not move far away. This will ensure that you are found in a timely manner. 3. Lastly, if there seems to be a problem with your guide finding you, find the nearest phone and call our free toll number and your travel advisor will help you to find the guide.
Which languages do you your tour guides speak?
Guides speaking major European languages are available in the major tourist cities such as Beijing, Shanghai, Xian and Guilin. Other language guides may be available but they need to be booked a head of time. In smaller cities we cannot guarantee a full range of services but we are happy to make a request for you.
What will my guide do?
Your guide is our representative "on the ground" in each city. He/She will make all the necessary arrangements trying to ensure that your stay is all you want it to be. The guide will help you to check into the hotel, arrange all transport for your tour as well as assist with shopping. Your guide will accompany you to visit all the sights during your stay and will also provide the culture and history information about China. In short, please feel free to ask your guide if you need anything, the guide will do their utmost to help.