China Festivals in July
Chinese people celebrate a seemingly endless number of festivals during the course of a year. Have a look at all festivals celebrated in this month.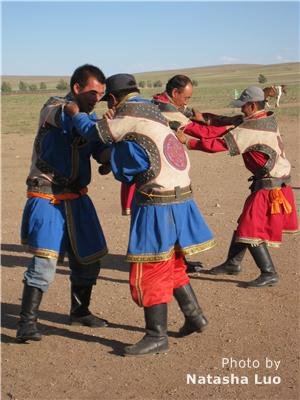 Naadam Grassland Festival
The Naadam Grassland Festival is the premier summer event in Inner Mongolia, showcasing the skills and athletic prowess of the Mongol ethnic people. ...
Jul. 07, 2016 to Jul. 11, 2016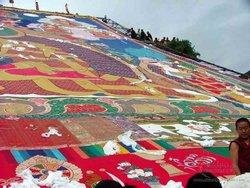 The Thangka Unveiling at Tashilunpo
As the political, economic, and cultural center of the Tibetan religion, there are many religious festivals held in Lhasa. The Thangka Unveiling at Tashilhunpo Monastery is one of them. It is a Thangka worship festival where huge Thangkas (Buddhist tapestries) are displayed.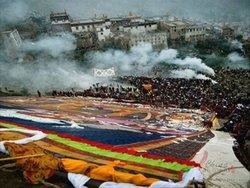 Zamling Chisang (Samye Dolde)
Zamling Chisang is a festival that celebrates the founding of Samye Monastery and the achievements of Guru Rinpoche. It falls on the fifteenth day of the fifth month of the Tibetan calendar. It is a traditional festival with strong Tibet characteristics.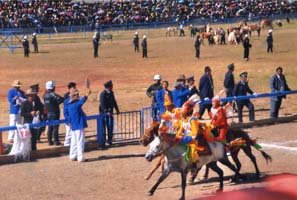 Gyantse Horse Race Festival
Gyantse is an ancient town in Tibet, which was important in Tibetan history. Gyantse Horse Race Festival is the grandest festival in the region of Shigatse. People wear their characteristic ethnic costumes to attend the festival.

Jul. 27, 2016 to Jul. 29, 2016

The Naxi Torch Festival
The minority peoples of Sichuan and Yunnan provinces bring new meaning to the old song lyrics, "there'll be a hot time in the old town tonight," as ...
Jul. 27, 2016 to Jul. 30, 2016

Qinghai Yushu Horse Racing Festival
The Qinghai Yushu Horse Racing Festival is a traditional festival that was held during the week of July 25 – August 1 every year in the Yushu Tibetan ...
Jul. 25, 2016 to Jul. 25, 2016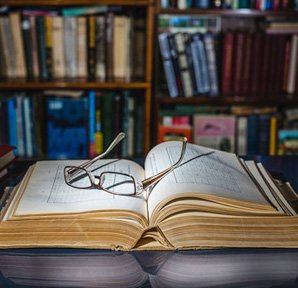 Hong Kong Book Fair
Hong Kong Book Fair is one of the largest book fairs in Asia. Founded in 1990, it is organized by the Hong Kong Trade Development Council in Hong Kong Convention and Exhibition Centre annually in July, to encourage people do more reading.
Jul. 19, 2017 to Jul. 25, 2017

Xichang Torch Festival
The Torch Festival falls between 24th day to the 26 day of the sixth lunar month. It is a shared traditional festival of the Yi, Naxi, and Bai peoples ...
Jul. 27, 2016 to Jul. 27, 2016