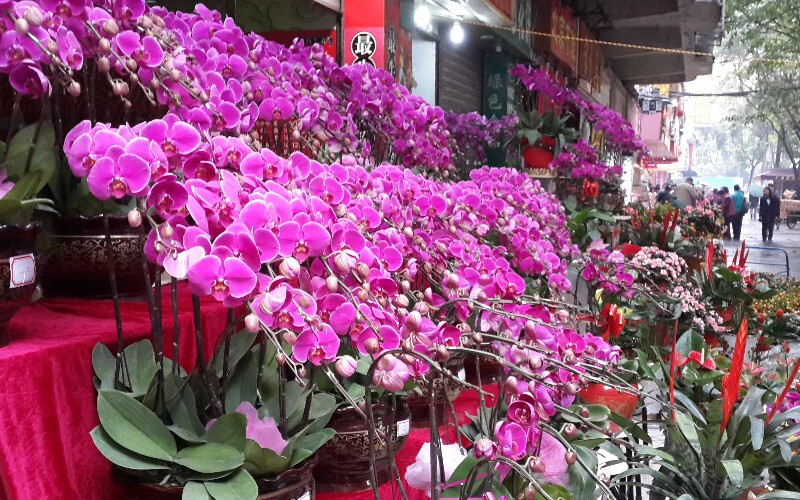 Chinese Festivals and Events
Hong Kong and Macau Chinese New Year's Eve 2020 Flower Markets
Celebrated: February
Location: Hong Kong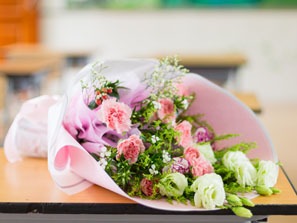 In both Hong Kong and Macau, on Chinese New Year's Day, it is a big custom for people to give fresh flowers, potted plants, and bouquets as gifts. They crowd the flower markets several days before, especially on the eve of Chinese New Year.
A lot of sentimental and emotional significance is attached to this custom, and the various kinds of flowers given as gifts denote different wishes or signs. However, in 2021, Hong Kong's Chinese New Year flower markets will be greatly curtailed. However, we suggest that you can enjoy Macau's flower markets and Chinese New Year festivities as an alternative.
Legal holidays: Friday, February 12 to Monday, February 15
(The first three days of the Chinese New Year are usually the legal holidays in Hong Kong and Macau. But because the New Year falls on Saturday, Hong Kong's legal holidays are 4 days.)
Hong Kong Chinese New Year Travel Advisory 2021
Summary: Hong Kong remains a great travel destination this winter of 2020. It is much more affordable than in the past. However, it isn't as safe and convenient as in the past. For the last half-year, there have been massive demonstrations involving millions in the whole region.
The tourist crowds will be much lessoned this winter. Many of the traditional annual WinterFest events have been cancelled by the government including 2021's Chinese New Year fireworks and the parade in Tsim Sha Tsui. The government is reducing the size of the annual Lunar New Year Market by about a third, and this year, they prohibit selling anything other than flowers and food to prevent the sale of political products. Usually, gifts and decorations are sold in abundance at the fairs.
Other flower markets may be closed or curtailed also. This year, expect the flower shops in major shopping streets that usually stay open late to reduce their hours. People may organize their own private flower markets because of the closures and restrictions, so that might be an alternative for shopping and entertainment.
Great bargains: If you do go to Hong Kong during this winter season, it may be the best time in decades for touring and shopping inexpensively and without the crowds of tourists! You can find great bargains on everything: hotel rooms (up to 60% off in Tsim Sha Tsui), discounted flights, fine dining at lower prices, and discounted shopping. See our WinterFest 2021/2022 travel information for travel updates and details. As described below, Macau's Chinese New Year is a nearby alternative, so you can enjoy both regions.
Why HK and Macau?
Flower market
The residents of the two cities like and can afford very fresh flowers, so there are huge crowds buying flowers at the major flower markets and flower shops.
Though some people in mainland China, especially Cantonese in Guangdong Province, give gifts of flowers on New Years Day, giving flowers isn't as important a custom there as in the two regions of HK and Macau. See more on Guangzhou Spring Festival Flower Fair.
It is thought that gifts of fresh flowers and plants give good luck. So it is a part of how Hong Kong and Macau people celebrate their holidays.
The Hong Kong Flower Rush (Feb. 11, 2021)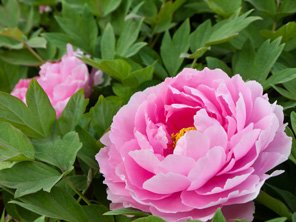 Peonies are for prosperity
In Hong Kong, on Chinese New Year's Eve, the crowds are usually especially heavy at the flower markets and market streets. But this year, February 11, the crowds will probably be much lessoned. Annually, about 15 temporary markets are set up in parks or other public places. The scramble can get intense. Many vendors keep selling after midnight.
Many Hongkongers have their Chinese New Year's Eve family reunion dinner, and then they go out and shop to be able to present fresh flowers, toys, and holiday foods to the important people in their lives on Chinese New Year's Day when people want to rest and be home with family and go for Spring Fest celebrations such as the Hong Kong Chinese New Year Firework Performance. The fireworks and parade have been cancelled for 2021.
Closed for Public Holidays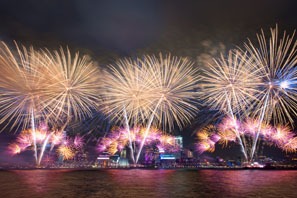 For the public holidays, Victoria Harbour blazes with fireworks while the lights dance on the buildings.
Along with the desire to present very fresh flowers, another reason for the scramble of the crowds on New Years Eve is the tradition that stores close on New Year's Day, February 12, 2021 and for a while afterwards.
The weight of tradition dictates that shops and businesses close and that everyone focus on family matters, reunions, important relationships, and religious matters at the temples and house shrines during the first three days of the Chinese New Year.
Major Market Locations in Hong Kong
The Mongkok Flower Market around Flower Market Road in Mongkok, Kowloon is the biggest permanent flower market with about 100 shops.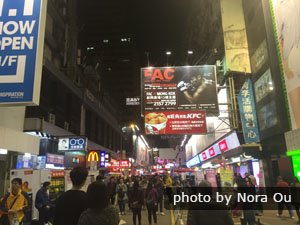 Mong Kok (旺角) is crowded in the evening.
Victoria Park on Hong Kong Island is the most popular temporary market. In Kowloon, another popular temporary market is at Fa Hui Park just a short walk from Flower Market Road.
Transport
Victoria Park: 1 Hing Fat Street. Take Exit E from the Causeway Bay Station.
Mongkok Flower Market: Take Exit C from Mongkok East Station.
Extended Hours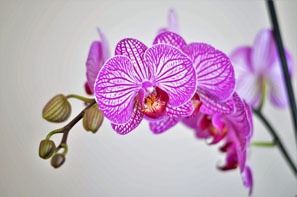 Orchids symbolize fertility and abundance.
(There may be no extended hours this year.)
During Chinese New Year, any flower market or shop has abundant bouquets, pots and arrangements of Orchids - the variety and colors are limitless.
Orchids are delicate, beautiful and elegant flowers, and in China, they have long been considered to be symbolic of 'many children' or fertility and abundance. Orchids also signify refinement, luxury and innocence. These flowers make for valuable gifts in this season.
Flower shops and stalls sometimes stay open late and even to early morning hours on New Year's Day, but the shops should be closed when the sun rises. So the shop owners might be frantic about selling their stock of flowers and potted plants before dawn.
Read more on Chinese New Year Celebrations in Hong Kong in 2020 - it is one of the top 10 festivals in the world according to Forbes.
The Macau Flower Rush
In Macau, the people celebrate their holidays even more fervently than the Hong Kong people. The flower markets are popular places to go for the holidays.
Tap Seac Square: The main traditional Chinese New Year flower market is at Tap Seac Square. It opens in the morning on New Year's Eve, but it is best visited in the afternoon and evening, and it stays open late. It is a popular place to visit during the holidays.
It is Macau's biggest public square, and it is highly decorated and special events are put on each year. There are lion and dragon dances and booths for food, beverages and gifts.
Fisherman's Wharf: There is a casino and resort and theme park located next to the Macau Ferry Terminal. It is only a few minutes walk away from the terminal. The flower market there is smaller.
Read more about the Macau Chinese New Year 2021.
Special Flowers and Plants As Gifts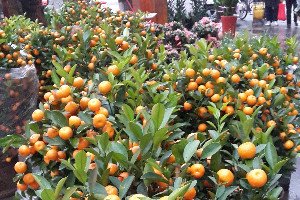 Tangerine bushes like these are not real. The tangerines are glued or tied on and are treated. They are put on display often in front of businesses and shop windows.
The flower giving traditions are much the same in Hong Kong and Macau. Some flowers and plants hold a special significance when given as gifts on Chinese New Year:
Tangerine trees: fruitful marriages, goodwill, prosperity and good luck.
Peonies: for prosperity.
Peach blossoms: romance and longevity.
Lettuce: wealth generation.
Chrysanthemum: for long life.
In Hong Kong and Macau, kumquat plants are a recommended gift. Kumquats are a small orange citrus fruit. They are like small tangerines.
Kumquats are particularly popular since in Cantonese "kum" means gold. So you are wishing the recipient a financially prosperous year.
Potted shrubs and flowers are ideal for Lucky Chinese New Year Flower and Fruit Gifts during Chinese New Year and are available in all flower markets.
Going to the Alternative Chinese New Year Flower Markets in Macau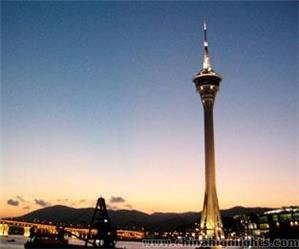 Macau Tower
Though the Chinese New Year flower markets are curtailed for 2020, you can still enjoy Hong Kong's fine hotel accommodations, dining, and services at lower prices this winter and find bargains as you shop. You can enjoy the flower markets in Macau as an alternative.
Travel between Macau and Hong Kong has become more convenient recently since there are now several regional bus lines that pick people up in locations in Hong Kong and cross the new bridge that opened in 2018. You could also take ferries in about an hour. Hong Kong to Macau Transport.
Visiting Hong Kong or Macau for Chinese New Year
Macau Senado Square
We can tailor-make your itinerary and save your valuable time. This year, we can help you find the best events and things you'll enjoy at lower prices in the region. We provide guides, drivers, and private vehicles for individual and group private tours.
China Highlights can help you customize a tour to celebrate the Chinese New Year as local Chinese do. Create my dream trip.
Related Articles

Chinese Festivals and Events
Zhuang Nationality Cattle Festival

Chinese Festivals and Events
Yueyang International Dragon Boat Racing

Cultural diversity
10 Movies to Watch Before Going to China