Chinese Festivals and Events
The Hong Kong International Film Festival
Celebrated: Mar. 18 to Apr. 1
Location: Hong Kong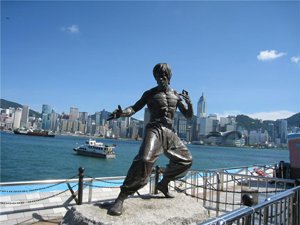 Hong Kong has always been a major Asian cinematic center. Top HK film actor Bruce Lee is sculpted on the Avenue of Stars.
If you love watching new movies or you make movies, this film festival is for you. This film festival is especially important as a place where films can be freely screened for showing in China, and it is where filmmakers from China can more freely show their films.
People come from around the world each spring to try to get approval to show films for the billion people China market. It is also a film art competition. Budding film makers and established film makers meet, and films are rated and awards are given. So if you love watching movies and artsy movies, the annual film festival is for you.
2019 dates: March 18 to April 1, 2019
Film Showing Locations
What might make the Hong Kong International Film Festival even more interesting for tourists is that most of the locations where the films are screened are interesting and attractive places in themselves. Here is a list of where the films are usually shown:
Hong Kong Cultural Centre
Hong Kong Convention and Exhibition Centre
Hong Kong City Hall
Hong Kong Film Archive
Hong Kong Science Museum

Hong Kong Space Museum
Hong Kong Arts Centre
UA Times Square
UA Cityplaza
UA Langham Place
The Grand Cinema
The Science Museum is next to the History Museum. The Hong Kong Cultural Center has world-class performances, and it is next to the Hong Kong Space Museum that has a cool mockup of the front end and cockpit of the American Space Shuttle. You can actually walk around in. It is amazing how big it is.
The Hong Kong Musuem of Art is next to them along the Avenue of the Stars along Victoria Harbor. So you can see Hong Kong's good museums as you attend the showings. At the Avenue of Stars, you can see the hand prints of actors, film makers, and entertainers and watch the bay and the skyscraper choreography light display entertainment that is put on at 8 pm most evenings.
History
The film festival has been held for about 35 years. It was operated by the Urban Council and the Leisure and Cultural Services Department from 1977 to 2001. Then the Hong Kong Arts Development Council sponsored it from 2002 until 2004.
The Hong Kong government subsidizes the festival through providing the theaters and funding of up to 7 million HKD or almost 100,000 USD. The festival is important for the growth of the Hong Kong film industry that is one of the biggest in the world.
Related Articles

Chinese Festivals and Events
Chinese New Year in Guangzhou - 2021 Events

Chinese Festivals and Events
Places to Escape China's Mid-Autumn Festival Crowds

travel guide
The Top 10 China Travel Destinations in 2021

Chinese language
Chinese Language