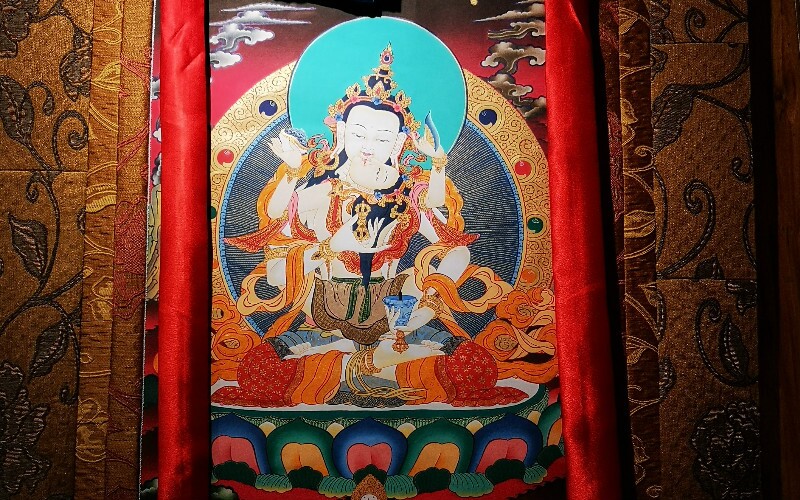 Chinese Festivals and Events
Labrang Thangka Festival in Xiahe
Celebrated: Jan. 27
Location: Xiahe
The Labrang Thangka Festival is an important festival at the old Labrang Monastery that was one of the six leading monasteries of the Geluk tradition of Tibet. Every year, warmly dressed people ascend to the high-elevation monastery to pray and get blessed. When the monks carry out the thangka, thousands of people assemble in front of the slope big and the vividly woven thangka is displayed. It is a major highlight of many a Tibetan Buddhists' year. The unusual tradition and the sight of hundreds of people dressed traditionally are amazing. If you want to see Tibetan worship in a historic location in high-altitude scenery, the Labrang Monastery Thangka Festival is a place to go on Febrary 15, 2011.
The monastery is about four hours south of Lanzhou. It is located in a high mountain valley at an elevation of about 3,000 meters or 10,000 feet. Before the unveiling, some people stand on the roofs of some of the buildings. The buildings have a traditional look, and one roof is covered with gold leaf. The surrounding hills mainly look desolate brown unless they are covered with snow. The sight is exotic, but the crowds of people seem smaller than at the thangka unveiling at the Ganden Monastery near Lhasa. People are warmly dressed.
Then some men come out riding horses. A line of monks dressed in red and violet robes quickly march out. The first ones clang symbols, and most of the rest carry a large rolled yellow thangka on their shoulders. They take the thangka to a place where they can unroll it down a flat, especially prepared slope. The thangka is in two layers. Two big sheets of cloth initially cover it, and they are pulled off like a curtain to unveil the Buddha figure to the waiting crowd. The Buddha figure has figures of deities around it. People throw up white pieces of cloth at the thangka to pray.
History
The monastery was founded in 1709 during the Qing Dynasty era. It was founded exactly 300 years after the Ganden Monastery near Lhasa was built. The Ganden Monastery was considered the foremost monastery of Tibetan Geluk Buddhism. Due to its location, the Labrang Monastery was the focal point of conflicts between the Tibetans, Muslems, Chinese, and Mongolians. It was considered among the top six monasteries in the Geluk tradition led by the Dalai Lama. During the Cultural Revolution, some of it was destroyed. In April 1985, the Assembly Hall burned down. It was replaced and the new building was consecrated in 1990.
Related Articles

Chinese Festivals and Events
Chinese Mooncakes — Symbols, Flavors, Regional Varieties

Chinese Festivals and Events
Mother's Day in China

kungfu
Chinese Kung Fu