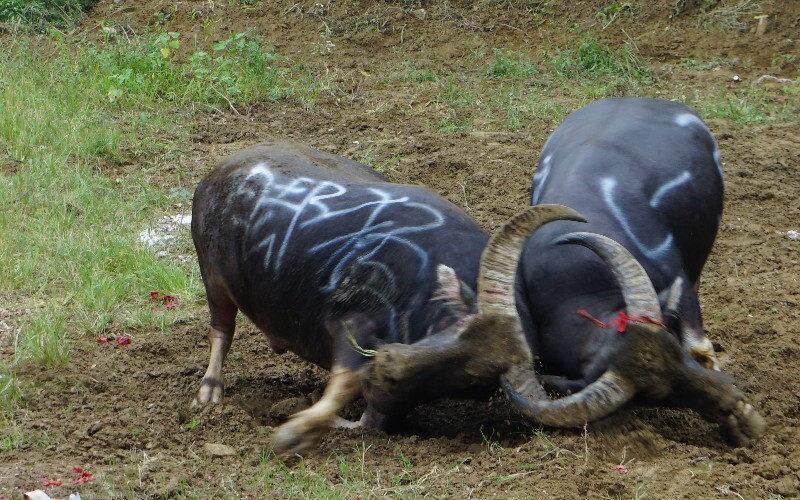 Chinese Festivals and Events
Zhuang Nationality Cattle Festival
Celebrated: May. 22
Location: Guilin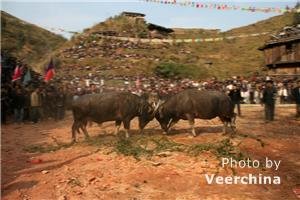 Zhuang Nationality Cattle Festival
The Zhuang Nationality Cattle Festival is held annually by the Zhuang ethnic group on the eighth day of the fourth month of the Chinese lunar calendar. According to the legends, the local people celebrate the festival in order to commemorate the birthday of the God of Cattle.
Every year, during the festival, all of the cattle will be given a holiday. Local people are not allowed to enslave or lash the cattle. They will take yokes off the cattle, brush their bodies, herd them into green fields and let them wander freely and feast on fresh grass, clean their stalls and cover them with dry straw.
Activities
The Zhuang people will prepare colorful rice and brew sweet wine for the cattle, and they must sing folk songs when they feed the cattle with these specialties. In addition, the Zhuang people will carry out various rituals to pray for the health and longevity of the cattle. For example, they will kill pigs to worship the god and all of the villagers will have dinner together in the local temple. The festival shows the love of the Zhuang people towards their cattle and the expectation of a good harvest.
Travel Information
A visit to the Zhuang Nationality Cattle Festival would be best combined with a Guilin tour, and perhaps a visit to Longji Terraced Field or Longsheng Hot Spring.
Address: Zhuang villages around Longsheng County in Guilin.
How to get there: Longsheng County is located 78 kilometers (50 miles) north-east of Guilin city. Many buses run frequently between Guilin and Longsheng. They depart every 40 minutes from 6:40am to 6:00pm; the journey will take you around 2 hours and a one-way ticket fare is about 27 RMB.
Related Articles

Chinese Festivals and Events
Chinese New Year Facts: 22 Things You Should Know

Chinese Festivals and Events
The 24 Solar Terms

travel guide
The Top 10 Tourist Attractions in China