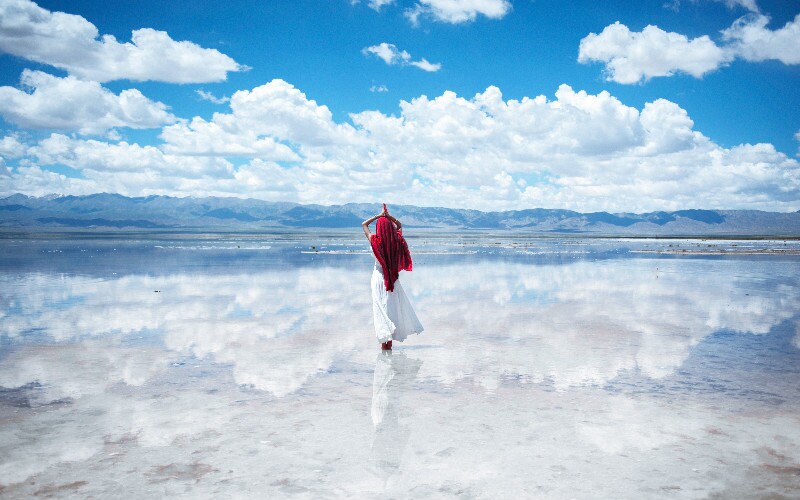 golmud
The Wangzhang Salt Bridge
Location:
The Wanzhang Salt Bridge is located on the top of the Chaerhan Salt Lake. It is about 60 kilometers south of Golmud.
Characteristic:
The Wanzhang Salt Bridge is a unique bridge in the world. It is one of the spectaculars of the Chaidamu Basin.
Brief Introduction of the Wanzhang Salt Bridge:
The Wanzhang Salt Bridge is 32 kilometers in total, which is equivalent to 10,000 zhang in the traditional Chinese system of weights and measures. It across the whole Chaerhan Salt Lake and people usually name it Wang Zhang Salt Bridge (Ten Thousand Zhang Salt Bridge). Actually, the Wanzhang Salt Bridge is a wide road made of salt built on the top of the salt lake. It has no piers and handrails. The surface of the bridge is as smooth as a fine-grained whetstone. It seems that it is not different from the asphalt road in the city. The surface of the bridge is so smooth that cars will skid or turn over if they run too fast. The speed limit written on the wooden board at the end of the bridge is 80 kilometers per hour.
The method of bridge maintenance for the Salt Bridge is unique. Usually, once there are erosions of the surface, the staff of bridge maintenance will pick some salt particles from the nearby salt cover and dip out some brine water with a ladle. Sprinkle the brine water on the erosions of the surface. The salt particles will melt and condense on the surface of the bridge. The erosions of the surface will be repaired.
The Wanzhang Salt Bridge is wide, long, and surrounded by spectacular views. Tourists can take cars here. The straight salt bridge looks like a sharp sword which divides the salt lake into two parts. Lining up along both sides of the salt bridge, there are the workshops and dormitories of the fertilizer plant. In addition, there are many mining points around it. The world famous Qinghai-Tibet railway is not far from it. Lots of trains run across the salt lake.
Transportation:
It is better for tourists to rent cars. The price will be 150 Yuan per car.
Related Articles

travel guide
The Top 10 China Travel Destinations in 2021