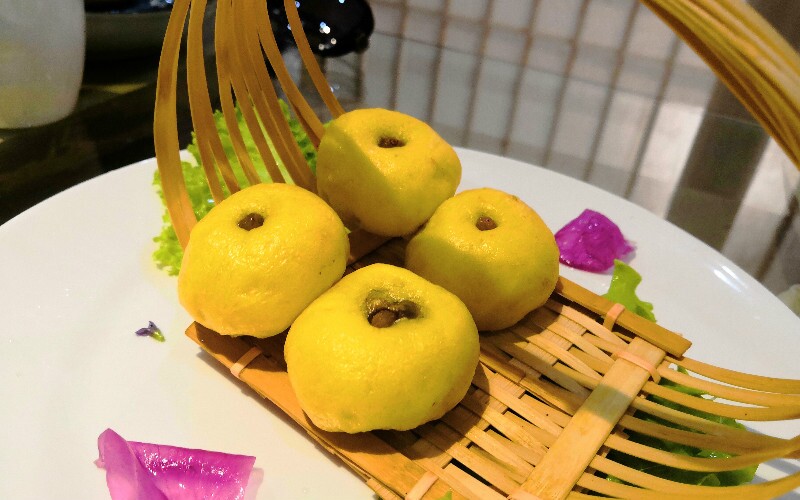 Guilin
The Top 3 Vegetarian Restaurants in Guilin
1. Nengren Temple Vegetarian Restaurant
The restaurant is located in Nengren Temple. At the beginning it was a restaurant for the monks. At present it offers vegetarian food for the public. There is a variety of delicious vegetarian dishes available. These Chinese-style vegetarian dishes are unbelievable meat-tasting fakes. The staff cannot speak English and the menu is only available in Chinese. But the pictorial menu offers some help for foreign customers.
Chinese name: 能仁斋馆 Nengren Zhaiguan /n'nng rnn jeye gwan/
Address: 6 Lijun Road, Xiufeng District, Guilin (桂林市秀峰区丽君路6号)
Tel: 0773-2868845
Transportation: Take bus 14, 21, 25B, or 89 to Lijun Road Stop (丽君路). The restaurant is near the stop.
2. Tianfu Lou - 'Add Blessing House' Restaurant
Chinese name: 添福楼素食 Tianfu Lou Sushi /fyen-foo low soo-shrr/
Business hours: 9:30am–9pm
Address: 1 Dongzheng Road, Diecai District, Guilin (桂林市叠彩区东镇路1号)
Tel: 0773-2899123
3. Pu Su Jia  - 'Unpolished Gem Vegetarian Restaurant'
Chinese name: 璞素家素食料理 Pu Su Jia Sushi Liaoli /poo soo jyaa soo-shrr lyao-lee/
Business hours: 12–3pm, 5–9pm
Address: 258 Linjiang Road, QiXing District, Guilin (桂林市七星区临江路258号)
Tel: 15296001683
Related Articles
See more on Guilin Food and Cuisine (14 Best Dishes to Try). Some are suitable for vegetarians.
Related Articles

tour planing
How China Highlights Selects Your Hotels