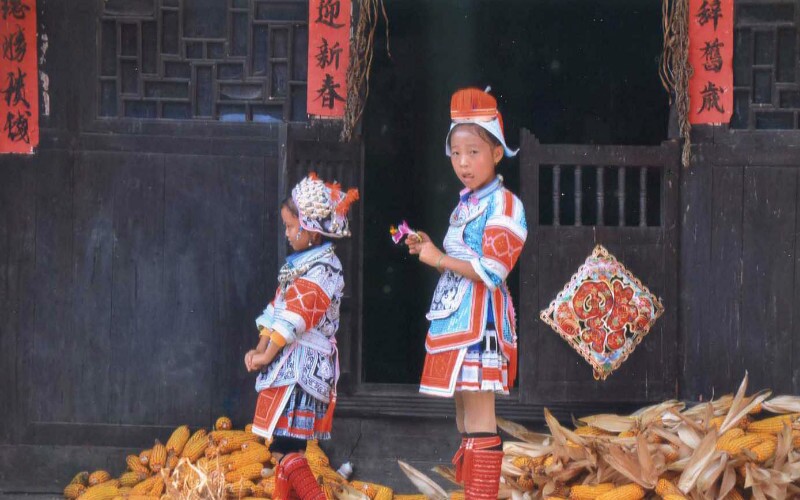 kaili
Basha Miao Village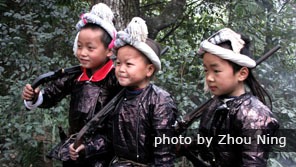 Basha Miao Village
Residents of Basha Miao Village are sometimes called "The Last Tribe of Gunmen", because Basha is the last place in China where civilians are allowed to have guns.
Legend has it that the ancestors of Basha residents settled and built the village over 2,000 years ago. Today, Basha residents still live like their ancestors: with special folk customs, worship of trees, and guns. Let's visit this mysterious village to see the last tribe of gunmen.
Name: Basha Miao Village (or Biasha Miao Village, 岜沙苗寨)
Location: about 220 km (3.5 hours' drive) from Kaili city; about 85 km (2 hours' drive) from Rongjiang County
Must-sees: watch the welcome ceremony with guns, and performances involving folk customs
Suitable for: folk-custom lovers, photographers
Time needed: half a day
Open: all day
Things to Do
Welcome Ceremony with Guns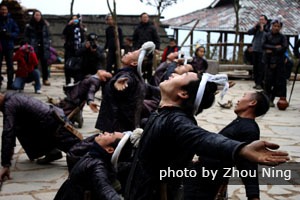 Welcome ceremony with guns
Some other Miao villages welcome guests with "blocking-the-way" wine. But in Basha, there are no young ladies offering cups of wine, but instead warrior-like men bearing guns! Please do not be frightened, however! This is the traditional ceremony to welcome honored guests.
Visitors to Basha are greeted outside the village by 6 or 8 Basha men carrying long rifles. The men stand in a row and fire 3 shots of fire powder (no ammunition), as a way of welcoming guests to their village.
Folk Custom Performance
There are 3 folk-custom performances every day, at 9:00, 11:00 and 15:00. These are performed by local villagers, demonstrating the life style in Basha, including the people's customs of farming, hunting, ancestor-worship, gaming and marriage.
During the marriage performance, one or two male visitors may be invited to play the role of bridegroom. Will you be lucky enough to have a firsthand experience of a Basha wedding?
The last performance is the Lusheng Dance (the lusheng is a reed pipe instrument). While villagers start playing the instrument, everyone will be invited to dance together. You don't need to be a good dancer, just follow the steps and enjoy the time!
Walk Around the Village
The village has many buildings on stilts (吊脚楼, diaojiaolou, traditional Miao dwellings built on wooden stakes). When seen from above and afar, it looks as though the village has layer upon layer of moss-covered bark roofs. Other wooden structures, for drying unhusked rice, are scattered around the open spaces and hillsides.
The whole village is surrounded by dense forest. Basha people worship nature, and they never cut trees unnecessarily, nor sell lumber for money. Their simple concepts of nature have protected the land they live on for the past thousands of years.
You may be interested in the Top 10 Minority Villages in Guizhou.
Folk Customs
Men's Hair Style
Visitors to Basha may be fascinated by the hair style of the men there. Their special hair style is an important symbol for adult men, and the embodiment of strength and power.
The hair is shaved off all around, leaving only some coiled up on top. Local people call the hair coil "hugun (户棍)". It is said that this has been passed down by ancestors over thousands of years.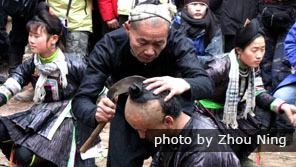 Use a sickle to shave hair
In Basha, instead of scissors or clippers, people use a large sickle to shave hair or beard. Would you like a hair-cut? This might be a thrill too far, but it's fascinating to watch others at the barber's. This is part of the performances mentioned above.
Tip: It is very rude to touch the head or coiled hair of a Basha person! In ancient times, people who dared to do this might get shot. Better not try!
Costume
The people of Basha have maintained their unique code of dress from the time of the Qin Dynasty (221–206 BC).
Basha men usually wear collarless coats, with buttons on the left side or down the front, and baggy short trousers. They do not usually wear shoes, even in the cold winter. Their majestic posture makes them look like ancient warriors. Some people believe that Basha people are the ancestors of Japanese samurai warriors.
Women's clothing is more colorful: coats are buttoned down the front, and they have short skirts with colorful embroidery.
Would you like to know more about the Miao people? Check here.
Coming-of-Age Ceremony
Basha boys, like girls, have their hair long until they have their coming-of-age ceremony. Before a Basha boy reaches the age of 15, he must choose a day for the ceremony.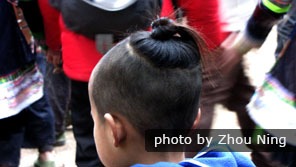 Coiled hair
On that day, the boy can decide whether to shave his hair or to keep it long. At the ceremony, either a young man's head is shaved or left unshaved. His hair is then twisted and coiled on top of his head.
After the ceremony, the boy will receive his own gun, made by his father. Receiving the gun means he has become an independent adult, and is allowed to look for a girl to marry.
Love Customs
In Basha, love before marriage has traditionally been free and unrestrained. In addition to singing songs outside the village, Basha has a special love custom called "hugging the girl".
During the farming season, young boys and girls get together one night to celebrate. At this time, the boys try to hug the girls, and the girls are happy to be hugged, because if a girl is hugged by many boys, that means she is really charming.
If a girl loves a boy, she sends a handmade streamer to him. The boy then hangs all the streamers he received on his belt. In Basha, if you see a young man with multiple streamers around his waist, he is a heartthrob for local girls.
Tree Worship
Around Basha there are many large, tall trees. Like many other minority groups that take an animal or a material object as their totem, the Basha Miao worship trees. On important occasions or during traditional festivals, villagers usually burn incense under large, ancient trees, as part of a prayer for health and happiness.
On the birth of a baby, the Basha Miao plant a tree. After the baby grows into an adult and later dies, the same tree may be cut down to make a coffin for him or her. At the funeral, instead of erecting a tombstone, people plant another tree for the departed person, symbolizing the cycle and continuation of life.
Visit the Last Tribe of Gunmen with Us
As one of the most distinctive Miao village, Basha is visited by more and more travelers. Why not make a visit, and beat the larger tourist groups? Send us your requests and we shall arrange your tour. You can travel with our knowledgeable guide.
Or you may check a sample itinerary including Basha:
6-Day Diverse Minority Adventure
How about perusing our sample Guizhou itineraries, and adding Basha to one of the existing tours?
Related Articles

travel guide
The Top 10 China Travel Destinations in 2021

about us
Company History