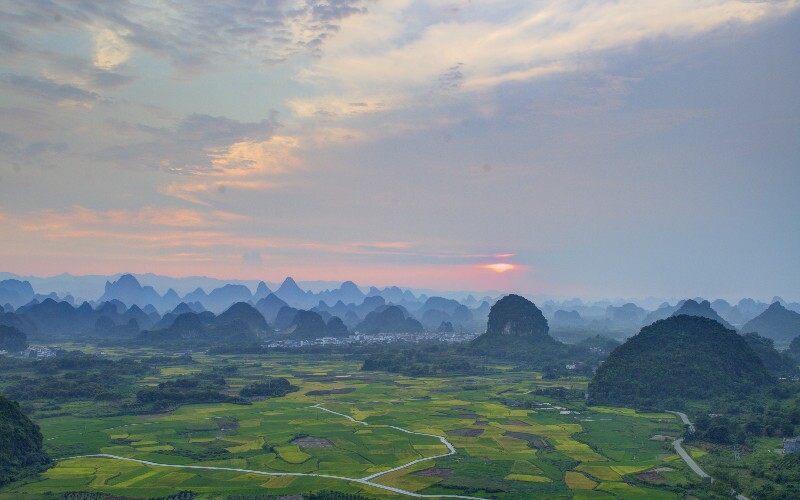 nanchang
Dragon and Tiger Mountain
Summary
Dragon and Tiger Mountain (Long Hu Mountain) is the birthplace of China Taoism and can be classified as typical Danxia Landform of relative complete development.
Overview
Dragon and Tiger Mountain is a nationally famous scenic spot known as a Mountain of Deity and Earthy Paradise, which covers around 200 sq km (77 sq. mi.) with semitropical humid monsoon climate and consists of 99 peaks, 24 cliffs and 108 natural and cultural scenic spots. There are three most amazing and attractive points among the numerous natural and cultural scenery, the Taoism culture with a very long history, the beautiful and unique green hills with wandering streams and springs and the mysterious cliff tombs that can not be explained by modern science.
Dragon and Tiger Mountain is composed of red sandy conglomerates, which form the typical red Danxi Landform. The marvelous landform came into being mainly because of the tectonic erosion, the avalanche vestiges and avalanche and the corrosion decency avalanche; there are over 23 types of landforms, such as stone walls, stone girdles, stone cliffs, stone columns, the stone forest, screen-like mountains, natural stone bridges, the water erosion cavern, the honeycomb-shaped cavern and avalanche cavern.
Besides, the bright, clean and beautiful Luxi River floats among the mountains, and like a jade belt connects Shangqing Palace, Longhu Mountain and Xianshui cliff together. It has great attraction to take a boat and float from Shangqing Ancient Village downwards to appreciate the over 10-kilometer (6-mile) fairy-like scenery.
Travel Essentials
Best time to visit
Dragon and Tiger Mountain mainly offers ship floating and raft drifting from March to December. And every season, it provides climbers with special scene.
Location
It is located 16 kilometers (10 miles) from Yingtan City to the southwest.
How to Get There
Dragon and Tiger Mountain has provided convenient transportation for the tourist. Moreover there are a series of attraction around, Wuyi Mountain in the east, Huangshan Mountain, Lushan Mountain and Jingdezhen, the capital of porcelain in the north.
Railway
Yingtan City is the transport interchange of Zhejiang-Jiangxi line, Anhui-Jiangxi line and Yingtan-Xiamen railway lines. Travelers can have direct access to many big cities, such as Beijing, Shanghai, Guangzhou, Chongqing, Wuhan, Hangzhou, Fuzhou, Xiamen, Kunming, Changsha, Nanjing, Nanchang, Jiujiang and so on.
Airline
Dragon and Tiger Mountain is 116 kilometers (62.6 miles) away from Wuyishan Airport and 120 kilometers (64.8 miles) from Nanchang Airport.
Waterway
Travelers can reach Poyang Lake by boat from Dragon and Tiger Mountain.
Related Articles

travel guide
The Top 10 China Travel Destinations in 2021

tour planing
How China Highlights Selects Your Hotels