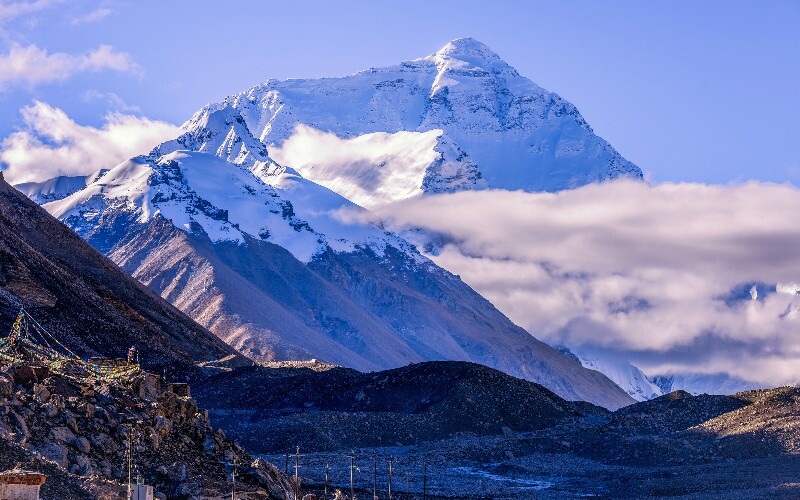 shigatse
Mt. Everest
Mount Everest is the highest mountain in the world at 8,844 meters (29,016 ft) above sea level. Always snow-capped above 6,000 meters it is the holy grail of mountaineers and sacred among the Tibetans and Nepalese.
Increasing numbers of mountaineers make expeditions to conquer the world's highest peak, while many tourists go to the foot of the peak to admire its beauty and magnificence.
Chinese: 珠穆朗玛峰 Zhūmùlǎngmǎ Fēng /joo-moo-lung-maa fnng/
Tibetan: Chomolungma ('Goddess Mother of Snow')
Nepalese: Sagarmatha
Location: Nepal/China border, Dingri, Shigatse, Tibet
Height: 8,844 meters (29,016 ft)
Tibet Base Camp: 5,180 meters (17,000 ft)
Activities: hiking, camping, photography, mountaineering
Suited to: fit, acclimatized adventurers
Location and Peaks
In the Himalayas, on the border of Nepal and Tibet, China, its north slope belongs to China, and the south side belongs to Nepal.
Around Mount Everest, there are three peaks above 8,000 meters (26,000 feet): Lhotse, Makalu, and Cho Oyu; and 14 peaks above 7,000 meters; which form the amazing vista of Mount Everest Natural Scenery Area.
Notable Summit Ascents
As the world's highest mountain, the peak has been the goal of mountain climbers from all over the world for decades. Everest was first climbed in 1953 by Tenzing Norgay (Nepal) and Sir Edmund Hillary (New Zealand).
The largest expedition to climb Mount Everest was made by a Chinese team of 410 climbers in 1975.
Most famous climber Bear Grylls (Man vs. Wild etc. star and author) climbed Everest in 1998, then the youngest Brit to summit at 23.
On May 8, 2008, the Olympic Torch for the 2008 Beijing Olympics was taken to the peak and lit there by a group of Chinese mountaineers, the first time for the Olympic torch to be lit on the top of the world.
In 2010 Jordan Romero (U.S., 13) was the youngest to climb successfully.
In 2013 Yuichiro Miura (Japan, 80) was the oldest Everest climber, after taking the record previously at 70 and 75. Muira was also the first to ski down Everest from 8,000 m in 1970.

Climate and Temperature
The lowest temperature on the peak is 30–40 °C (22–40 °F) below zero, but wind chill can make it feel colder! And oxygen on the peak is only 25% that of sea level. Strong winds blow the snow into drifts making the mountain still more deadly.
The area over 7,500 meters is coldest in February, averaging -27 °C (-17 °F), and warmest in August, averaging -20 °C (-4 °F).
The Tibet base camp is not as cold or bleak, being more than 3,000 meters lower, below the snow line, with daytime temperatures above freezing from spring to fall.
Visiting Everest's Tibet Base Camp
At the base camp, apart from the tents of mountaineers doing their acclimatization, there are huts and a post office where people can mail postcards to themselves or others as a precious souvenir.
Everest is 20 km (13 mi) south up a gravel plain in a glacial valley. The valley floor is generally featureless and gray, apart from boulders and small ponds, but it's the imposing snow-capped mountains around it that visitors come to see.
Interested in trek? Read more about Trekking to the Everest Base Camp
When to Go
The best time to climb Mount Everest is in early May before the monsoon season. May, June, September, and October are ideal times to travel to Mt. Everest, with not so much rain and cold.
Mid October to November is a good time to get views of the peak with clear and dry weather. Photographers may prefer April, as it is the best time to shoot the flag-like cloud floating above the peak.
How to Get There
Starting from Lhasa, take a bus (10 hours) or train (2 hours) to Shigatse, then private transport to the base camp (12 hours) via Dingri and Rongbuk Monastery (the highest religious building in the world).
Where to Stay
Most people stay in Shigatse before their trip to Mount Everest, though Dingri (120 km / 70 mi or 3 hours from the base camp) does have a limited number of hotels. Rongbuk Monastery Hotel is 3 km north of the monastery.
Mt. Everest Base Camp consists of some tents and huts, 5 kilometers (3 miles) south of Rongbuk Monastery. You might consider camping a night there.
Travel Permits
To enter Tibet and travel around Tibet, travel permits are needed. Besides a Tibet Entry Permit, an Aliens' Travel Permit is required to travel to Mt. Everest.
Read more on Tibet Travel Permits.
Physical Training
Before you visit Mt. Everest, ensure you are in good physical condition. Seek medical advice in advance. If you have asthma, high blood pressure, or similar conditions you should be advised against going.
Do physical training to avoid or reduce altitude sickness before you go, and acclimate in Lhasa (3,650 m) and Shigatse (3,800 m). Dingri (4,300 m) offers a good place to stop and acclimate further if you experience discomfort on the way from Shigatse.
Tour Mount Everest with China Highlights
If you are planning to see Everest, consider our Mt. Everest tour and other Tibet tours for inspiration. Contact us to create a Mt. Everest tour tailored to your requirements.
Related Articles

travel guide
The Top 10 China Travel Destinations in 2021

about us
Company History