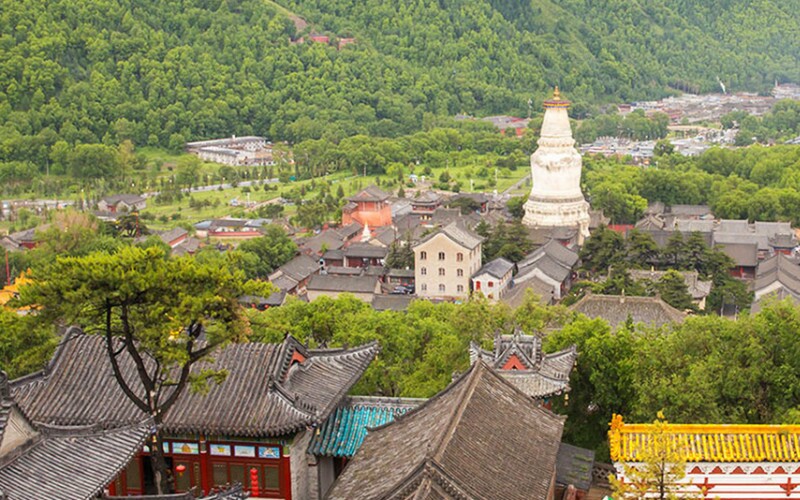 taiyuan
Mount Wutai
Mount Wutai has the longest and most prestigious history among the four famous Buddhist Mountains in China. It was enrolled as a World Heritage Site by the UNESCO in 2009.
Introduction
Mount Wutai is one of the four mountains of China sacred to Buddhism. It has the distinction of having been identified as the most prestigious and oldest one. This identification stems from a passage in a holy Buddhist text (a sutra), in which is described the abodes of the bodhisattvas holy to Buddhism (a bodhisattva is one who has devoted himself to becoming enlightened, or in reaching nirvana).
Wutai Shan ("Five Plateau Mountain"), or Mount Wutai in everyday parlance, is a unique and uniquely beautiful mountain landscape with a cultural heritage that is at least as prized as the mountain's natural beauty. Mount Wutai is rich in historical relics, ancient folk art, folk customs, and, of course, Buddhist culture. The mountain derives its name from the plateaus which form the tops of mountain peaks to the north, south, east and west, as well as a fifth peak, located roughly in the middle of the four other peaks. These plateaus naturally make ideal vantage points from which to view the respective landscapes below. Mount Wutai has an abundance of smaller peaks - many odd-shaped - rock outcroppings, steep cliffs, and beautiful caves, ponds of various sizes, bubbling springs and spring-fed streams.
History
The earliest Buddhist temple construction on Mount Wutai occurred during the Eastern Han (CE 25-220) Dynasty-for example, the magnificent Xiantong Temple was built during this period. Their numbers increased during successive dynasties, just as existing temples and monasteries on Mount Wutai were refurbished and/or enlarged, the idea being to increase the Buddhist presence on the mountain, given its prominent position within Chinese Buddhism. Nanchan Temple and Foguang Temple were both built during the Tang (CE 618-907) Dynasty (in 782 and 857, respectively), and Tayuan Si (Temple of the Pagodas), which began as part of the temple grounds of Xiantong Temple, became a temple in its own right during the Ming (CE 1368-1644) Dynasty, when it was refurbished.
Temples
Many temples on Mount Wutai have, as an extra feature, pagodas. These vary in material from wood to brick to iron to stone, including more exotic materials such as glazed glass and crystal glass. There are also jade pagodas on Mount Wutai. Foguang Temple's Zushi Pagoda, whose exact origin is not known but is believed to stem either from the Northern Wei (CE 386-533) or the Northern Qi (CE 550-577) Dynasty (of the Northern Dynasties (CE 386-588) Period), is considered one of the most beautiful pagodas on Mount Wutai. It is a hexagonally shaped two-storey structure in white-painted brick, though the upper storey is purely ornamental. With its lotus-petal and lotus-flower decorations, Zushi Pagoda bears distinctly Indian influences. Foguang Temple itself (built in CE 857, as indicated above) has the distinction of being China's oldest surviving wooden building.
Today, there are 48 Buddhist temples on Mount Wutai, from simple temples with only a few resident monks, to monasteries with dozens of resident and visiting monks (one of the latter of whom could very well be the manifestation of a particularly auspicious bodhisattva, yet another reason for maintaining a pervasive Buddhist presence on the mountain).
The Five Plateaus
East Plateau is called Wanghai Peak ("Looking-at-the-Sea") Peak. It gets its name from the main temple situated on the peak, Wanghai Temple. In summer, when you ascend the tall pavilion on Wanghai Peak you will have an amazing vista of the surrounding area. Being witness to the first probing rays of the rising sun here, amidst the clouds and the rising mists, is considered a privileged experience.
West Plateau is called Guayue Peak, though its main temple is Falei Temple. Looking out (in a westerly direction, naturally) from West Plateau, you can see a chain of mountains in the distance, covered in dense pine forests. In clear weather and late at night, when the chatter of birds and insects has ceased, West Plateau offers a calm view of the moon and stars above like no other you have experienced, as there is no artificial light to spoil the clarity with which these heavenly bodies beam their light earthwards.
North Plateau is called Yedou Peak, and, at its top, measures 3058 meters above sea level. Yedou Peak is the highest peak on Mount Wutai, and, in fact, the highest peak in all of northern China. From North Plateau you can get an excellent view of Mount Heng - aka Beiyue, or "Mountain of the North" - in the distance. Mount Heng is actually a chain of mountains, with magnificent peaks and ridges. It is a curious thought to imagine that the best view of any given mountain is often offered by a neighboring mountain!
South Plateau is known as Jingxiu Peak, though - again - its main temple is Puji Temple. Puji Temple is made of stone. The wild flowers growing in the meadows on this plateau, as well as the natural building materials of the temple itself, combine with the surrounding stillness to create an atmosphere of beauty frozen in time. The annual regeneration of nature - in the form especially of wild flowers - contrasts pleasantly with the overarching perception that this old mountain, with its time-worn, aged plateaus, was surely here long before the arrival of the first dinosaurs.
Travel Essentials
Ticket fare: 168 yuan per person (April-October), 140 yuan per person (November-March); some temples on the mountain charge additional admission fee.
Location: 240 kilometers north of Taiyuan City
Getting there: Take public bus No. 201 to Taiyuan East Long Distance Bus Station, where there are buses to Mount Wutai. It takes about 4 hours to Mount Wutai, and the fare is about 70 yuan per person.
Related Articles

travel guide
The Top 10 China Travel Destinations in 2021