Camper Tours China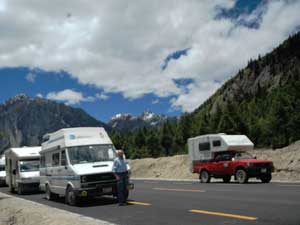 Great Scenery on the Way to Tibet
China Highlights is proud of being the first Chinese company to offer Camper Tours to China. You take your drive, and we take care of the rest: your tour plan, documents, tour guides, translations and more.
By driving your own van to China, you can set your pace and travel to places where normal tourist never dreamed of. Accompanied by an experienced China Highlights tour guide who will do all the hard work, you have nothing to do but enjoy your trip.
Click here to Customize Your Own Trip Now or take your phone and call us at 800-268-2918 (USA and Canada) or 86-773-2831999.
How to Design a Camper Tour?
According to our experience, the organizer would start learning the world map 2 years in advance, and during the following 6 months, search for companions, fax the countries, travel month and a rough itinerary, then 8 months earlier asks for help from the agencies in different country with the quotation (make sure you have kept free days for visa application for next country), hand over the relevant documents for application 5 months before arriving.
What are the Preparations?
Consult your doctor and ensure that vaccination requirements for all countries are up to date.
Try to find information regarding service information for vehicles in each country that will be visited.
Carry emergency pare parts and tools.
Ensure that international driving license and other documents are valid.
Copy all of the documents (passport, visa, driving license etc.) for emergency.
Download the country Embassy address telephone number.
Ensure that your credit cards/ATM are widely accepted in each country.
Carrying a small amount for cash is advisable for emergencies.
Tips about Campering in China
Diesel and gasoline are available. There are 3 grades of gasoline---#90, #93 and #97 depending on the octane level. The higher octane fuels are recommended for quality. Currently (Aug. 1, 2011), #0 diesel is CNY8/L for #0 diesel, #90 gasoline is CNY8/L, #93 gasoline is CNY7.6/L , #97 is CNY8.2/L .
There are two main State-run suppliers , China Petrochemical Corporation (SINOPEC) and China National Petroleum Corporation (CNPC)
Many roads have tolls which vary according to the vehicle type, heavy, distance, road condition and administrative policy. The average toll it is CNY50-70 one vehicle for 100 kilos high-speed journey, CNY20-40 for one vehicle when entering into another county and only cash is acceptable. An invoice is given.
Parking fees vary in China with big cities being much more expensive. In big cities an example is CNY10/hour one vehicle at Beijing and Shanghai) with automatic locking, but much cheaper in smaller cities or counties (e.g. CNY10 once at Turpan) with human services. For the overnight at Hotel parking, it depends (CNY50-100 for the whole night). Also only cash is acceptable with invoice return.
Why Campering in China?
China borders many countries in Eurasia and East Asia so there are many options for entry and exit. It has a land area of 9.6 million square kilometers. The China has recorded history of 5000 years with many natural and man made wonders. We have 56 ethic groups many of who still maintain their own customs to too to the mystery and romance of this huge country. China is one of the most popular tourist destination in the world today and waiting to be explore by self drive enthusiasts.
Why Travel with China Highlights?
China Highlights is the online travel service platform. Although self-drive holidays are relatively new in China we have successfully handled these tours ion the past and are familiar with the application procedures. A national guide plays an very important role during the journey. There are many difficulties in a tour of this sort and local experience and language ability is a necessity to be able to handle any situations that arise. Our company employs experienced, licensed guides for these special groups.
List of Camper Tours Arranged by China Highlights
61-day North and East China Camper Tour 2011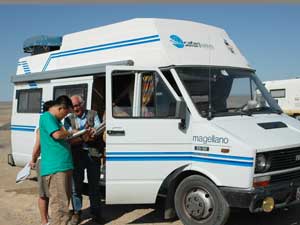 Discuss Itinerary on the way.
Dates: April. 20 to June. 19, 2011;
Entry City: Kolgos, Xinjiang from Kazakstan;
Exit City: Erlian Haote, Inner Mongolia to Mongolia;
Major Cities: Urumqi - Turpan - Dunhuang - Jiayuguan - Yinchuan - Lanzhou - Xiahe - Xi'an(Terracotta Warriors)- Yichang - Wuhan - Wuyuan - Huangshan - Hangzhou - Shanghai - Nanjing - Ji'nan - Beijing(The Great Wall of China) - Chengde;
Travel Advisor: Leon Long (Email: Leon@chinahighlights.com; Tel: 86-773-2889566)
61-day North China Camper Tour 2007
Dates: Jun. 18 to Aug. 19, 2007;
Group Size: 10 people(4 drivers, 4 passengers, 2 guides);
Number of Vans: 4;
Entry City: Manzhouli, Inner Mongolia;
Exit City: Holgos, Xinjiang;
Major Cities: Manzhouli - Harbin - Changchun - Chengde - Tianjin - Beijing(The Great Wall of China) - Datong - Wutaishan - Taiyuan - Pingyao - Shijiazhuang - Taian(Confucious) - Kaifeng - Luoyang - Yichang(Yangtze Three Gorges Dam) - Xi'an(Terracotta Warriors) - Lanzhou - Jiayuguan(The Silk Road) - Dunhuang - Hami - Turpan - Urumqi;
Travel Advisor: Leon Long (Email: Leon@chinahighlights.com; Tel: 86-773-2889566)
82-day North and Southwest China Camper Tour 2005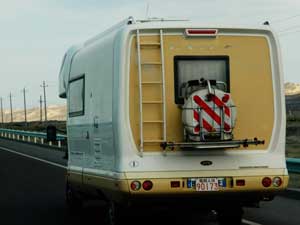 Drive in Xinjiang
Dates: May. 30 to Aug. 19, 2007;
Group Size: 11 people(5 drivers, 4 passengers, 2 guides);
Number of Vans: 5;
Entry City: Korgas, Xinjiang from Kazakstan;
Exit City: Korgas, Xinjiang to Kazakstan;
Major Cities: Urumqi - Turpan - Hami - Dunhuang - Golmud - Lhasa - Shigatse - Nyingchi - Shangri-la - Lijiang - Dali - Kunming - Emeishan - Leshan(Giant Buddhas)- Chengdu(Giant Pandas) - Hanzhong - Xi'an(Terracotta Warriors) - Luoyang - Dengfeng(Shaolin Kungfu) - Kaifeng - Shijiazhuang - Beijing(The Great Wall of China) - Datong - Hohhot - Baotou - Yinchuan - Lanzhou - Zhangye - Jiayuguan - Hami - Turpan - Urumqi;
Travel Advisor: Leon Long (Email: Leon@chinahighlights.com; Tel: 86-773-2889566)