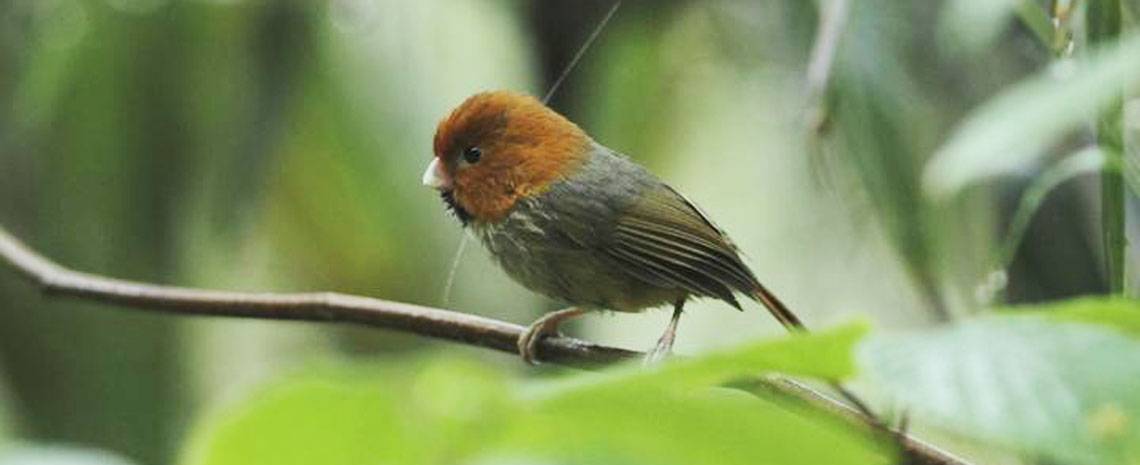 16-Day East and South China Bird Tour
This 16-day birding tour travels through Shanghai in East China, and Guangxi, Guizhou, and Jiangxi in South China.
The tour should help you enlarge your birding list to the Nonggang babbler, Chinese grassbird, black-necked crane, and many more species. The places on the route are some of China's richest natural and cultural resources.
Best time to go: December to February
Group size: maximum 6 people
Highlights
In Shanghai, the reed parrotbill
In Guilin, the Chinese grassbird
In Nonggang (Chongzuo), the Nonggang babbler and limestone leaf warbler
In Caohai (Guizhou), the black-necked crane
In Wuyuan (Jiangxi), Chinese merganser, pied falconet, and mandarin duck
What's Included
Entrance to scenic spots listed in the itinerary
Guiding by experienced English-speaking tour guide
Private transfers between the airport, attractions, and hotel
Hotel accommodation with breakfast
Lunches and dinners everyday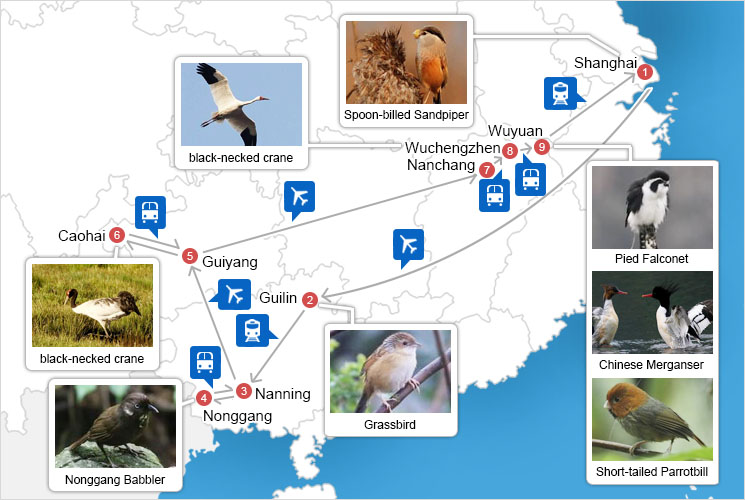 Suggested Itinerary
After arriving in Shanghai, you will meet your tour guide at Pudong International Airport. Then you'll be transferred to your hotel.
There is a very convenient birding place, where waterbirds and buntings are waiting for the visitors.
Accommodation (also Day 2's): Holiday Inn (Nanhui)
Day 2
— Birding in Shanghai
If the weather conditions are good, we drive to Chongming Island. ( or other activities can be arranged.)
Birding by bike we take a leisurely ride to warm us up. In the reed-bed are the reed parrotbill and Japanese swamp warbler. The possibility of seeing these two birds is quite good.
Day 3
— Fly from Shanghai to Guilin
In the morning you will fly from Shanghai to Guilin. Your Guangxi province birding guide will pick you up at the airport and take you to a place near Guilin city for Chinese grassbirds (Graminicola striatus) and lunch. The Chinese grassbird is a newly recognized species, split from the Indian grassbird (G. bengalensis), and was formerly known as the rufous-rumped grassbird. The split of the grassbirds, which was proposed in 2010 based on a morphological, vocal and genetic study (Leader et al., 2010), was recently accepted by the International Ornithologists' Union in January 2012 (Gill & Donsker, 2012).
In the afternoon, you will take the bullet train from Guilin to Nanning(2 hours). Discover more of the academic side of Chinese birding in Guangxi University. We have arranged an academic exchange/talk with the birders and the professors of Guangxi University.
Accommodation: Yongjiang Hotel Nanning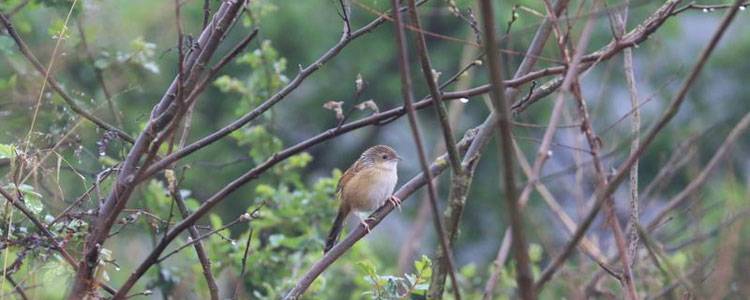 Day 4
— Nanning to Nonggang
In the morning, you will be transported to Nonggang by car (3½ hours).
In the Southwest of Guangxi province, straddled on the Vietnamese border, we will visit Nonggang National Nature reserve (NNR), primarily in search of the Nonggang babbler, a species described in 2008 by Dr. Jiang Ai-wu from Guangxi University.
Some other goodies in Nonggang NNR's karst (limestone) forest are the Hainan blue and paradise flycatchers, limestone leaf warbler, grey-cheeked fulvetta, silver-eared mesia, streak-breasted scimitar babbler, white-winged and common green magpies, streaked wren-babbler, rufous-capped babbler, Bianchi's warbler, Pallas's leaf warbler, and Davison's (or the white-tailed)leaf warbler.
Accommodation (also Day 5's): Green Magpie GH (in Nonggang by the NNR)
Day 5
— Birding in Nonggang
We will spend the day in karst forest and between sugarcane paddies, searching for sub-tropical birds, soft-soled hiking shoes are highly recommended. We may walk on some slippery paths on the karst hill.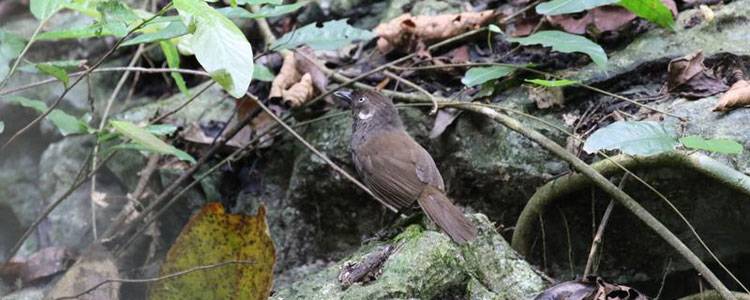 Day 6
— Drive from Nonggang to Nanning, Flight from Nanning to Guiyang
In the morning you will be transferred from Nonggang to Nanning international Airport for your flight to Guiyang. Your tour guide in Guiyang will pick you up at the airport and take you to your hotel.
Accommodation: Hotel Novotel Guiyang Downtown (Superior)/ Kempinski Hotel Guiyang (Deluxe)
Day 7
— Guiyang–Caohai by Car; Caohai Birding at Caohai Lake
Your private driver will drive you to Caohai in the morning.
Caohai is on the Yungui Plateau, and is one of the three greatest plateau lakes of China. It is an important spot for the wintering black-necked crane and other birds like common crane, ruddy shelduck, bar-headed goose, and many kinds of pochards. With luck the Baer's pochard, on the IUCN Red List, will appear on Caohai Lake.
The observation spots in Caohai are good for photographing in the morning. Most of the time the cranes will fill 400 mm camera lenses. The calls of the cranes sound everywhere on the ground and in the sky.
Accommodation (also Day 8's): Caohai Xicheng Hotel
By the crystal clean Caohai Lake we combine a walk on the shore, with a whole day seeking out waterbirds and also forest birds at an altitude of 2,500 meters (8,200 feet) above sea level.
Day 9
— Caohai to Guiyang by Train
We seize the morning for birding at Caohai Lake, driving to the top of a hill near Weining city for a panoramic view of Caohai Lake. We hope to find some jungle birds in the area. After that we will drive to the small Caohai Railway Station to take the train back to Guiyang.
Accommodation: Hotel Novotel Guiyang Downtown (Superior)/ Kempinski Hotel Guiyang (Deluxe)
Day 10
— Flight from Guiyang to Nanchang
We will take you to the airport for your morning flight to Nanchang.
After arriving in Nanchang, your private driver will drive you to Poyang Lake in Wucheng District (1 hour). The accommodation has a good location, near to the water. We can save at least an hour for morning birding, when the birds are most active.
Poyang Lake is famous for its vast numbers of waterbirds. Although both the lake and waterbird numbers have reduced drastically in size over the past 30 years due to hunting, climate change, and the construction of the Three Gorges Dam, we believe you will still be impressed by the sheer volume of geese, ducks, cranes, storks and waders.
Accommodation (also Day 11's): Yongxiu Hostel (simple but clean and convenient for birding)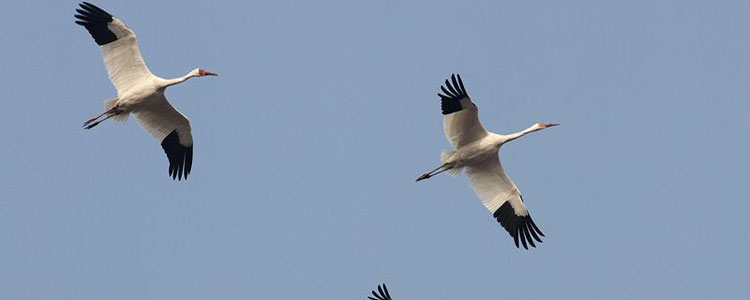 Chinese spot-billed duck, mallard, gadwall, Eurasian teal, Eurasian wigeon, pintail, Baikal teal, Oriental stork; and Siberian, common, and hooded cranes will be there in great numbers when the water level is good and low. Raptors like harriers and kites often hover over the marsh and drive the geese from place to place.
Day 12
— Poyang to Wuyuan
We seize the morning for birding in Poyang, before transferring to Wuyuan by car.
Accommodation (also days 13–15): Jiangwan Hotel Wuyuan(Superior)/ Wuyuan International Hotel (Deluxe)
Day 13-15
— Birding in Wuyuan
We spend three days birding in picturesque Wuyuan, for the yellow-throated laughingthrush. Normally people can find them just at their breeding time in spring, but possible wintering spots have been found by our team, and with luck we may see this species.
One endangered species is the Chinese merganser (scaly-sided merganser).
Other species found in Wuyuan include the bull-headed shrike, short-tailed parrotbill, grey-headed parrotbill, masked laughingthrush, pied falconet, Chinese bamboo partridge, Swinhoe's minivet, rufous-faced warbler, red-billed starling, mandarin duck, and spot-breasted scimitar babbler.
Day 16
— High-Speed Train from Wuyuan to Shanghai
In the morning, we seize the time for short birding and then you will take the 4-hour high-speed train back to Shanghai Hongqiao Railway station, where we can pick you up and transfer you to Pudong International airport for your flight home.
Trip Notes
Our bird watching itineraries are customized based on your requirements. They can be shortened or extended. Please contact us for more information.
Maybe you just need a car and a driver for your birding trip, and want to find and identify the species by yourself. Maybe you need more time for photographing, so you want to go at your own pace. We do understand your needs, and we believe that even our drivers also understand birders well. Though our driver can just understand a little English, he can drive you to the birding hotspots, where the birds are most-easily seen.
Cat Mountain in Guilin is the highest place in South China. We recommend extending a bird tour there for birders who want to go somewhere less traveled. It's home to the golden parrotbill, golden-breasted and gold-fronted fulvetta, silver pheasant and Chinese crimson pheasant (Temminck's tragopan). If you are interested in this place where few foreigners have been for birding, let us know.
Fitness and Equipment Required
Physical requirements: moderate, with daily walking routes between five and ten kilometers
Equipment: weatherproof clothing, hiking boots, backpack, and ideally: field guide, binoculars/telescope, and camera.
Recommend Field Guides
Birds of Southeast Asia by Craig Robson, Princeton Field Guides [Paperback]
A Field Guide to the Birds of China
by John MacKinnon & Karen Phillipps & He Fen-qi