One-Day Tour to Longji Rice Terraces & Mountain Village (Small Group)
Come and discover the minority tribes of Longsheng, Guilin. You can trek up the amazing Longji Rice Terraces, get in touch with ancient Chinese minorities' lifestyles and let the spectacular scenery sink in your memory for the rest of your life.
Highlights
The Tour: Explore the incredible Longji Rice Terrace and experience the mysterious life style of the Zhuang people guided by our English-speaking driver.
The Meals: Try the bamboo-tube rice meal and enjoy the real local food at the minority village.
Transport: Pick up and return to your hotel doorstep.
Reduced Groups: Just max 8 people in a 9.seats MPV.
English Speaking Driver: More than 7 years experience as a driver.
No Shops: Today we just want to have fun.
Suggested Itinerary
08:00AM-08:45AM: Guilin Hotel pick up
Pick-up starts from the southern part of the city and moves to the eastern. Travelers who stay near Guilin Railway Station will be the first ones to get picked up, later are the ones at the city center (08:15-08:30, like Sheraton Hotel, Lijiang Waterfall Hotel, Eva Inn, Bravo Hotel, Aroma Tea House, Osmanthus Hotel and etc.) and then the ones at the eastern part of the city (like Plaza Hotel, Royal Garden Hotel and etc.).
Note: Those travelers who stay in another than the three above-mentioned parts of the city, will get a pick-up note at the hotel one day beforehand.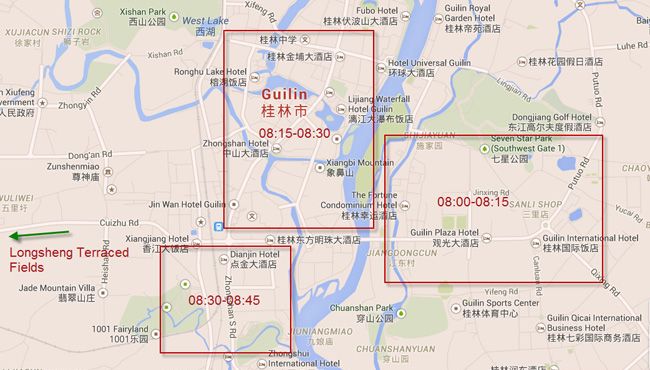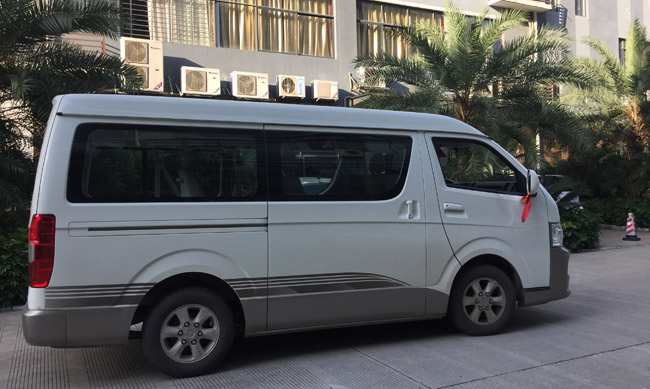 08:45AM: Start off to Longsheng
From Guilin to Longsheng we will drive about 2 hours (100km). We will stop 10 minutes for a small break.
Many villages are scattered along the way and most of them are now becoming more modern, with vast fruit plantations and rice paddies. Your English-speaking driver will introduce these developments and how they change people's lives here.
Note: It might get a little bumpy on the curvy mountain roads.
11:00AM: Arrive at Longji Rice Terrace Scenic Area
Upon on your arrival, we will stop 10 minutes for entrance tickets, then we will drive for another 20 minutes to Huangluo Yao village in where we will have lunch.
Note: The arriving time will be either earlier or later, depending on the weather and road condition.
12:00PM- 01:00PM: The Lunch time
Can you imagine that you can cook your local food and rice in bamboo? Yes, the local staff use bamboo tubes, filling them with raw rice and cooking it on a slow fire. That way we give the rice enough time to absorb the bamboo ingredients and fragrance. Enjoy real local food for lunch while your driver tells you the secrets how to make it delicious.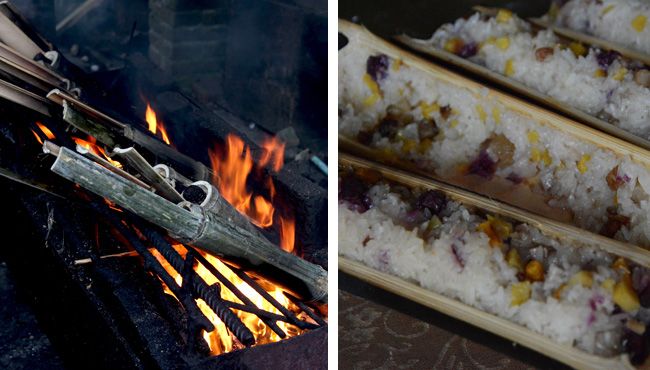 01:30PM: Exploring Ping'an Village
After lunch, your driver will transfer you to the parking lot of Ping'an Village to see the fantanstic rice terraces.
Ping'an Village, home to the Zhuang people, was closed to the outside world due to the bad road conditions until 1997. Remarkable traditions and outlooks are preserved even though the majority of the local villagers have picked up second careers as restaurant staff, hostel or café owner, luggage porter or sedan chair carrier. This is probably a brilliant way to make a better living during slack farming season. At harvest, they will be busy harvesting crops in the fields, becoming a part of the scenery.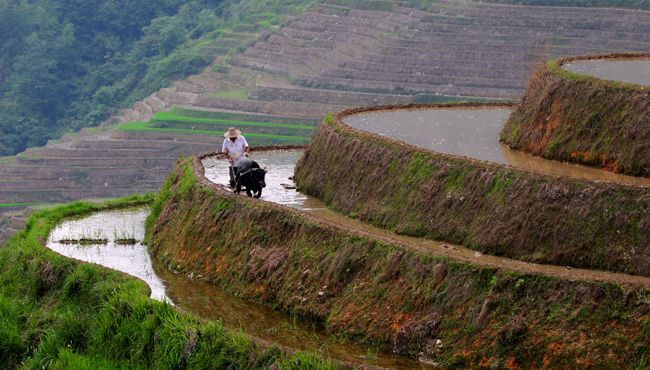 01:30PM-03:30PM: Trekking on Longji Rice Terrace
Watering the fields starts in April, planting in June and harvest comes during late September. You can find a special panoramic view from May to September, especially for photograph lovers.
Your driver will transfer you to the parking lot, you can prefer either walking about one hour to the top to take a fantastic panoramic view of the terraces and the village or taking about 20 minutes shuttle bus to the top. If you would like to walk through the rice terraces, your driver will give you directions so that you can discover the village on your own. The driver will  wait for you in the parking lot.
The construction of Longji Rice Terraces started at the beginning of Yuan Dynasty, which is about 800 years ago. That's when the Yao minority people migrate to the mountains running away from wars. Then they start to create long planting ranges for rice and transform the mountain into fertile fields, appearing multiple field levels used for creating an irrigation system and water storage areas.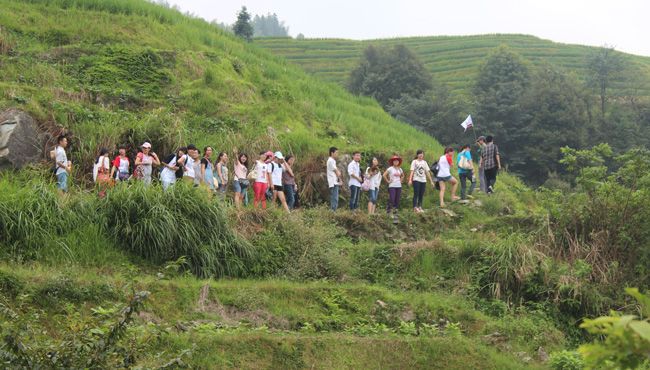 04:00PM: Return to your hotel in Guilin
The drive to Guilin will take about 2 hours. You can be dropped off at your Hotel door or whichever place in Guilin City you want to be. Here we end this pleasant tour of the Longji Rice Terraces and Mountain Villages.
05:45PM-06:30PM: Drop off at your hotel
Our Service Includes:
One-to-one consultancy with our travel expert
Versatile and knowledgeable local guides
Your own chauffeur and comfortable vehicle
Hand-picked hotels to suit your preferences
Hotel buffet breakfasts and local restaurant lunches
The booking of internal transportation per your preferences
A 24/7 helpline while you are traveling