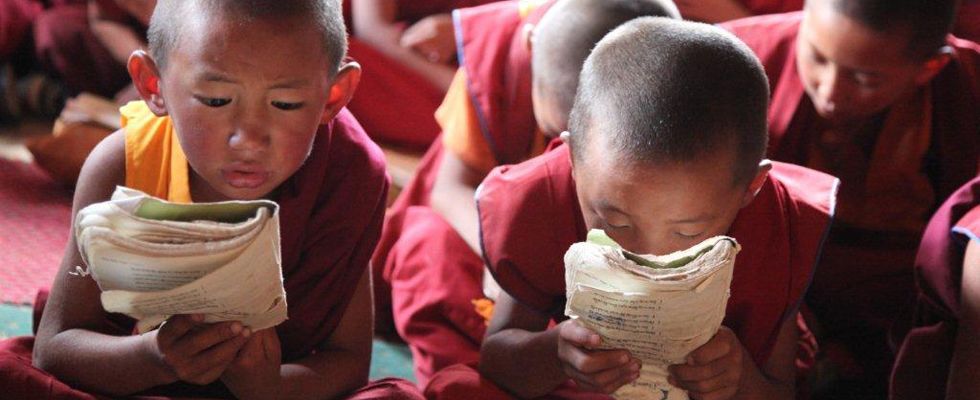 Lhasa to Kathmandu Overland Adventure via EBC
From: $1799
Photography
Nature
Hiking
Culture
Important Note: This overland tour is not available now because of the Nepal's earthquake. We apologize for any inconvenience this has caused.
The overland route between Lhasa and Kathmandu is probably the most exciting journey in all of Asia. This 1100-km drive is full of stunning views, from countless lakes, rivers, glaciers and traditional temples on the Tibetan highland, to subtropical forests on the Nepalese side. Standing up close to the Mount Everest at the Everest Base Camp is definitely an unforgettable moment. With the help of our experienced local Tibetan and Nepalese tour guides, we ensure you maximimum comfort, including a specially prepared western breakfast even at the most remote town. Join the adventure now before it sells out.
Highlights
Climb up to the Potala Palace, the heart of Tibet culture.
Visit the backstreets of religious Jokhang Temple
Watch a sunrise at Mt. Everest in good weather
An off-the-beaten hike from Pabongka Monastery to Sera Monastery to watch the monks debates.
Picnic on the shoreline of Yomdrok Lake
A close walk into local resident quarters near Zhongshan Castle
A guided visit to iconic Kathmandu's major sites
Departure Dates in 2015
Your adventure starts at Lhasa airport (or railway station). Book your own transport to Lhasa or let us book the tickets for you. Let us know if you need help with any pre-trip arrangements. Departure is guaranteed with a minimum of 4 travelers.
Sun. May 17
Sun. August 23
Sun. September 20
Sun. October 18
What's Included
Tibet travel permits for entering Tibet
Hand-picked accommodations with good online reviews
Guiding by experienced English-speaking Tibetan/Nepalese tour guides
Western breakfasts and lunches at featured clean restaurants
Spacious air-conditioned van or coach with experienced driver all the way
Entrance fees to all sights in the itinerary
Price Per Person in US Dollars
| Small Group 2015 |   |
| --- | --- |
| May 17 | $1799 |
| August 23 | $1899 |
| September 20 | $1899 |
| October 18 | $1799 |
| Single Room Supplement | $433 |
Suggested Itinerary
Day 1
Arrive at Lhasa (Elev. 3,650m)
We will pick you up at the airport or train station. Take a rest and enjoy marvelous scenery in a spacious air-conditioned coach (1 hour driving, around 65km). Check-in with the help of your guide. If you feel abnormally tired or have a headache, you may be suffering from altitude sickness. Our trip allows two days at the beginning for you in Lhasa to help you acclimatize.  If you need any help, you can ask your guide at any time. If you feel good, feel free to explore this gorgeous ancient city on your own. Just remember to move slowly.
Good to know:
We suggest you take a morning flight to Lhasa as it is more punctual. Usually, sleeping might be a problem on your arrival day. So you can have more time to rest.
Day 2
Visit Jokhang Temple and the Potala Palace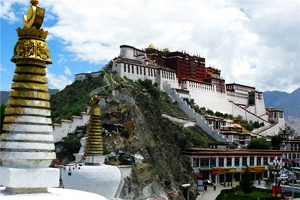 The Potala Palace
Visit two of the most famous UNESCO sites today. Join the many pilgrims prostrating themselves near Jokhang Temple( Elev.3,490 m), the spirit center of Tibetan Buddhism. Remember to walk clockwise on the Barkhor street around Jokhang Temple (Elev 3,700 m)with prayer wheels. Don't forget to buy your family and friends some of the most typical Tibetan style gifts on this most popular street.
Continue to climb up to the magnificent Potala Palace, the former winter home of the Dalai Lama. Walking into the 300 year old red and black buildings, you will see many invaluable decorated statues, murals and antiques inside the palace. It's the most important landmark of Tibet.
Good to know:
There are a lot of steps in front of Potala Palace. Prepare for climbing the long stairways.
Day 3
A short hike from Pabongka Monastery to Sera Monastery
Monks in Sera Monastery
Drive to Pabongka Monastery to start the 4-hour soft hiking. Pabongka Monastery has a longer history than the Potala Palace. Destroyed in wars, its majesty still remains. Hiking downhill, you will arrive at Chupsang Nunnery, which belongs to the Gelug Sect of Tibetan Buddhism. After a light lunch, continue the hike to reach the final destination-Sera Monastery (at more than 4,000 m elevation).
Watch the monks debate if you are curious about Buddhist doctrines in Sera Monastery. The debates are normally held from Tuesday to Sunday at 15:00.  Drive back to Lhasa, on the way see local people's life and beautiful gardens in Norbulingka, the former summer palace of the Dalai Lamas if time permits.
Day 4
Explore Gyantze Old Street, Palgor Chorten and Yomdrok Lake (drive time about 5.5h, about 280km)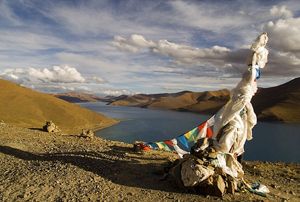 Yomdrok Lake
We leave Lhasa today and start our adventure southward all the way to Shigatse. En route we will pass and photograph the magnificent Yomdrok Lake(at 4,500m) – a typical highland lake in central Tibet with great views. Have a lunch by the lakeside if weather is good. The lake has a turquoise color in sunny days, and is one of top 4 Buddhist holy lakes in Tibet.
Later we will pass Karola gracier (at 5,560 m) to Gyantse, keep your eyes open and don't get to sleepy.Gayntse is an old and modern town(Elev 4,000m). Visit the Palgor Chorten when we arrive at Gyantze town. See different styles of monastery construction. Buildings, sculpture, mural paintings are all recommended to see. Walk along Gyantze Old Street, which has a history of more than 600 years.
Day 5
Visit Tashilunpo Monastery at Shigatse (driving time 2h and 15min, 100km)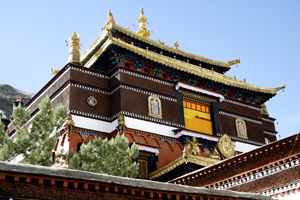 Tashilunpo Monastery
Visit Tashilunpo Monastery (at 4,800m), the home of over 600 monks and formerly the Panchen Lama, the second most important Lama leader in Tibet. Different from monasteries of Lhasa( known as'Front Tibet'and ruled by the Dalai Lama), it is representative of 'Back Tibet', which  was controlled by the Panchen Lama.
Constructed in 1447, it offers a grand and majestic view. Walk the pilgrim route that goes up and around this famous monastery. Explore inside the huge monastery complex and compareand contrast it with the other monseries you've already seen.
Day 6
Shigatse to Dingri (driving time 4h, 250km)
Drive to Dingri(elev. 4,300m) from Shigatse(elev. 3,800m). Stay in Dingri Zhufeng Hotel, the best hotel in Dingri. Dingri Town is in southern Tibet and famous for Mt. Everest. Have a good rest and get ready for Mount Everest the next day.
Day 7
Head to Mt. Everest Base Camp(drive time 3h and a quarter, 140km)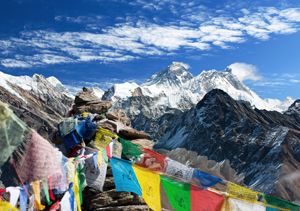 Mt. Everest Camp Base
After a hotel breakfast in Dingri, you will start to Mt. Everest Base Camp (elev. 5,200m), a 4h journey. Visit Rongbuk Monastery, the highest monastery in the world at 4,980 meters. Have a look at the monks and nuns' tough life. Seeing and photographing Mt. Everest from the monastery is dramatic.
Arriving at Mt. Everest Base Camp (elev. 5,200m), you will see the highest mountain in the world- Mt. Everest in front of you. Standing close to the mountain evokes beauty, majesty, and victory. It is surely an once-in-a-lifetime experience.
Good to Know:
You will stay in a rented tent at Mt. Everest Base Camp. We suggest you bring your own sleeping bag or tell us in advance so that we can prepare your sleeping bags.  Sleeping bags for rent are quite dirty. Some snacks and a vacuum cup are suggested.
Almost everyone will have altitude sickness. Take it easy! Ask your guide for help at any time if you have a problem.
April, May, September and October are the best months to visit Mt. Everest Base Camp.
Travelers can see Mt. Everest more clearly. Bring a warm coat, even in summer, as the base is very chilly.
Day 8
Sunrise at Mt. Everest, Back to Zhangmu (drive time 6h, 275km)
Watch a fantastic sunrise at Mt. Everest in good weather. After leaving Mt. Everest, you will be driven to Zhangmu(elev. 2,300m), a border town between China and Nepal. Enjoy panoramic views of the snow-capped Himalayas on the way.
Stay at Zhangmu Hotel (elev2,300m) at night, and start your Nepal journey next day.
Day 9
Visit Kathmandu Durbar Square (drive time 1h and a half, 80km)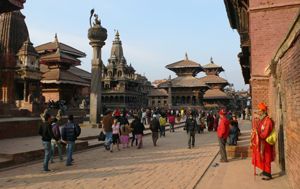 Kathmandu Durbar Square
Cross the border of China and Nepal, and step into Nepalto experience a different Buddhist culture. Visit Durbar Square, the traditional center of the old town. It is the place that the city's kings were crowned in the past. You will see some magnificent traditional architecture in Kathmandu (elev. 1,400m). Stay in a local 4-star standard hotel.
Day 10
Visit Kathmandu 's Classics
After a hotel breakfast, you will visit Kathmandu's world heritage sights such as Swyambhunath Stupa(the Monkey Temple), Boudha Nath Stupa, Pashupatinath Temple,and Patan City. On the bank of the Bagmati River sits the Pashupatinath Temple a famous Hindu Temple in northwest Kathmandu. It's the most scared Hindu shine and one of the most famous Shiva sites in Nepal. Have a local Nepalese meal at noon.
Day 11
Departure (drive time about 15min, 10km)
Have your un-hurried breakfast in the hotel. Enjoy a stress-free transfer to the airport. Your guide will take you to the airport in plenty of time, and escort you to the correct security gate.
Upgrade to Private Tour For your convenience, or perhaps if you are not interested in sharing a tour with other travelers, you can upgrade to a private tour for $300 more per person (2-3 persons) and get the same itinerary. Upgrading and tailor-making a tour is available April to December. Contact our travel advisors for more details.
Trip Notes
1. Accommodation
Hotel list:
Lhasa: Shambhala Palace or Tashitakge Hotel or similar hotels (elev.3,650m)
Mt. Everest Camp Base: Dorm bed in camp (elev.5,200m)
Kathmandu (elev. 1,400m): Standard class hotel (local 4*)
We select heritage hotels in Lhasa old area, like Shambhala Palace andTashitakge Hotel, so that travelers can experience more local life and culture. If you want a more comfortable hotel like St Regis Lhasa Resort, or Four Points by Sheraton Lhasa Hotel, feel free to ask your travel advisor to arrange it for you. Standard western hotel breakfast is offered.
2. Tibet Enter Permit
You need a Tibet Entry Permit and it is included in the tour price. Send your passport and China visa copies to us 20 days in advance, and we will deal with your permit once you book a Tibetan tour with us. In our experience, we can virtually guarantee to get your permit when Tibet is open to foreign travelers.
3. China Visa
You need to apply for a China visa and Tibet Travel Permit if you want to visit Tibet. But Norwegians surely can't visit Tibet at this moment.
We can assist you with your visa by sending an invite letter of our company. It is suggested that when you fill documents for your visaif avoiding writing Tibet on your document it is more likely to be successful.
Visit Tibet from Nepal: Reserve 2 working days for the Chinese Visa if visiting Tibet from Nepal. For your Chinese Visa in Kathmandu, we will prepare all the documents in advance, and send to travel agency in Kathmandu or directly to you.
4. Guiding
Our English-speaking guides are natives with good knowledge of Tibetan culture, history, and Buddhism. Most of them are trained to offer Western standard service.
5. Food
Enjoy some local Tibetan food, Western Chinese and Nepalese food in the tour. Lunch in the itinerary is included. Your guide can offer some suggestions about local tasty restaurants for your dinner. We suggest you have dinner in the hotels where you stay outside of Lhasa.
6. Breakfast
Lhasa and Kathmandu: Standard western hotel breakfast
Out of Lhasa in Tibet: Special prepared additional breakfast: butter, bread, coffee tea, etc.
7. Altitude Sickness
Before your trip, ask your doctor for suggestions, and bring some medicine in case. The most popular altitude medicine with foreigners is Acetazolamide / Diamox.

The first two days after arriving in Tibet, we suggest visitors keep warm, not take a bath, smoke as little as possible, and do not drink alcohol. Drink plenty of water (>4 litres) before going and at altitude, and eat lots of vegetables and carbohydrates. Slow down your movement, even if you feel energetic. Moving slowly is the best way to avoid mountain sickness. If you are ill after entering Tibet, go to see a doctor as soon as possible. There are doctors in major hotels in Lhasa, and you can call your tour guide for help at any time. We offer a free oxygen bag in the car.
8. What to Pack
Seek medical advice about altitude effects and pack any medicine you might need. Sunglasses, snow glasses, hat, lip balm, sun block, walking boots, and down jackets are recommended.
9. Getting There and Returning
Flights:
We suggest you take a flight arriving in Lhasa in the morning. Morning flights are more likely to be on time. A flight takes around 2 hours from Chengdu, Xi'an, Chongqing, or Kunming, or around 5 hours from Beijing and Shanghai.
Trains:
We suggest you take a train from Xining or Xi'an to Lhasa, as there is a higher possibility of successful booking. It takes about 25 hours from Xining or Lanzhou. We can book a soft berth compartment if you don't want to share a compartment with others.
And there are direct trains to Lhasa from Beijing and Shanghai which
we do not recommend. The journey is over 40 hours. The best scenery begins about 10 hours before arriving at Lhasa.
International Flight to Tibet Directly
Fly in: You will need at least 3 hours if you want to transfer via another Chinese city to Tibet. We will hand in your Tibet Travel Permit when you wait for the connecting flight.
By train: If you transfer to a train to Tibet after an international flight, we will send you the scanning permit in advance. You can print it out for the train.
Generally, we don't suggest you visit Tibet directly after an international flight. Tiredness after a long flight may increase the symptoms of altitude sickness. We suggest you spend at least 2 recovering days before landing in Tibet.
10. Pre or Post Trip
Please feel free to ask your trip advisor to make pre-trip and post-trip arrangement while you're planning it.

Arriving at Lhasa one day earlier or extending one day in Kathmandu is an additional $140 per day per person. For extensions, transport in other cities of China, or train tickets to Lhasa, please feel free to ask our travel advisor for an additional inquiry.
11. How to plan a Tibet and Katmandu tour
For those who want to know more about Tibet, we suggest you spend some time in other cities in China and then fly or take a train to Tibet. It's much easier to get used to altitude sickness from Lhasa to Katmandu(elevation difference: 3800m- 4500m-5200) than the opposite way Kathmandu to Lhasa.
For those who only want to visit Tibet, you can plan a tour of Katmandu–Lhasa-Katmandu. You will spend 2 weeks at most and get a better discount on round-trip tickets.
12. Transport
Private comfortable car/van and experienced, careful local drivers ensure the road conditions in Lhasa will be as small a problem as possible. The journeys to some parts of Tibet are bumpy on rugged roads. Some roads are strictly limited to speeds of 30km/h (20 mph). Our drivers drive carefully and slowly. The longest drive commonly undertaken is the 7–9-hour journey to Mt. Everest Base Camp.
Vehicle/Bus Conditions
Business Class for 4 persons
12-seat coach for 6 persons
14-seat coach for 8 persons
33-seat coach for 10 persons
13. Booking
Take the time to apply for your Tibet Entry Permit into consideration. It's best to book a tour with us at least 30 days before your tour starts.
Deposit: If you book a Tibet tour 30 days before departure, you are required to pay 10% deposit in advance; if you book a Tibet tour within 30 days before departure, you are required to pay in full in advance.
Cancellation: You can cancel the tour up to 14 days before departure.
14. Money Exchange
We recommend bringing enough cash for your Lhasa trip. If you run out of cash, the Bank of China can exchange money. However, branches of the Bank of China in Tibet are much smaller and fewer than in other cities in China.