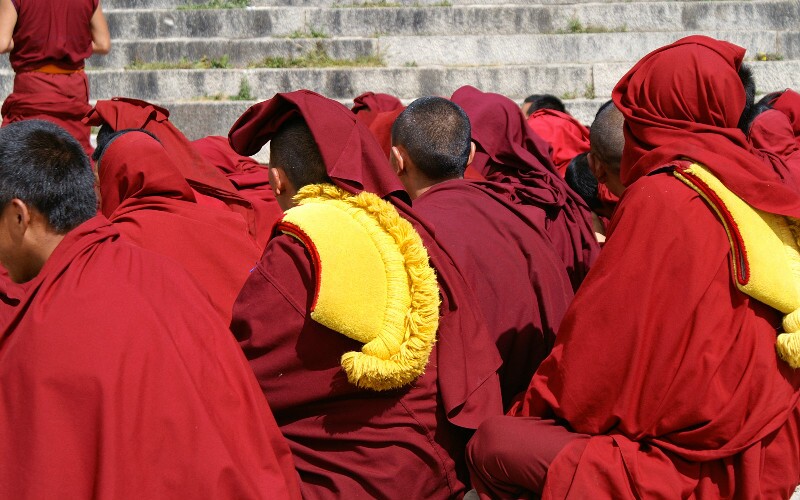 tsetang
Samye Monastery
Samye Monastery, located 30 km west of Tsedang Town, on the opposite bank of the Yarlung Tsangpo River, was the first monastery built in Tibet. The monastery was founded in AD 775.
The Buildings
The monastery complex comprises a large main monastery and many smaller temples around it. It looks rather like a small town. A visit to the main monastery taking about 2 hours is quite sufficient. The smaller monasteries can be skipped if your schedule is tight.
The main monastery building has numerous frescos, sculptures, and prayer wheels. Butter lights are lit, and butter sculptures are offered to the Buddha there. It is a three-story building, with narrow and slippery wooden stairs leading to the upper floors.
The third floor commands a nice view of the surroundings: you can see picturesque scenery of red monastery buildings set in a beautiful valley.
The toilet on the monastery grounds is worse than dirty. It charges one yuan per entry. There is no other option nearby.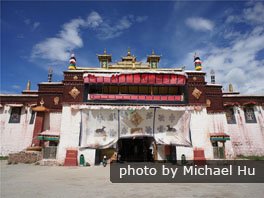 How to Get There?
If you travel with a travel agency, they will arrange everything for you. China High lights offers private transport for our customers to the monastery.
Buses leave from Barkhor Square, Lhasa, each day at 7am to the Samye ferry crossing. It is 30 yuan for the 3-hour journey.
The ferry leaves when full, and it charges 5 yuan. Minibuses or trucks can carry you the final 9 kilometers to the monastery for 10 yuan.
Another more reliable and safer option is to take a bus from Lhasa to Tsedang, and then catch another bus at the crossing of Naidong Road (乃东路路口). The ticket price is 20 yuan. There is only one bus leaving at 8am each day to the monastery, so you need to stay one night at Tsedang if you choose this means of transportation. The only bus back to Tsedang leaves at 2pm.
Simple accommodation is available at the Monastery Guesthouse for around 40 yuan. The restaurant at Monastery Guesthouse serve simple food. There are restaurants offering Sichuan dishes and Tibetan dishes outside the monastery's east gate.
Related Articles

travel guide
The Top 10 China Travel Destinations in 2021

feedback
China Highlights Tour Reviews