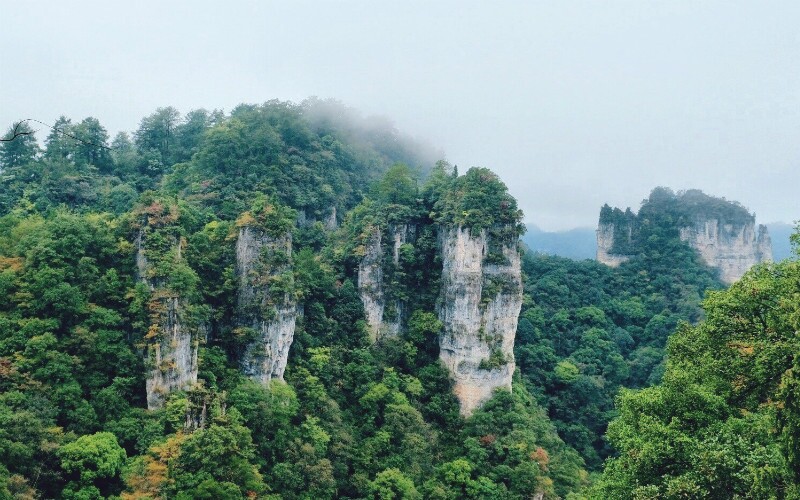 zhengzhou
Mt. Yuntai - World Geological Park
Mt. Yuntai is one of the national world geological parks after Mt. Huangshan and Mt. Lu due to its stunning natural scenery, including numbers of waterfalls, trees, oddly shaped rocks and streams, which suitably express the splendid mountain in the north of China, but also the tenderness of the Chinese water town.
Main Attractions
Hongshi Valley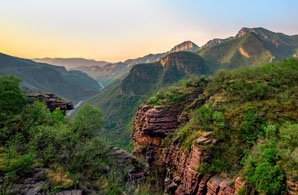 Hongshi Valley
Hongshi Valley, which is regarded as the oldest rock and the most beautiful and fabulous valley in Mt. Yuntai, combines elegance, quietness, magnificence and adventure into the springs, waterfalls, streams and lakes. The valley is 68 meters deep surrounded by steep cliffs and bizarre stones, like a gift from heaven and a silhouette of Chinese mountains and rivers.
The waterfalls are the most attractive part of the scenery in Hongshi Valley. These waterfalls make the air in Hongshi Valley seem clearer and fresher. When walking beside these huge waterfalls, whose sizes range from about 2 meters to more than 10 meters, you will feel braced and refreshed.
Xiaozhaigou Valley (including Tanpu Valley and Macaque Valley)
Tanpu Valley
Tanpu Valley is the most typical valley in Mt. Yuntai where the springs, waterfalls and lakes are the most appropriate silhouette. You can feast your eyes on the Lover Waterfall and the Water Curtain Cave. Furthermore, the scenery of the Y-shaped Waterfall and the Longfeng Waterfall are also wonderful.
Macaque Valley
Macaque Valley
Mt. Yuntai is regarded as the national macaque natural reserve due to a large number of macaques living in the mountain. Six macaque performances everyday are welcomed and appeal to lots of travelers.
Zhuyu Peak
Many scholars and poets, as well as some monks, come to Zhuyu Peak to study and cultivate themselves. It is covered by a large area of flourishing trees, which is praised to be a natural oxygen bar.
Travelers can appreciate the uninterrupted mountains and tumbling clouds after taking a bus or climbing thousands of steps to reach Zhuyu Peak.
Wanshan Temple
The Wanshan Temple, which means the center of everything in the world, was built in the Ming Dynasty (1368 - 1644). It reached its highlight after being renovated many times. The Wanshan Temple became a must-go place in Mt. Yuntai because it is not only a great place for sightseeing, but also a place to pray for happiness and peace.
Tai Chi Performance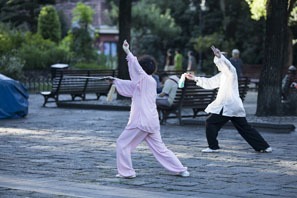 Tai Chi
There are several Chen's Tai Chi performances in Xiaozhaigou Valley. Chen's Tai Chi, which was invented in Jiaozuo, is one of the most outstanding types of Tai Chi in China, including Yang's, Wu's (吴氏, surname meaning ancient South China), Wu's (武氏, surname meaning military) and Sun's.
Three performers are standing on the stage built in the middle of the stream. Under the accompaniment of the classic Chinese music, you will fall in love with this soft Kung Fu style.
Recommended Traveling Routes
One Day Tour
Hongshi Valley - Zifang Lake - Tanpu Valley - Quanpu Valley - Macaque Valley
Tanpu Valley - Quanpu Valley - Macaque Valley - Hongshi Valley - Wanshan Temple
Two Days Tour
Day 1: Hongshi Valley - Tanpu Valley - Quanpu Valley - Macaque Valley
Day 2: Wanshan Temple - Zifang Lake - Diecai Cave - Zhuyu Peak
5 Service Districts
Baijia Cliff Village
Gu Dongyao Village
Hei Shiling Village
Qian Heishiling Village
Zifang Village
Each service district has a bus stop. Travelers can take a sightseeing bus upwards or downwards, or to other attractions on the mountain.
In addition, there are also some restaurants and little shops selling some local specialties, bottles of water and food.
Accommodation
There are 313 hotels in Mt. Yuntai. Some of them are operated by the local people, although the environment of these hotels is not good. Travelers can get to downtown Jiaozuo City and find some star-rated hotels.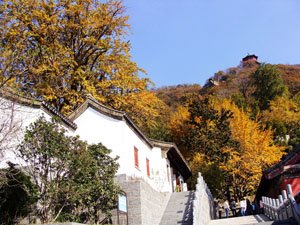 Travel Essentials
Location: Xiuwu County, Jiaozuo City
Tel:
Office:0391-7709001
Sightseeing bus: 0391-7709968
Service center: 0391-7709920
Accommodation in Yuntai Village: 0391-7709062
Yuntai Village Restaurant: 0391-7709085
March - November: 210 yuan (including 150 yuan for the entrance fee and 60 yuan for the sightseeing bus fee)
December - February: 120 yuan (including 60 yuan for the entrance fee and 60 yuan for the sightseeing bus fee)
Note: The ticket contains the entrance for the attractions of Hongshi Valley, Xiaozhaigou Valley, Zhuyu Peak and the Wanshan Temple. When entering the attractions above, travelers should show their ticket. Travelers can't enter the same attraction twice. The ticket is available for two days' tour at the most.
How to get there:
Jiaozuo City - Mt. Yuntai:
Time: 1.5 hours
Ticket price: 4 yuan
Travel to site: start from Jiaozuo Railway Station: 6.20am, 7.20am, 3.20pm or 3.50pm
Return trip: 8am, 9am, 5pm or 5.30pm
Tour bus from Xinxiang Bus Station: 7.30am or 1.20pm
Tour bus from Luoyang Jinyuan Bus Station: 9.20am
Tour bus from Zhengzhou Bus Station: 8.30am
Best time to visit: May – October
Website: www.yuntaishan.net
Related Articles

travel guide
The Top 10 China Travel Destinations in 2021