China Relaxation Tour
11-Day Beijing, Xian, Chongqing, Yangtze, Yichang and Shanghai Tour

4.8
( reviews)

This average score is generated from the feedback for attractions, hotels, restaurant and guide for each tour.
X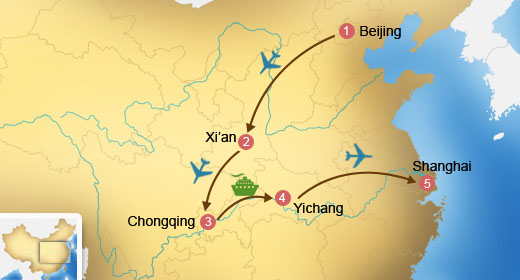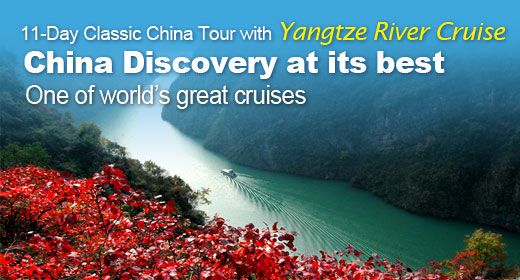 Beijing and Xian's most famous attractions with the beauty and relaxation of a Yangtze River cruise. The Three Gorges Dam will astound you before you fly to experience thriving Shanghai.
Why 10,000+ Choose Us Per Year:
Centrally Located Hotels
Authentic Chinese Food
Phone Rental / Wifi Package
China Highlights Awarded by TripAdvisor
Highlights
Visit:
The Forbidden City
Temple of Heaven
Great Wall of China
Hutongs
Terracotta Warriors
Xi'an City Wall
Yangtze River Cruise
Yuyuan Garden
The Bund
The Pearl TV Tower
Experience
The Great Wall away from crowds, and unlock the Forbidden City with the help of your guide.
Xi'an's Terracotta Warriors, get an overview of Xi'an by cycling around its city wall.
Shanghai's colonial, ancient and modern worlds with a glimpse into 2020.
Yangtze River Cruise, watch the sights come to you, see the Three Gorges and Dam.
Tour Designer - Mia

"The vastness of China without the stress of travel. The natural beauty, man-made marvels and cultural heritage unfold before your eyes. The Yangtze River Cruise is definitely a highlight."
Travel Advisor - Simon

" If you have two week vacation time this tour covers all the key sights with time to relax & watch sights float bye. Don't miss a thing, and still return home refreshed and relaxed."
From $2,169 P/P Price detail
Tour Code: CHT-62
Departure Date: You Choose
Tour Type: Private Car, Driver and Guide
Your personal guide will meet you right in the arrivals hall, ready and on time. A comfortable private car and experienced driver will be ready and waiting to take you to the hotel.
Good to Know:
Stay Connected – Our free mobile phone package (includes 30 free minutes) or Pocket (3G) Wi-Fi. You'll always be in touch with us, your guide, and people at home.
Evening Ideas: Your guided from about 9 to 5 and evenings are free time. Your guide can give you some ideas to Discover More.
Hotels – Choose to suit your budget and preference. (3 nights in Beijing)
Days Inn Forbidden City

/ Sunworld Hotel

/ Crowne Plaza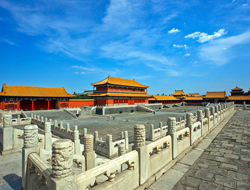 The Forbidden City
After the buffet breakfast your personal car, driver and guide arrive prepared with drinks, snacks, and map, ready to maximize your time in Beijing.
First, visit Tiananmen Square before entering the Forbidden City (Also called the Palace Museum & Imperial Palace). Hear the echo of another world, symbolism is everywhere. Your guide will bring things to life, in a way guidebooks just can't.
Photograph the old lanes and courtyard houses, but first order some dishes with your guide at the best Traditional Restaurant, Courtyard 7. Enjoy a rickshaw ride or cycle while you explore the Hutongs. Visit a local man's pearl craft store, he'll teach you a thing or two, including how to spot a fake. There's still time to visit a family who've lived in the Hutongs for generations, offering a wide perspective of Beijing.
Good to Know:
Courtyard 7 Restaurant – 'Traveler's Choice of 2012' Rated 4/5 on Trip Advisor
Hutong Family Visit – Highly recommended in feedback as 'making Hutongs special'.
Free-time Ideas:
1. The Best Acrobatics Show in Beijing. Chaoyang Theatre has breathtaking performances making this Beijing's #1 attraction after the Great Wall. If you wish to go, you guide can help you buy tickets.
2. Lao She Teahouse's performances include story-telling, shadow-plays and more. Packed with tourists but interesting, although a little expensive.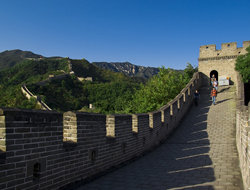 The Great Wall of China
Stroll with locals among the ancient trees that surround the Temple of Heaven. Try Tai Chi (or just watch) under the guidance of your teacher. You'll discover the Temple of Heaven, which was a place the emperor sacrifice to 'the most-high God in heaven' for a good harvest. The Round Altar, Echo Wall and Imperial Vault of Heaven are the rated as must see; we will cover these and more. It's on every top 10 Beijing list for good reason.
Next we'll drive up into the mountains to a farmhouse garden restaurant, famous for its rainbow trout & salmon which you can catch yourself. A short drive along the mountain backbones and you'll arrive fresh & ready to climb the Great Wall of China (Mutianyu section), in a less crowded area with the most spectacular views.
Our route home passes a chance to see how Cloisonné vases are made. Not your cup of tea? Just tell the guide.
Good to Know:
Ranked No. 1 – Mutianyu ranks No.1 of 900+ Beijing attractions on TA.
"A Guide is Essential" – Beijing's Expat Travel Writer Sara Naumann recommends using a guide, even for an independent traveller. She also picks Mutianyu "the views are awesome…"
Free-time Ideas: A Peking Duck Banquet or some fine dining would be a beautiful ending to this amazing.
1. DaDong the most famous place for roast duck, best to reserve. Ranked #8 of 3695. Rated 4.5/5.
2. A former 1920's US Embassy (Litigation Quarter of Beijing) is just a thing for a special occasion. They offer world class dinning at China prices, if you prefer an alternative to Chinese food.
Day 4
Beijing to Xi'an by flight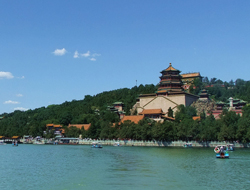 The Summer Palace
Beijing's Summer Palace is a large park with pavilions and beautifully painted corridors, temples, among lakes and surrounded by hills. Historically the emperor's summer retreat, it's a charming place to explore before taking a large dragon boat tour across the lake. After a fair well lunch with your guide at this charming traditional restaurant, famous for its Sichuan food, in just a few hours you'll be in Xi'an, meeting your local Xi'an expert guide.
Good to Know:
Boat Tour – Most tour companies don't include these things as standard, we do.
The Best Guides – Some use Beijing guides in Xi'an, our guides are local experts focused on their city.
Free-time Ideas: On arrival in Xi'an we typically recommend hotels in view of the Bell Tower. A great location for many reasons but also perfect for a self-guided stroll. Your find many guide books recommend just visiting the outside, so we leave this for your own time. Preserving guided time for Xi'an's very best.
Hotels: – Choose your Xi'an hotel to suit you. (2 nights in Xi'an)
Xi'an Skytel Hotel

/ Grand Noble Hotel

/ Sofitel On Renmin Square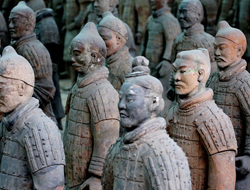 The Terracotta Warriors
You have the included option to start your morning with a Tai Chi session on Xi'an's City Wall, following a local master's introduction. The highlight comes next, the Terracotta Warriors.
Enjoy lunch a place known nationwide for its Hunan & Sichuan dishes. Lastly we have arranged a visit to the Xi'an Imperial Arts Centre to see live jade carving, a specialty of the north. After lunch, visit one the best museums in China – Shaanxi History Museum, where our Xian tour guide would narrate the core of Chinese history.
Good to Know:
No Tricks (Big vs. Little Goose Pagoda) – Look closely at other companies and large group tour operators and you'll see they take you to the free Little Goose Pagoda, -experience.
Variety of Flavors – We not only choose the best authentic (non-tourist) local restaurants but we select different styles of cooking throughout the trip. Experience the wide flavors of China.
Free-time Ideas: A Peking Duck Banquet or some fine dining would be a beautiful ending to this amazing.
1. Xi'an's Tang Dynasty Music and Dance Show features on many 'Top 10 's' and your guide can help you buy a ticket.
2. A cost free alternative is a relaxing evening stroll in the parks and grounds of the Big and Little Goose Pagoda. They look beautiful at night.
Day 6
Xi'an to Chongqing by flight, Yangtze Cruise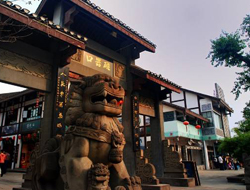 The Ciqikou Old Town
After breakfast, you'll head to Chongqing by air. On arrival we will make a trip to Ciqikou Old Town.
After lunchat Caixiangyuan Restaurant we'll go to the Three Gorges Museum. Afterwards take in the charm of this mountain city, before the cruise sails in the evening.
Good to Know:
Cruises:
Choose your Cruise ship and cabin to suit (3 nights)
CH Victoria Cruise

/ President 1

/ President Prime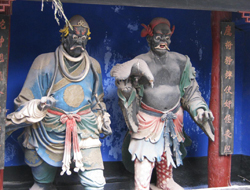 The Fengdu Ghost City
After breakfast climb up through the cloud into the surreal atmosphere of the Fengdu Ghost City, hanging in the mist. The atmosphere has a spooky draw for China tours, also offering an interesting place to take some pictures. Today the ship's crew will offer you a formal welcome banquet and an optional party with great food and drink.
Good to Know:
Caring Extras – Our customers receive a welcome fruit basket and complimentary bottle of water each day. We ensure you receive the best care on the ship. Our recommended ships are inspected by our staff and have great food, cabins, internet, laundry services, doctors, and great customer feedback.
Free-time Ideas: Relax with 'River Town – Two years on the Yangtze', an enjoyable award winning book written by an American teacher. Amazon Paperback (not on Kindle), while enjoying the ships Happy Hour.
Meals: Breakfast, Lunch is on the ship.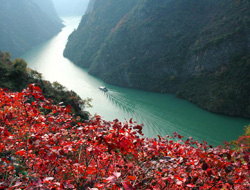 The Yangzte River Cruise
Take the small boats deep into the gorges, see beyond the main river. Doubtlessly, the perfect natural beauty makes the best setting for your China holiday. Enjoy it!
By taking these smaller boats you can get deeper into nature. The shallow water and tradition means they are hand pulled boats, and the strength and muscles of your boat men are a spectacle to admire as much as the narrow beautiful gorges.
Good to Know:
Boat Pulling – is a top experience. All excursions are included, but you're not obligated to go.
Scenery & Excursions – is announced in English, see our full feature – How to plan a Yangtze River Cruise.
Meals: Breakfast, Lunch is on the ship.
Day 9
Yichang, Yichang to Shanghai by flight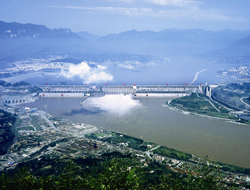 The Three Gorges Dam
In Yichang, you'll have the chance to visit the Three Gorges Dam, the largest water containment project ever undertaken. In the afternoon, a flight will take you to Shanghai. Just in time to catch the neon lights lighting up. Capture the city's glamour through your lens and feel the city's pulse.
Good to Know:
The Three Gorges Dam – It generates as much power as 10 nuclear power stations, and is 10 times longer than the Hoover dam. Even non-engineers find this amazing, and worth the visit.
Free-time Ideas: The Bund is the perfect evening walk and a chance to test your photography skills with an amazing night-cityscape. When the lights turn off at 10pm walk over to Glamour for a classy evening drink.
Meals: Breakfast, Lunch is not included.
Hotels: – Choose your Shanghai hotel, here are our three pick for the 2 nights.
Kingtown Hotel Plaza Shanghai

/ The Bund Hotel

/ Radisson Shanghai New World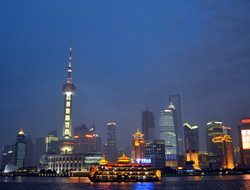 The Bund
Today worlds collide, starting at the history exhibition (under the TV tower) watch Shanghai literally rise, at nearly 500m it's a breathtaking panoramic view from the Oriental Peal TV Tower. Jiangnan Silk Workshop shows you how silk is produced before eating at Old Shanghai. After lunch, take a relaxing walk to ancient Yuyuan Garden, followed by the Bund, a must-see colonial waterfront area.
Good to Know:
Old Shanghai has been serving traditional Shanghai food for 130 years.
Changes – Customize this trip to suit you. E.g. A history and art fan might like to visit Shanghai Museum; it's rated by many as the best Museum in China.
Free-time Ideas:
1. Chinese Massage – Recommended for integrity and quality, Shanghai Massage & Spa Guide.
2. Authentic Shanghai Jazz – Ignore the guide books Peace Hotel tip, JZ club is a local's choice, the music is as good as the peace hotel but wins with its charming ambience.
Your car, driver and our guide will be ready and waiting at your hotel to get you to the airport on time. Sit back and relax, they will help you check-in and escort you to the correct security gate. We take the stress out of travel, so you can just take the tour.
Price Per Person in US Dollars

Currency Converter
Normally hotels allow a maximum of 3 adults per room with an extra bed, at extra charge.
Tour price is indicative only, please inquire for a detailed quotation.
More people more discounts.
X
Nov.1 - Mar. 31
Superior 2013
Deluxe
Economy
Single Room Supplement
1 Person
$3,569
$3,239
$3,099
-
2-5 Persons
$2,459
$2,299
$2,169
$519 / $319 / $309
6-9 Persons
$2,139
$1,939
$1,819
$519 / $319 / $309
Apr.1 - Oct.31
Superior
Deluxe
Economy
Single Room Supplement
1 Person
$3,949
$3,499
$3,179
-
2-5 Persons
$2,709
$2,419
$2,239
$649 / $429 / $329
6-9 Persons
$2,379
$2,069
$1,899
$649 / $429 / $329
Booking Steps - from Inquiry to Arriving Home
Nov.1 - Mar. 31
Superior
Deluxe
Economy
Single Room Supplement
1 Person
$3,699
$3,329
$3,199
-
2-5 Persons
$2,559
$2,359
$2,269
$549 / $359 / $329
6-9 Persons
$2,199
$1,989
$1,929
$549 / $359 / $329
Apr.1 - Oct.31
Superior
Deluxe
Economy
Single Room Supplement
1 Person
$4,289
$3,629
$3,279
-
2-5 Persons
$2,889
$2,499
$2,339
$789 / $469 / $379
6-9 Persons
$2,559
$2,139
$2,119
$919 / $469 / $379
Booking Steps - from Inquiry to Arriving Home
Tour Code: CHT-62 &nbsp Destinations: Beijing, Xian, Chongqing, Yangtze, Yichang, Shanghai Tour Length: 11 Days Acommodation: Economy
Price Inclusion
Price Exclusion
Centrally Located Hotels
Authentic Chinese Food
Private Cars and Drivers
Private Guides
Flights & Transfers in China
Airport Taxes and Fuel Fees
Entrance Fees
Phone Rental / Wi-Fi Package
Service Charge & Government Taxes
Insurance
Luggage Transfers
International Airfare or Train Tickets to enter or leave China
China Entry Visa Fees
Excess Baggage Charges
Personal Expenses
Single Room Supplement.

Save up to $600 for two people. Enquire now to take introductory discounts.*
*5 Star Hainan Airline celebrates new round trips Chicago to Beijing.


Excellent Local Guides
The most experienced tour guides, each an expert in their particular city. Professional, flexible and fun! Outstanding knowledge of all the sites and history. They will speak your language, meet you at the airport, deliver you to your hotel and accompany you on your tour in each city.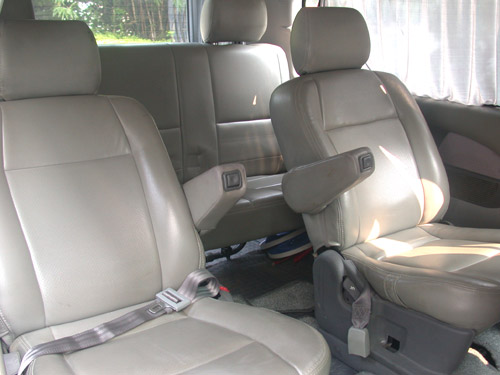 Car and Driver
We use modern air-conditioned cars for 1 or 2 people and small comfortable vans for 3 -7 people. We ensure all vehicles are well-maintained, often new or a maximum age of 4 years. Our drivers are friendly and careful, with 5-year+ driving experience.
China Trip Questions
Common Questions
I want to relax more. Can I have a free day and customize the tour?

Sure, we can add extra days or reduce days, when and where you like!
What is the difference among superior class, deluxe class and economy class?

Usually we use the 5 star hotels for superior class, 4 star hotels for deluxe class and 3 star hotels for economy class. Sometimes we may use 4 star hotels for economy class in order to guarantee the service quality.
What is the most comfortable weather, when is it really hot or cold?

The coldest time is January, Autumn reds are in Nov and July & August are hottest. Click to see more information about Beijing weather, Xi'an weather and Shanghai weather.
How can I get a visa? Do you offer a visa service?

We don't offer the visa service. Our visa application page will help you.
Do you offer an international flights booking service?

Yes, we offer an international flights booking service for many cities around the world with competitive prices. Enter your International flights idea when making your inquiry.
Planning a trip? Ask us here
Feedback About This Tour
Loading...
You May Also Like...