China Weather in November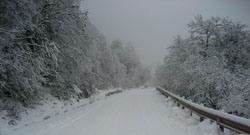 November is the beginning of the real winter weather. It can be an ideal time to travel in China after the peak season crowds head home and before the worst of the chilly winter weather arrives. North China sees its first snows, but Central and South China have moderate and comfortable temperatures. November is a good time to see fall foliage in China, as leaves change color after the first frosts.
Average November Weather in Major Chinese Cities
November Clothes
North China : November is cold. Sweater, down coat, gloves, and scarf are needed.
Central China : It is windy and cool. A warm base layer and jacket are recommended.
South China: The weather is changeable. It is generally warm, but can get cold unexpectedly. You need to bring both lightweight clothing for warm weather and warm clothes in the case of a cold snap.
See November clothing suggestions for Beijing, Shanghai, Guilin, Hong kong and Xi'an.
Why Visit China in November?
After the October holidays, hotels and flights are likely to offer good discounts to draw more customers.
Domestic tourists tend to stay at home after the October holidays, therefore China's top attractions are less crowded.
Pleasant weather in Central and South China is good for traveling.
If you visit China in November, you can catch the last few days to enjoy autumn colors. See Top China Autumn Destinations
Disadvantages of Visiting China in November
It is becoming colder in North China, which may be not suitable for traveling.
On top of the Great Wall, it is chilly and windy.
From November to April, Tibet is not suitable for traveling because of severe weather conditions.
Weather in November by City
See our China Winter Travel Guide.

China Highlights
Planning a trip? Ask us here 800-2682918 (USA & CA)
86-773-2831999 (Int'l)
Q:
Sue
Asked on 2013-11-06
Reply
Hi... I''ll be travelling to Guangzhou this 20th Nov -27 NOv. Should I bring along winter coat? What should I bring ?
It is subtropical climate in Guangzhou, so it is still very in Nov, the temperature is around 20℃ to 28 ℃,no need winter coat, some T-shirts and light jacket will be enough. Lily Guo Replied on 2013-11-08
Q:
Sharonnnn
Asked on 2013-10-24
Reply
Hi i''m going to xi an on the 30th november to the 7th of november, what types of clothing is suitable? Do i need like a winter coat etc?
Dear Sharonnn,
Thanks for your question. The temperature may around 8℃-15℃, please bring your winter coat and warm sweater for your Xian trip.
Nancy

Nancy Deng Replied on 2013-10-25
Q:
Qaseh Ayu
Asked on 2013-05-02
Reply
hai i will be travelling to china Guangzhou in november kindly i can confirm the weather to mee.thank you
Hi Qaseh, Weather in November is pleasant, sunny and relatively cooler. Sometimes it rains, so an umbrella is needed. Average low and high temperature is respectively at 16 °C (60 °F) and 24 °C (75 °F). Long-sleeve shirts are suitable during the day when it is warmer, but at early morning and evening a sweater or a jacket is needed. See best places to see autumn foliage in Guangzhou.
Whitney Liao Replied on 2013-05-05
Q:
Cedric
Asked on 2012-10-25
Reply
Hi, I''m coming to Wuhan the 5 november, for 4 months, I have one question concerning the temperature, something that I can''t find on the internet:Do you know the "base temperature" of Wuhan? It means the lower temperature knew in the 30 past years backed up for 5 following days. It''s not like the average temperature in january for example but a lower temperature, for example in France, the base temperature can be -20°C in some regions although the average is -6°C. I need it for thermal calculation in buildings. Otherwise, can you advise me any website (in english)? Thanks a lot, Cedric
Hi, I regret that I can't find a website that you needed, but I searched on line, here is the former data about the average temperature in different period. November:10-20℃(50-68℉)(in the early of Nov.), 8-16℃(46.4-60.8℉)(in the middle of Nov.), 5-13℃(41-55.4℉)(in the end of Nov.) December: 3-10℃(37.450℉) January:0-8℃(32-46.4℉) February:3-10℃(37.4-50℉) In Nov. it will be cool, you could take a coat and sweater, but from Dec. it will become cold, the cotton padded clothes or down jacket is needed. In Jan. and Feb., it is the coldest season in Wuhan, it will be wet and cold, Sometimes it will snow, so you should take warm clothes with you. Lussie Lu Replied on 2012-10-27
Q:
Veva
Asked on 2012-10-14
Reply
We are traveling to China on Oct. 31 - Nov. 17 for a trip. Will be visiting Beijing for 4 days then to central China for several days and finishing up the trip in Hongkong. Please tell me what the weather temperatures are at during this time period. Thank you
Hi Veva, from the previous report, in November Beijing slowly begins to turn wintery, and the first snow usually falls in this month. It is very dry. The average low and high temperatures are respectively at -1 °C (31 °F) and 10 °C (50 °F). You can prepare winter clothes such as sweaters and a padded coat. From north to south, the temperature gets higher and higher. The weather is warm and sunny with low humidity in Hongkong. The average low and high temperature is respectively at 19 °C (66 °F) and 24 °C (75 °F). You can prepare long-sleeve shirts and thin sweater or light jackets. Please check the up to date information via this website: http://www.weather.com.cn/english/
Whitney Liao Replied on 2012-10-14