China Weather in January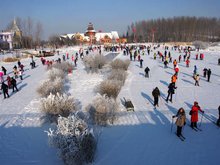 January is the coldest month in China. Large parts of China are at the peak of severe winter weather, except locations in South China such as Guangzhou, Hong Kong, Macau, and Shenzhen, which do not have real winter weather.
Snow falls frequently in North China, e.g. in Harbin, Beijing, Tianjin, and usually accumulates to the thickest by the end of the month. There is still not a lot of snow as North China is dry.
Although temperatures are higher than in North China, winter in Central China and the Yangtze River Delta is bone-chilling, and feels even colder because of the humidity.
South China and Yunnan Province generally have pleasant winter with plentiful sunshine, but high altitude areas in northern Yunnan Province are frigid.
Check out The Best 6 Places to Visit in January.
Average January Weather in Major Chinese Cities
January Clothes
North: Warm clothes such as overcoats, long underwear and fleeces are recommended.
Central: The temperature is around 0°C (32°F). A down jacket and a wind-proof jacket are needed.
South: It is warmer. Long sleeves and pants, and a wind-proof jacket are recommended. Thermals are often worn indoors on the coldest days, as there is usually no central heating in the South.
Why Visit China in January?
It is the low travel season. Travel costs are lower and attractions are less crowded.
At the Harbin Ice and Snow Festival visitors can see various beautiful sculptures carved from ice. The festival begins January 5th and ends on 15th February.
January is the best time of the year if you are fond of winter sports and winter scenery. Ski resorts in North China are at their best thanks to the severe cold.
Chinese New Year often takes place in this month (the festival begins on the evening of January 22nd and ends with the Lantern Festival on February 6th in 2012). Many cultural activities go on during the most important event on the Chinese Calendar. The New Year period is one of the best times of the year to discover Chinese culture.
Disadvantages of Visiting China in January
It is extremely cold in North China, cold and damp across Central China, and parts of southern China too.
Top January Destinations
Harbin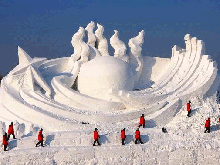 Harbin is recommended for its Ice and Snow Festival, and nearby ski resorts. Harbin has one of China's best ski resorts, Yabuli Ski Resort.
Beijing
Ski resorts have grown rapidly in recent years around Beijing, partly in response to the increasingly large expat community in the city. Today there are more than 10 ski resorts. See Ski Resorts in Beijing.
Seaside Escapes on Hainan Island
Hainan Island is well-known to Chinese tourists, and it is beginning to be known by foreign holiday makers for its sunny beaches and pleasant winter. For winter travelers, Hainan is not unlike Hawaii for US citizens; it serves as a tropical oasis to escape the frozen winter. See Beaches in Hainan.
The Pearl River Delta
Guangzhou, Hong Kong, Macau, and Shenzhen, located in Southeast China, have warm/mild winters.
Yunnan
Wintering in Yunnan Province in Southwest China is generally pleasant, except for mountainous areas. Kunming, the Spring City, and the tropical rainforest of Xishuangbanna, are recommended.
Weather in January by City

China Highlights
Planning a trip? Ask us here 800-2682918 (USA & CA)
86-773-2831999 (Int'l)
Q:
Dorcas Sithole
Asked on 2013-10-03
Reply
I am planning to visit china in the month of January ,for business purposes.The person I talked to from china told me the temperature is around 0 to 5.Then my question is what precautionary measures should I take e.g flue vaccines ,because I''m from SA our weather in January is mid summer .
Dear Dorcas, Thank you for the inquiry. In fact you will not be needed any special immunizations for China trip. Besides, Beijing is the usual tour cities, and it is quite safe. Just do prepare some warm clothes such as down jacket: ) Doris Huang Replied on 2013-10-04
Q:
M.Thangamani
Asked on 2013-01-19
Reply
Hi, I am going to join a ship at Jingtang Port , North of Tianjin in Bohai sea.Can u please mail me present wx in Bejing and Jingtang.Thanking u fr kind cooperation.
Dear M.Thangamani,
Thanks for your enquiry! I'd love to help but will you write all the words in full, I don't understand your short writings quite well. Also we can only help you through emails but not mails. Thanks for your understanding!
Candy Wei Replied on 2013-01-20
Q:
Leanna
Asked on 2012-12-17
Reply
Hello, i''m from Malaysia. My husband & I are planning for a trip to China, specifically Guangzhou & Shenzen somewhere near end of January. Will bring our 10-month-old baby along (1st time will be travelling abroad with our baby). My question is, how will the weather be then & can you recommend the proper clothing to be worn during that season? Our main concern is our baby since this is going to be her 1st experience being somewhere far from her familiar climate.And how about the availability of the Halal Food. I''m a Muslim. Any recommendation on where to eat or what to do there?Appreciate in advance for any feedback.
Hi Leanna, It is the coldest month in Guangzhou, with average low and high temperature of 9 °C (49 °F) and 18 °C (64 °F). Sweaters and jackets are enough for adults. But for baby, do prepare warmer clothes. It rains sometimes, so please bring umbrella when going outside. You can also check the up to date weather information via this website: http://www.weather.com.cn/english/
For Halal restaurants in Guangzhou, please check here: http://www.chinahighlights.com/guangzhou/restaurant.htm
For top things to do in Guangzhou please check here: http://www.chinahighlights.com/guangzhou/top-things-to-do.htm
Whitney Liao Replied on 2012-12-18
Q:
Falah
Asked on 2012-11-05
Reply
I plan to go to xiamen in december 26th to 3rd january. how temperature in the winter in xiamen
Dear Sir or Madam, Based on the former data, the average temperature will be 11-18℃(51.8-64.4℉), it is not too cold, it is still cool. You could take some thick coats and sweaters. Here is an useful website, you could search the new information before leaving for Xiamen. Please click: http://www.weather.com.cn/en/weather/101230201.shtml Lussie Lu Replied on 2012-11-05
Q:
PETER
Asked on 2012-10-15
Reply
AM PLANNING TO GO TO GUANGZHOU NEXT JANUARY TO DO MARKET RESEARCH HOW IS THE WEATHER? IS IT TRUE THAT GOODS ARE VERY CHEAP THERE? then how much does a 32 inch LCD cost?
Hi Peter, Jan. is the coldest month in Guangzhou, but as a city located just south of the Tropical Cancer, Guangzhou has moderate, cool and dry weather in winter. It is one of the best times of the year to visit Guangzhou. Unlike cities in North China, Guangzhou has blossoms everywhere in the city. The average low and high temperature is 9 °C (49 °F) and 18 °C (64 °F) in January. A long sleeve shirt, a sweater and a jacket are enough for winter in Guangzhou. It rains sometimes and it feels damp, so an umbrella should also be prepared.
Yes, the goods in Guangzhou is relatively cheap. However, regarding to the detailed price on the LCD, you will have to check with the exact supplier.
Whitney Liao Replied on 2012-10-15