China Weather in April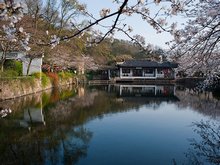 In April, spring is in the air in most of China. Fruit trees and flowers are blooming as the temperature is getting warmer. April is a really pleasant time for traveling, though you might need to be prepared for rain.
In North China, the temperature is cool/mild. However, during April North China is occasionally hit by dust storms.
Central and South China see a marked increase in rainfall at this time of the year. For example in the Yangtze Delta, heavy rain can sometimes cause floods. The weather in Southeast China, such as Guangzhou, Hong kong and Shenzhen is very warm, with day temperatures above 25°C (77°F).
Average April Weather in Major Chinese Cities
April Clothes
North: It is cold to mild. Warm clothes such as a coat and thick trousers are recommended.
Central: The average temperature is around 15°C (59°F). Long trousers and a light coat are recommended, as are waterproofs/umbrella.
South: Temperatures range from mild in Guilin to hot in Hong Kong. Choose pants and sweater or shorts and T-shirt with something warmer for the evenings, depending on where you are. Carry an umbrella.
Why Visit China in April?
The weather is mild and is pleasant for traveling.
Flowers are blooming and trees are turning green. The land appears robust and refreshing. One of the rewards of traveling in China during this month is the view and sweet smell of flowers in parks and along the streets. See China Spring Travel.
This is the month when destinations are gearing up for the crowds in the upcoming peak summer travel, but still offering bargains.
The Miao People in Guizhou celebrate their Sister's Meal Festival (watch online video) in this month. During the festival, many other activities, including bullfighting, horse racing, traditional Miao performances and Lusheng music are arranged. It is one of the best times to visit the ethnic communities in Guizhou. China Highlights offer a special tour to Guizhou to coincide with the Miao ethnic minority's Sister's Meal Festival.
If you visit Luoyang in Central China's Henan Province, you are provided with a great chance to see various peonies on display. The annual Luoyang Peony Festival is held in April.
Disadvantages of Visiting China in April
South-Central China, e.g. Guilin, has almost daily drizzle and sometimes heavy rain and conditions can become very damp.
North China is still on the cool side.
Top April Destinations
Wuyuan in Jiangxi Province
Wuyuan is reputed as the most beautiful countryside in China. Its natural beauty reaches its peak in late March and April, when the land is covered in a colorful carpet of flowers.
Luoping in Yunnan Province
Longji Terraced Field in April
Luoping is well-known to photographers, and is beginning to be discovered by average foreign travelers for the expanse of rapeseed flowers planted in the area. Every March and April endless fields of flowers cover the land. The scenery becomes more enchanting when breezes ripple the fields like waves on a yellow lake.
Guilin
Guilin is mild/warm with some rain, building up towards May and June, the wettest months. On rainy days, the rivers, pinnacles and the city itself are shrouded in mist, which is especially enchanting.
Guizhou
The Miao people celebrate their Sister's Meal Festival in this month. If you are fond of colorful local pageantry, you won't want to miss Guizhou.
Weather in April by City
See China Spring Travel.

China Highlights
Planning a trip? Ask us here 800-2682918 (USA & CA)
86-773-2831999 (Int'l)
Q:
Amy
Asked on 2013-04-05
Reply
Hi. We are planning to visit shanghai from 8 april to 15 spril 2013. Any advise on weather condition and clothes required? Thanks
Hi Amy, April is warm in Shanghai. You can check the up to date weather information via this website: http://www.weather.com.cn/english/
Whitney Liao Replied on 2013-04-07
Q:
SUBHASH
Asked on 2013-03-03
Reply
HiI m planning to visit china from 2nd April to 15th April I m visiting Baiging, Sanghai, Gulin,xian,Senzen and Yangtze River cruise I want to know weather condition and cloths required in AprilPl adviseThanksSubhash Shah
Hi SUBHASH, the weather is cool in the north and warm in the south. Light coat, long sleeve shirts will cope with the weather.
You can also check the up to date weather information via this website: http://www.weather.com.cn/english/
Whitney Liao Replied on 2013-03-05
Q:
Sheila
Asked on 2013-02-25
Reply
We are planning to visit china ( Beijing Yangsi cruise Shangai and Hong Kong) from April 24th to May 11th 2013. Any ideas of clothing to pack and temperatures we can expect. Really looking forward to this visit and want to plan well!!
Hi Sheila, April and May are good time to visit these places. Beijing would be a little cool so need a light coat. The other places would be early summer time hence long sleeve shirts and summer clothes would be okay. The Labor Day Holiday (May1-3) would be very crowded in these cities, so it is suggested that you spend these days on the Yangtze River Cruise to avoid it.
We are a travel agency who has served many world VIPS such as Mr. Bill Gate and Mr. Warren Buffett. http://www.chinahighlights.com/aboutus/world-vip-travel.htm. If you need any tour service, please feel free to contact me via whitney@chinahighlights.net. Have a nice day!
Whitney Liao Replied on 2013-02-26
Q:
Sally Foo
Asked on 2013-02-04
Reply
Hi there, i am planning to take my leave sometime between Apr to May. Where is the best place to visit in China? As a matter of fact, it is not my first time travelling in China. I have been most of the hotspots in China eg, Shanghai, Yunnan, Beijing CHengdu, Xian, Hangzhou. I have heard alot about Harbin... do tell me more about this place, its culture, temperature and cuisine.
Dear Sally, In general in April and May it is a good time for traveling to China, but for visiting Harbin, I suggest you have a tour in winter ( from December to February in the next year). Harbin is located in north of China and is famous for the snow sculptures and ice sculptures. These beautiful sceneries are seen in cold weather. We listed much information about this city on line, you could realise it by yourself. Please click: http://www.chinahighlights.com/harbin/ Lussie Lu Replied on 2013-02-04
Q:
angel
Asked on 2013-01-22
Reply
hi,were going to have a trip in beijing to see the greatwall this coming april 3,,what is the best clothes to wear on that season..thank u...
Dear Sir or Madam, The average temperature will be 4-17℃((39.2-62.6℉), it varies greatly between day and night. You'd better take some coats and sweaters. Sometimes it will rain, an umbrella is needed. You could check the new inforamtion on this website before leaving for Beijing. Please click: http://www.weather.com.cn/en/weather/101010100.shtml Lussie Lu Replied on 2013-01-22