Itinerary
Day 1:
Arrival in Beijing
It's our aim to make travel less stressful. Your dedicated private guide, driver and car will ready to handle the luggage, transfer and check-in, and ensure your holiday begins in arrivals. The rest of the day is yours to explore or rest. Please ask your guide for suggestions for which of the myriad of restaurants to go to for dinner.
Stay connected: A Free SIM Card Wi-Fi Rental
Day 2:
Beijing: Tiananmen Square, Forbidden City, Summer Palace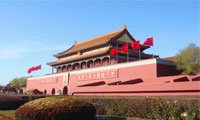 Tiananmen Square is a very impressive place: south and north sides are adorned with magnificent gates, and east and west have a colossal government building and a museum. The Forbidden City continues the imposing proportions; it was built to make the subjects of the emperors feel small.
After lunch, Summer Palace is a wonderful place to walk it off in its stunning gardens. The nature and the ancient buildings connected by the lake are a very pleasing combination.
Day 3:
Beijing: Mutianyu Great Wall, Temple of Heaven, Beijing Roast Duck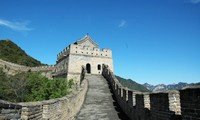 The Mutianyu Great Wall is much less-crowded section than Badaling, but has actually got more dramatic scenery. There is also a lovely ride through the countryside to reach it, and there is a cable car.
Temple of Heaven was the stunning setting for annual ceremonies for good harvests, and now the vast park surrounding it is a meeting place for the locals, coming here to practice taichi, among other things.
Day 4:
Beijing: Cookery Class, Hong Qiao Market
The morning starts with a cookery class at Beijing High School, where you will first learn about the ingredients and then how to cook in Chinese style before tasting the end results.
Your afternoon flight takes you to Chengdu in time.
Day 5:
Chengdu: Panda Breeding and Research Center, Sanxingdui Museum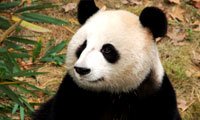 The Panda Breeding and Research Center is a safe haven for these delightful creatures and other endangered species. You get to visit the nursery and see the panda babies. If you would like to hold one, ask your travel advisor about the special program.
Sanxingdui Museum is a beautifully presented exhibition of the cultural relics found in sacrificial pits of the mysterious Shang Dynasty (from 16th-11th century B.C.), unlike anything else found in China.
Good to Know
Hotpot is a Chengdu specialty and each restaurant has their unique recipe for the broth; Morals Village is especially well known for theirs. Do try the spicy and numb flavor, but we warn you: it can be an addictive experience.
Day 6:
Chengdu: Jinli Old Street, Wu Hou Temple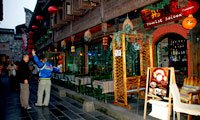 Jinli Old Street is a lively shopping area restored in Sichuan style to continue its history as a commercial center. Wu Hou Temple is not only a shrine to a revered Marquis of Wu but also a delightful garden.
In the afternoon, your guide will take you to the airport to catch a flight to Guangzhou. You will be picked up and taken to your hotel before dinner.
Day 7:
Guangzhou: Chen Ancestral Shrine, Qing Ping Market, Sun Yat Sen Memorial Hall, Learning Guangdong Cooking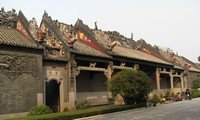 Chen Ancestral Shrine is nearly 150 years old and celebrated for the traditional Guangdong style architecture and decoration, displaying beautiful craftsmanship. Qing Ping Market is the largest street market in Guangzhou, still very authentic place to buy your Chinese medicines, such as live scorpions and flowers, among other weird and wonderful things. Sun Yat Sen Memorial Hall celebrates this founding father of the Republic of China.
Guangdong cooking is considered unique among other Chinese styles; especially the use of herbs and spices is done in a more delicate way. On this Guangdong Style Cooking Course, you will learn how to cook one course and then enjoy eating it together with the other participants.
Your guide will pick you up at the hotel and take you to the airport to catch your onward/return flight. We hope you have enjoyed your adventure and savored this taste of China.
Just let us know your travel style!
Guide vs. Free-time ratio / Hotel Style & Interests / Dates / People
We will then adapt this tour and create a unique quote based on your individual needs.

Free Quote