President 7 Cruise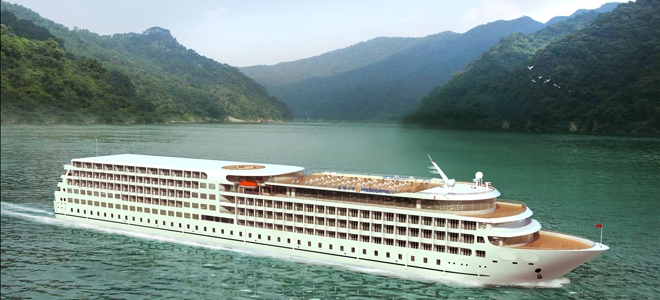 Select your cruise dates
2

Book

3

Expert reply

4

Your cruise is ready!
Select your cruise dates
(price per person, twin sharing basis)
Cruise
Map & Itinerary

Cruise
Introduction

First Navigation
Latest Renew
Length
2013
-

146.8

m
Width
Passengers


20.2m
460
Having first sail in April, 2013, the luxury cruise ships, President 7 and President 8, are almost the same in design and technique. President 7 is 146.8 meters in length — the maximum length among all the cruise liners on the Yangtze River — and 20.2 meters in width, including 215 deluxe standard rooms, 13 luxury executive rooms on the uppermost floor, and two presidential suites at the bow of the third floor. Altogether there are 230 rooms on the cruise liner which can accommodate 460 guests. Among these are 100 family rooms specially designed with three beds, taking into consideration the actual needs of family vacationers. So actually, the maximum passenger load is about 580.
The grand hall, the hollowed-out double-floor restaurant, multifunctional performing arts hall and advanced Internet bar are all contained on the cruise ship. Excellent bathroom facilities are provided in every room and an independent private balcony is very convenient for you to enjoy the magnificent landscape of the Yangtze River. What's more, the design of its security and comfort has been greatly improved.
You will experience a peaceful tour on the cruise because you can barely feel the sway or hear the noise of it. The bathing facilities in every room are equipped to the same standards of a five-star hotel. The air circulation is great due to the independent fresh air system.
Cruise Facilities
President 7 is equipped with complete entertainment facilities and services, including the biggest spa center and indoor temperature-controlled swimming pool among all the inland river cruises, a drinks bar, luxury cinema, massage club, sauna bar, beauty salon, cigar bar, shopping center, copy and print shop, foreign exchange service, fitting room, Internet club, library, mail service and infirmary.
Cabins
Info
Deluxe Cabin

Number of cabin: 215
Area: 27.5

㎡

Bedsize:

2.0m*1.0

Balcony: 3㎡
Executive Cabin

Number of cabin: 13
Area: 41.2

㎡

Bedsize:

2.0m*1.0

Balcony: 7㎡
Presidential Cabin

Number of cabin: 2
Area: 198

㎡

Bedsize:

2.0m*1.8

Balcony: 104㎡
Deckplans
Info
6F: Sun Deck

5F: Recreation Center

4F: Souvenir Shop

3F: VIP Dining Hall


2F: Dining Hall

1F: Main Deck

-1F: Leisure Center
Reading Room

Red Wine Room


Fengdu Ghost City is the optional shore excursion.