Great Wall of China

Quick Facts
Chinese Pinyin: Cháng Chéng
Location: North China
Length: 6,260 km (3,890 miles)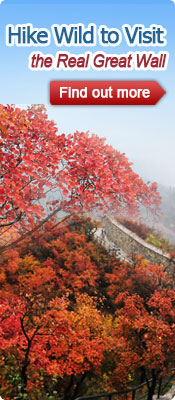 Greatest Tourist Attraction in the World: The Great Wall of China is one of the greatest sights in the world. The longest wall in the world, it is an awe-inspiring feat of ancient defensive architecture. Its winding path over rugged country and steep mountains takes in some great scenery.
Greatest Human Feat in History: The Great Wall is the building project with the longest duration and greatest cost in human lives, blood, sweat and tears. It deserves its place among "the New Seven Wonders of the World" and the UNESCO World Heritage Sites in China.
The Goal of Millions: Perhaps the most powerful advertising words in history come from the mouth of Chairman Mao: "Until you reach the Great Wall, you're no hero." ("不到长城非好汉") Figuratively this means 'to get over difficulties before reaching a goal'.
If your goal is to reach the Great Wall, we at China Highlights are here to help you get over all the difficulties.
Why should I choose a China Highlights tour of the Great Wall?
Choose a Section: The Great Wall is made up of many sections, stretching across eight provinces of North China. See "Great Wall Sections" to compare the Great Wall at various locations and make your choice of where you would like to visit.
Great Wall History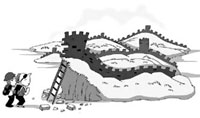 The Great Wall of China was built mainly to protect the Chinese Empire from northern invaders. The first sections were built in the Seventh Century BC when China was still divided into many small states.
The construction of the Great Wall continued until the beginning of the Qing Dynasty (1644). Now, in the PRC era, several sections of the wall have been restored as tourist attractions and in other places the wall is quite well preserved.
For more details see "Great Wall History".
Great Wall Culture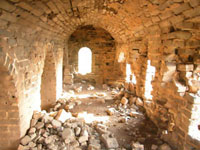 Read about the irony of the Great Wall and how it represents both the unification and separation of a nation at "Great Wall Culture"..
Legends and Myths
The majestic Great Wall was built with wisdom, dedication, blood, sweat and tears. Many legends and myths exist regarding the building of this wall.
This is a legend about love and devotion. It tells the story of Meng Jiang Nü and her anguish after her husband died building the wall. It is said that her bitter weeping caused a section of the wall to collapse.

This story tells of the construction of the Huanghuacheng Great Wall. The great general who masterminded this section was beheaded wrongly for his high expenditures, but later redeemed and honored.

A story of love between father and son and their reunion at Xifengkou.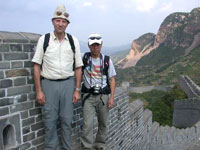 4-Day Jiankou to Simatai West Great Wall Hiking Tour
5-Day Jiankou to Simatai West Great Wall Hiking Tour
6-Day Jiankou to Simatai West Hiking Tour
7-Day Great Wall Hiking from Huangyaguan to Mutianyu
Planning a trip? Ask us here

800-2682918 (USA & CA)

86-773-2831999

1800-764678 (AU)

0800-0327753 (UK)

800-8793-007 (China)
Q:
alexa
Asked on 07:07 AM Jun. 27 2014
Reply
how to get there.. is there any hotel nearby?
HI,
There are many sections of Great Wall in Beijing. Which one do you prefer? Usually there is only some basic hotel or guesthouse near the Great Wall.
If you need one day Great Wall tour, we can organize it.
Christy
Christy Luo Replied on 03:10 AM Jun. 28 2014
Q:
jason
Asked on 10:59 AM Feb. 13 2014
Reply
hi my name is hector is the great wall 3,0000000000000 feet long that is my question
Hi Jason, if all the fortified walls built in the different dynasties around northern China are included, the total length would exceed 50,000 kilometers (31,000 miles).
Whitney Liao Replied on 7:15 PM Feb. 13 2014
Q:
Eden
Asked on 11:05 PM Jul. 28 2013
Reply
how long is the great wall of china exactly
Dear Eden,
On June 5th, 2012, after four years of investigation, with concerted efforts of over 4,000 technicians, it came to a conclusion that the accurate length of the Great Wall is 21,196.18 kilometers, including all the walls built in different dynasties around China. Lussie Lu Replied on 01:35 AM Jul. 29 2013
Q:
Keisha
Asked on 1:19 PM Feb. 01 2012
Reply
what are other purposes of the Great Wall of China???
It was built mainly for military purpose. Plenty of defensive works such as forts, passes and beacon towers were built along the Wall to house auxiliary soldiers, store grain and weapons, and transmit military information. As a product of the clashes between agricultural and nomadic economies, the Great Wall provided protection to economic development and cultural progress. It safeguarded the trading routes such as the Silk Road, and secured transmission of information and transportation.
Iris Zhong Replied on 01:19 AM Feb. 03 2012
Q:
Dipalee
Asked on 05:32 AM Jan. 30 2012
Reply
how many people tracked china wall?
During the 'golden week', like May 1-7 and October 1-7, the visitor flow volume is about 70,000 persons per day. Lynn Ye Replied on 01:34 AM Jan. 31 2012