Beijing Travel Guide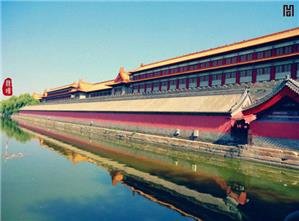 The Forbidden City in the center of Beijing
As one of the world's great ancient capitals, Beijing is a must-see because it is home to some of the finest remnants of China's imperial past.
Standing side-by-side with old Beijing's crimson palace complexes are the city's impressive skylines. Beijing is a superb example of the great transformation China has undergone as it burst into the 21st century. Beijing's travel industry has forged forward after China's economic reforms in 1978, and the city is now one of the most popular tourist destinations in the world.
Beijing Attractions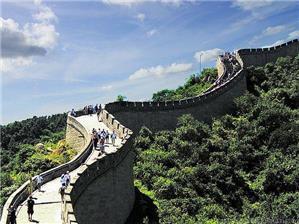 Great Wall Hike
Beijing's invaluable cultural heritage of imperial relics has drawn millions of visitors every year, but traveling around Beijing, you are also struck by the city's modern buildings. Some of the places of architectural and scenic beauty include: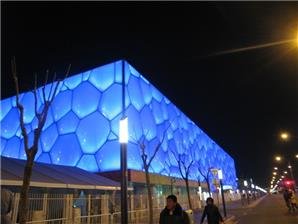 The night view of the Water Cube
Beijing became the focus of world attention in 2008 when it hosted the Olympics, which was a symbol of both China's progress and China's traditions with high-class eye-catching facilities and spectacular ceremonies, highlighted by the super-modern Olympic Village, the Bird's Nest Stadium and Water Cube.
The green areas in and around the city are epitomized by Xiangshan (Fragrant Hills) Park. China Highlights provides a range of Beijing tours to explore China's capital city. Follow the link for the Beijing's Top 10 Tour Packages.
Beijing Hiking and Biking
Although the city of Beijing is not a good place for hiking and biking due to its busy traffic, there are a many quiet routes in the areas around it for outdoor-lovers to explore.
The most popular hiking routes are the Great Wall and Badachu to Fragrant Hill routes. Beijing's Hutongs are good place for a cycling tour, and a must for most travelers to Beijing, as it offers a great opportunity to explore the old Beijing. See Beijing Biking Guide.
Weather
Temple of Heaven
Beijing is approximately at the same latitude as Philadelphia in the U.S. (but drier in winter and much wetter in summer) and Madrid in Spain (though colder in winter). See Beijing Weather.
Air Quality
Beijing's air pollution and traffic congestion are being tackled with improved public transport, restrictions on the use of vehicles, and the relocation of factories. Daily and localized variations in airborne particle levels are great, with some days below the WHO's strictest targets. Breathing Beijing's air for six average days is the equivalent of smoking just one cigarette, which is not bad for a large developing world city.
Beijing's air quality, apart from pollutants, is greatly affected by occasional dust storms in the spring, and humidity contributes greatly to the haze in summer, which is the worst time of the year for visibility and air quality. Shutterbugs will probably find an autumn trip best for photography.
Generally Beijing's pollution is not harmful, no more than an unpleasant smell or a mild throat irritant for healthy people. If you are sensitive to pollution you could buy pick up a 3M n95 mask in Beijing for 18 yuan.
If you have severe breathing-related health issues or feel Beijing is not an option, we suggest making fresher Hong Kong or Shanghai your gateway city:

Questions and Answers About Beijing Travel Guide
mervin sula
2014-03-14
Show Answer
Hi,When is the busiest travel time in Beijing?
Hi Mervin Sula,
September and October are best time to visit China, especially Beijing. During this time, most tourists are coming to our captical city because of its nice weather. You are suggested to avoid the first week of October, it is our National Holiday, we called Golden week, it goanna be quite crowded during the period, the attractions are swamped with tourists.
China Highlights is an on-line tour agency, we are offering kinds of tour services, including tour packages, hotel rooms, air tickets and etc, please feel free to let me know if you need any of them.
Regards,
Cecilia
Cecilia Peng replied on 2014-03-16
john
2014-03-12
Show Answer
we are also on the millennium in Tianjin on april 21-23. can we get an organized tour to Beijing from dock area via the high speed train. can language barrier by overcome plus are there tour guides we can hire.
Hi John, we are happy to help arrange the tour for you. Please kindly advise your estimated arriving time and the number of people? How long will you stay in China, please? Have you booked your hotel? Don't worry about the language barrier. Your tour guide's English skill is very good.
Whitney Liao replied on 2014-03-14
Panduranga Karnik
2014-03-08
Show Answer
we wish to Visit china- Beijing, Xian, Yangtsi river cruise and Shangai in July end for 10 days. Want to know the weather condition in these places during this time - temperature and rain.
Hi,
July is scorching and humid in most of China — the hottest month. Even Beijing has of its rainiest months , with some quite heavy downpours. Cities south of the Yangtze, like Shanghai see the highest temperatures, sometimes in the high 30s °C (90+°F). July is the busiest travel time in China.
I would like to help your China trip if you wish. If anything, please contact me at coco@chinahighlights.net.
Regards,
Coco
Coco Yang replied on 2014-03-09
Michael Marr
2014-01-16
Show Answer
We (2) are arriving in Tianjin on Celebrity Millennium April 21-23. We would be interested in a 1-day tour of the Tianjin area and also assistance in taking a bullet train to Beijing & back (been there before, no need for a tour). Can you help?
Hi Michael, I have sent you a quotation about your one day Tianjin tour. Please check it. Any questions, please feel free to let me know. Thanks, Whitney Whitney Liao replied on 2014-01-21
tina
2013-10-18
Show Answer
hi i will be visiting beijing on the 21st of december. will be going to great wall on the 22nd. do i need a tour guide? do we need to get entrance tickets in advance? how is the weather?
A guide's accompany will make your trip easier and more interesting with explanation, How many people are there in your group? I could offer you a quotation for your reference.
December is the middle of winter in Beijing. It is very chilly, with temperature just rising above freezing during the day, and the air is very dry. In the city, dress for dry winter conditions. If you visit the Great Wall you need to dress like an Eskimo as it is freezing due to the elevation and exposure
Ruby Zhao replied on 2013-10-18
April Offer $25 Coupon
Send your inquiry before Apr. 30, 2014, and we will email you a $25 coupon.
The coupon is valid till Dec. 31, 2014, for paying tour packages worth $250 or up.
The coupon cannot be used for paying flight tickets, train tickets, hotel rooms and day trips.
Travel Advice or Question? Ask us here
Beijing Facts
Chinese Name: 北京
Chinese Pinyin: Běi jīng
Location: North of China
Population: 17.55 million
Languages: Mandarin
Time Zone: (UTC+8)