Beijing Travel Guide
The Temple of Heaven
As one of the world's great ancient capitals Beijing is a must-see. It is home to some of the finest remnants of China's imperial past.
Standing side-by-side with old Beijing's crimson palace complexes are the city's impressive skylines. Beijing is a superb example of the great transformation China has undergone as it burst into the 21st century. Beijing's travel industry has forged forward after China's economic reforms in 1978, and the city is now one of the most popular tourist destinations in the world.
Beijing Attractions
Some of the places of architectural and scenic beauty include:
Beijing's invaluable cultural heritage of imperial relics has drawn millions of visitors every year, but traveling around Beijing, one is also struck by the city's modern buildings, and the super-modern Olympic Village, with the Bird's Nest Stadium and Water Cube.
Beijing became the focus of world attention in 2008 when it hosted the Olympics. The games were a symbol of both China's progress and China's traditions, with high-class eye-catching facilities and spectacular ceremonies.
The green areas in and around the city are epitomized by Xiangshan (Fragrant Hills) Park. China Highlights provides a range of Beijing tours to explore China's capital city. Follow the link for the Beijing's Top 10 Tour Packages.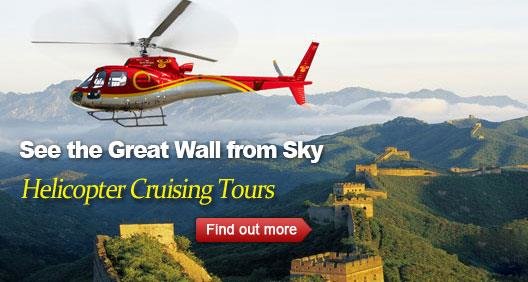 Helicopter Cruising over the Badaling Great Wall
Beijing Hiking and Biking
Although the city of Beijing is not a good place for hiking and biking due to its busy traffic, there are a many quiet routes in the areas around it for outdoor-lovers to explore.
The most popular hiking routes are the Great Wall and Badachu to Fragrant Hill routes. Beijing's Hutongs are good place for a cycling tour, and a must for most travelers to Beijing, as it offers a great opportunity to explore the old Beijing. See Beijing Biking Guide.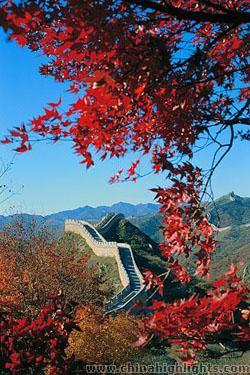 Fall Foliage along Badaling Great Wall
Weather
Beijing, China's second largest city after Shanghai, dominates the north of China, despite its proximity to the ports of Tianjin Municipality, China's third largest city.
Beijing is approximately at the same latitude as Philadelphia in the U.S. (but drier in winter and much wetter in summer) and Madrid in Spain (though colder in winter). See Beijing Weather.
Air Quality
Beijing's air pollution and traffic congestion are being tackled with improved public transport, restrictions on the use of vehicles, and the relocation of factories. Daily and localized variations in airborne particle levels are great, with some days below the WHO's strictest targets.
Beijing's air quality, apart from pollutants, is greatly affected by occasional dust storms in the spring, and humidity contributes greatly to the haze in summer, which is the worst time of the year for visibility and air quality.
If you have severe breathing-related health issues or feel Beijing is not an option, we suggest making Hong Kong or Shanghai your gateway city:

Planning a trip? Ask us here 800-2682918 (USA & CA)
86-773-2831999 (Int'l)
Q:
mukul minocha
Asked on 2013-03-21
Reply
hi there,i am planning to visit the canton fair in april and plan to move to shanghai from there. can anyone help?
Dear Mukul, You can take a flight from Guangzhou to Shanghai, and you could choose a suitable one on our website and book it directly. Please click: http://www.chinahighlights.com/china-flights/ Lussie Lu Replied on 2013-03-22
Q:
jhonel
Asked on 2013-03-18
Reply
hi whitney, what do u think is best for my 8 hour staying at your airport?
Hi Jhonel, it could be a little boring. You can take a short tour to the summer palace.
Whitney Liao Replied on 2013-03-19
Q:
fifi
Asked on 2013-03-01
Reply
do i need a sweater if i go to beijing on 24-30 march 2013?
Dear fifi, Based on the former data, the average temperature will be 4-18℃(39.2-64.4℉), it will a bit cold, you'd better take a sweater and thick coats. You could check the new information on this website before leaving for Beijing. Please click: http://www.weather.com.cn/en/weather/101010100.shtml Lussie Lu Replied on 2013-03-03
Q:
Shine
Asked on 2013-02-28
Reply
Hi we are planning to. Vist Beijing and shanghai between 7-14 march 3days in each city can u tell me the best paces to shop especially for kids
Hi Shine, for shopping, Wangfujing Street in Beijing and Nanjing Road in Shanghai are suggested.
Whitney Liao Replied on 2013-03-07
Q:
walter weeks
Asked on 2013-02-03
Reply
We have the same request in June for Beijing 5,6,7; Xi''an 8,9; Shanghai 16,17,18 and Hong Kong 19,20: Where can we go line dancing?
Hi Walter, in Beijing, you can dance at the Temple of Heaven, Summer Palace, etc.
In Xi'an, the Big Wild Goose Pagoda and the Bell Tower are good places.
In Shanghai, the Bound is a perfect place.
In Hongkong, I suggest the Avenue of Stars.
Whitney Liao Replied on 2013-02-04
Beijing Facts
Chinese Name: 北京
Chinese Pinyin: Běi jīng
Location: North of China
Population: 17.55 million
Languages: Mandarin
Time Zone: (UTC+8)