The Chinese Zodiac
The Chinese animal zodiac, or sheng xiao in pinyin (literally translated as "born resembling"), is a rotating cycle of 12 years, with each year being represented by an animal and its reputed attributes.
Traditionally these recurring animals were used to date the years, a different animal for each year, with each animal year repeated every 12 years. There are altogether 12 animals, which are, in order: rat, ox, tiger, rabbit, dragon, snake, horse, goat, monkey, rooster, dog and pig. How is this order determined?
Actually the Chinese animal zodiac has certain similarities with the Western zodiac. Both have rotating cycles divided into 12 parts, and both imply the influence of each sign on a person's personality. However, the differences are major. The Chinese animal zodiac is divided into years, while the Western zodiac is divided into months, and the animals are not associated with constellations.
Chinese Zodiac Animal Years or Ben Ming Nian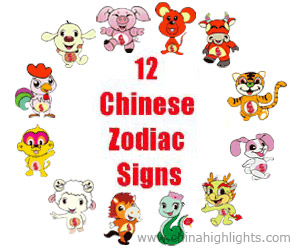 Chinese Zodiac years of birth are also called Chinese Zodiac animal years or ben ming nian
Because the Chinese animal zodiac is a rotating cycle of 12 years, every 12 years a certain animal year recurs. For example, if a person was born in the year 1990, which was the year of the horse, then this person's animal sign is the horse. Every 12 years, when this person is 12, 24, 36, 48, 60, 72 etc., the year of the horse recurs, which is this person's year of birth, or ben ming nian (roughly translated as 'origin of life year')
According to ancient Chinese superstition, in one's year of birth, he will offend Tai Sui, the god of age in Chinese mythology, and will have bad luck during that year. The best way to avoid bad luck during this year is by wearing something red given by someone else, such as socks, a ribbon, clothes, underwear, a waistband or a bracelet.
The twelve animal signs each represent different types of personalities. The following are the twelve signs in order. Use the calculator on the left of this page to determine your own sign.
12 Chinese Zodiac Animal Signs
Related Links
Planning a trip? Ask us here

800-2682918 (USA & CA)

86-773-2831999

1800-764678 (AU)

0800-0327753 (UK)

800-8793-007 (China)
Q:
imelda miguel
Asked on 07:05 AM Jan. 05 2014
Reply
my name is imelda i was born 1965 wht is my animal sign
Dear Imelda,
Your Chinese zodiac sign is Snake. Lussie Lu Replied on 00:38 AM Jan. 06 2014
Q:
Cliff
Asked on 2:31 PM Jun. 20 2013
Reply
Is it appropriate for my wife to wear a dragon charm since our son is a dragon? I''d like to get her a gift with special meaning regrading him, but didn''t want to incur bad fortune on any of us. She''s a dog and I''m a snake.
Hi Cliff, dragon is good. In China, every parents wish their child to be a dragon. It means the best.
Whitney Liao Replied on 03:22 AM Jun. 22 2013
Q:
sara
Asked on 3:52 PM Oct. 04 2012
Reply
my name is sara23 janurary 1989my funacy name is ibraheem12 december 1988when will we get married?
Hi Sara, sorry but we are an online travel agent, not fortune teller website. Personally speaking, you can get married as long as you think it's the right time. Michael Hu Replied on 02:16 AM Oct. 05 2012
Q:
chhoynit hosal
Asked on 1:32 PM Aug. 20 2012
Reply
I am rooster my birth date is 13/12/1981 im trying to get pregnent since three years. When will i get pregnent
We can not answer your question. maybe you can check it with a fortune teller.
Leon Long Replied on 10:04 PM Aug. 20 2012
Q:
Jayen
Asked on 0:35 PM Jul. 20 2012
Reply
hi. Is there any promotions or special discounts in shopping this year for person who are born in the dragon ?
Hi Jayen, sorry we don't have promotions or discounts for people born in Dragon year now. Nora Ou Replied on 05:45 AM Jul. 23 2012