China Adoption Heritage Tours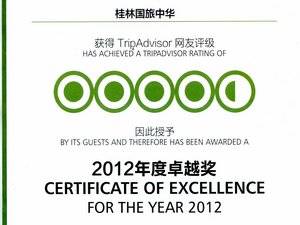 China Highlights is proud to have sponsored An Orphan's Wish (AOW) project - The House of Love (Guilin, China) each year since its inception in 2005. But now, we would like to take that even further by combining our experience with family and heritage tours to benefit AOW for each China heritage tour or family tour booked via this special offer.
What does our special An Orphan's Wish (AOW) Promotion include?
Best advice and deal possible
Free 3G WiFi package or phone package
5% Donation to An Orphan's Wish
As one of China's largest and most successful online tour operators, we have great local connections and resources to provide a memorable family & heritage tour in China. Join with us and we will do our utmost to provide you with best possible China trip, but what's more the children in the House of Love will benefit as well.
Use China Highlights and we will give 5% of the total China Tour cost (excluding international airfares) to An Orphans Wish. It's simple; if the tour is $2000 we donate $100 to An Orphan's Wish.
Post & Blog in real time
As an added incentive China Highlights will provide you with our 3G WiFi package or cell phone package for the whole tour. You can keep everyone at home updated on your China trip. You won't have wait until night at the hotel, post in real time. Up to five devices can connect to WiFi at any time.
We specialize in customized travel
Our experienced travel advisors will work with you to design a fun, interesting trip and give you the best possible price. We specialize in providing customized travel, not off the shelf packages. We can provide experienced adoption guides, if you require their specialized services. We know that families want to have fun not just follow a flag. We will help you design a tour which the whole family will enjoy.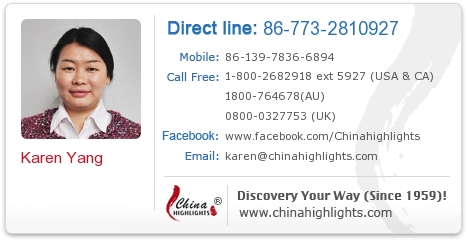 Adoption & Heritage Tour Specialist Travel Agent
Karen has years of experience as a travel adviser and has arranged heritage tours and adoption tours for years. You can contact Karen anytime directly and she will be delighted to help. Just email your requirements or choose any of our existing tours and we will customize it to your requirements. Just include AOW in your email or tour inquiry and we will do the rest.
LeeAnn Mill – US Director, An Orphan's Wish writes about the heritage trip which she did in 2011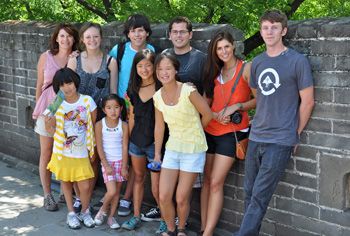 Organizing a heritage trip to China for my family of nine for three weeks and including the four cities where my children were found, was a daunting task, even though I have traveled to China many times.
I knew that Brian & Andy (both China Volunteers for AOW) worked as consultant for China Highlights in Guilin so I contacted Brian to discuss my plans. Although I knew China Highlights through their support of AOW's House of Love, it was comforting to know that I had a personal contact who understood my needs. He put me in contact with Karen who was fantastic. She handled all of my questions and special requirements over several months and nothing was too much trouble.
Traveling in China always has it challenges but Karen handled any problems and last minute changes so we were able to enjoy the time without worrying about what was happening. This took all the worry from our trip which allowed us to concentrate on what was important. It was a special time for us all and very emotional at some certain times. Karen organized adoption guides and all the required permissions so that we could visit the SWI's that we wanted to visit.
Karen also organized some fun activities like riding electric motor cycles in Yangshou. These are not normally included in tour program but my kids loved it.
I would like to thank China Highlights for supporting AOW's House of Love since 2005 and also for this new program which will be of great benefit to AOW. I am very confident in recommending China Highlights to provide a professionally organized trip.
Most-read Articles about Adoption Tour