Giant Pandas

Increasingly used as the emblem of China, the cuddly and lovable giant panda lives nowhere else in the world outside captivity. The panda is the WWF logo and is known as 'national treasure' in China.
Alongside the Great Wall, the Terracotta Army, the Li River, etc., the giant pandas are becoming a must-see attraction of China. They have received excellent reviews from our previous customers (see below).
Quick Facts
Chinese Name: 'big bear-cat' (大熊猫 dàxióngmāo /dah-sshyong-maow/).
Size:75 cm (2½ ft) tall, 1½ m (5 ft) long
Weight: Up to 150 kg (330 lb)
Habitat: Mountainous western central China; Sichuan, Shaanxi, and Gansu. See the map
Diet: 99% bamboo, 13 kg (30 lb) or more a day.
Life Span: Up to 30 years in captivity, 15–20 years in the wild
Protection Status: Endangered.  1,500–3,000 in the wild.
Facts of Giant Panda
Name: The Chinese call it the 'big bear-cat' (大熊猫 da xiongmao /dah-sshyong-maow/).
Size: 75 centimeters (2.5 foot) tall and 1.5 meters (5 foot) long.
Weight: Up to 150 kg (330 lb).
Habitat: Western central China in the mountains east of the Qinghai-Tibet Plateau. Mainly in Sichuan Province, some in Shaanxi and Gansu.
Diet: 99% bamboo. 13 kg (30 lb) or more a day.
Life span: Up to 30 years in captivity, but usually only 15 to 20 years in the wild.
Reproduction:One cub per two years; mating in spring, born late summer.
Protection status: Endangered. Estimates of giant panda numbers are no more than 2,000, including about 300 in captivity.
Why See the Giant Pandas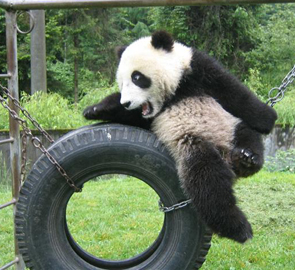 The giant panda is a bear species, so unique and close to extinction that it's known as a "living fossil".
A bizarre carnivore-turned-veggie, it subsists on bamboo.
Giant pandas have round bodies and thick black and white fur; very distinctively colored, they are white apart from black patches around their eyes, black ears and legs, and a black band around the shoulders.
Some estimate that more has been spent on saving the giant panda than any other species. Entertaining and endearing, this remarkable record-breaker speaks that governments can save the world's wildlife if considered valuable enough.
They're saved for you to see!
Top Places to See Giant Pandas
The best place in the world to see giant pandas is in Sichuan's Bifengxia Panda Base, in western central China, near Chengdu, which also has a good panda base.
Seeing them in the wild is difficult and costly, but can also be arranged — contact us for a free quotation.
There are also giant pandas in several zoos and reserves around China: Beijing Zoo, Shanghai Zoo, and Seven Star Park Zoo, Guilin are some of the best. See China's Top Places to See Giant Pandas.
Giant Panda Photos
Top Giant Panda Tours
You will visit the Panda Breeding and Research Center to see the cute black-and-white animals, the romantic lanes in Chengdu, and the Giant Buddha cut in the Tang Dynasty.
This tour combines Bifengxia Giant Panda Base, and the highlight attractions in Chengdu including Jinli Ancient Street and Sanxingdui Museum.