The Five Best Places to Visit in September
September is the beginning of autumn in China. In this month, the weather cools down, and there is rare rainfall, so it is a nice time for traveling around those tourist destinations without seasonal limitation.
China Highlights lists five best places to visit in the cool September. If you are interested in them and plan to have a visit, you can consult us for details for free, and have us tailor-make a tour of China for you to include your favorite China highlights.
1. Beijing
Beijing has four distinct seasons: blowy spring (sometimes with sandstorms), burning hot summer, cool autumn, and chilly winter. So autumn is the peak season for travelling to Beijing, however, the most recommended month is September.
September is the best month for traveling in Beijing. The less crowded in Beijing's attractions (because the summer holiday has gone, and the National Day holidays has not yet arrived). The low rainfall (46 mm (2 in)) and moderate temperatures (on average 14 °C (57 °F)–26 °C (79 °F)) can make your tour in Beijing more smooth and enjoyable.
Of China's 43 World Heritage sites, six are situated in the Beijing area: the Great Wall of China, the Forbidden City, the Summer Palace, the Temple of Heaven, the Peking Man Site at Zhoukoudian, and the Ming Tombs. In this historical capital city, you can maximize your appreciation of Chinese culture and history. Check out top things to do in Beijing.
Recommended tour: Four-Day Essence of Beijing Tour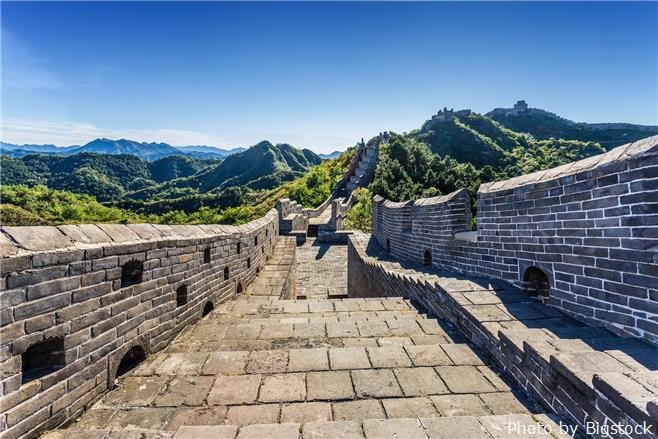 2. The Yellow Mountains
The Yellow Mountains is one of the most famous and beautiful mountainous areas in China. The peculiar-looking pine trees and rocks, the seas of clouds (which make the mountains and trees much more mystical), and the hot springs are the four highlights of the Yellow Mountains.
Though the Yellow Mountains is worth a visit all the year round, September is the most recommended moth to visit. Because the burning sun of summer has gone, autumn has added a cool mystery to the Yellow Mountains. It is easier to come across seas of clouds and see sun rises (less rain). The average temperature in the Yellow Mountains in September is 14 °C or 66 °F. The temperature difference between day and night is big, so remember to bring warm clothes.
Winter comes early in the Yellow Mountains, lasting from late October (begins to snow) to March, so the later you visit in September the more likely you are to see fall colors.
Recommended tour: Three-Day the Yellow Mountains and Hongcun Village Tour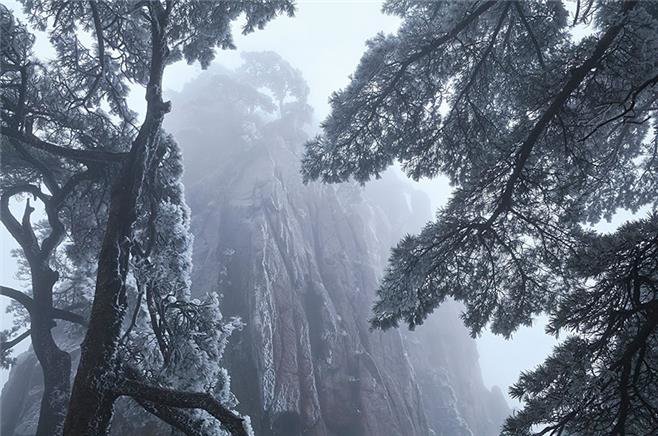 3. Pingyao Ancient City
Pingyao is a well-preserved ancient city. It was China's financial center during the Qing Dynasty (1644–1911). You can see an intact picture of the development of Chinese culture, society, economy, and religious.
There you can visit the first bank of China, Rishengchang Draft Bank, a treasure-house of Chinese painted sculptures, Shuanglin Temple, and the "Imperial Palaces" of the businessmen: Wang Family Courtyard, Changjiazhuang Park, and Qiao Family Compound.
Pingyao International Photography Festival is held in this ancient city every September. The best time to visit Pingyao Ancient Town is autumn, especially in September, when the weather cools down and is comfortable.
Generally speaking, two days are enough for you to visit all the main attractions in Pingyao Ancient City. But if you want to take part in the photography festival and pay a visit to Mianshan, well-known for its picturesque landscape and its Taoist and Buddhist culture. Four days are needed.
Recommended tour: Two-Day Pingyao Classic Tour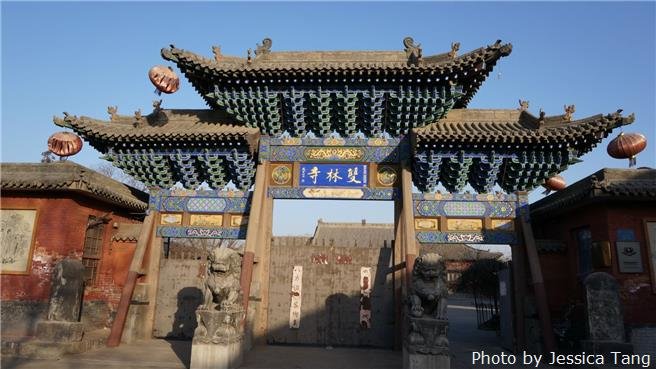 4. Kanas in Xinjiang, a Fairyland on Earth
If you are a shutterbug and are looking for a beautiful destination in September, Kanas in Xinjiang is the most recommended one, where there is mysterious Kanas Lake, and a beautiful ancient village, Tuvas Village. Check out Most Beautiful Ancient Villages in China.
Kanas Lake is famous for its graceful landscapes and the lake monster (it is still a mystery now). The lake shows different colors in four seasons, because its mineral composition changes.
Ancient Tuvas Village is about 2.5 kilometers from the south bank of Kanas Lake. It is has about 80 houses. These Swiss-style wooden houses are all surrounded by wooden fences, scattered among green pine trees and yellow birch trees.
In September, this valley area is at its most colorful, with red, green, or yellow trees. The emerald lake reflects the colorful trees along the bank, which makes the area more picturesque.
In September, Kanas is cold, and the temperature at night can fall to near freezing point. However, the temperature difference between day and night is very large, so clothes both for autumn and winter are needed. Most tourist routes combine Kanas and Urumqi. Check out our customizable Kanas Lake tour.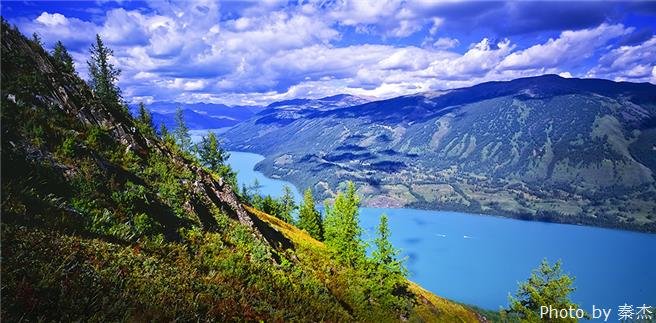 5. Fenghuang Ancient Town
Fenghuang Ancient Town, a graceful town near the mountain and by the river, is renowned for its natural beauty, unique wooden buildings, and colorful ethnic customs (especially Miao Minority and Tujia Minority).
Generally speaking, Fenghuang Ancient Town is worth a visit all the year round. But, if you want to see the most beautiful Fenghuang Ancient Town, spring and autumn are recommended. However, it always drizzles in spring, which may bring some inconvenience for outdoor activities. Hence, autumn, and especially September, is the best time for visiting this beautiful ancient town.
September is the most recommended time for visiting this ancient town, especially for photographers. In September, when the flood period has passed and the dry season has not arrived, you can appreciate a more peaceful and graceful Fenghuang Ancient Town, a town surrounded by the beautiful Tuo River.
Cool weather, clear skies, less crowds (because summer holiday in China has finished), and rare rainfall will make your travel smoother.
Traveling to the town during weekends and Chinese public holidays is still not recommended, as there are more visitors, and hotels and restaurants raise their prices.
Recommended tour: Three-Day Essence of Fenghuang Tour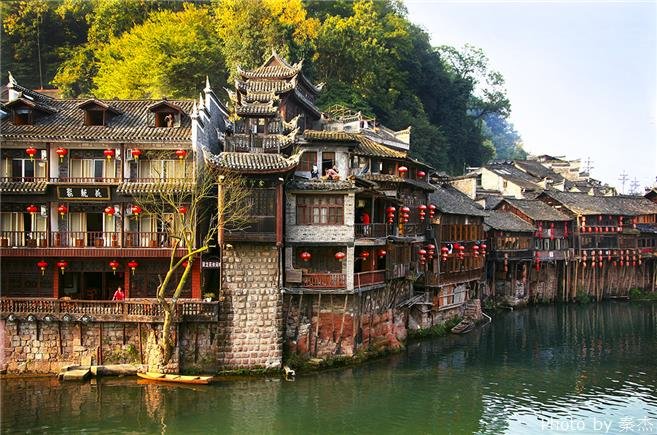 Related Links

China Highlights
Questions and Answers About The Five Best Places to Visit in September
S. Ramachandran
2014-01-09
Show Answer
How will be the climate 13th and 1 4th September in Macau and 11 and 12 in Hong kong
Dear Ramachandran, In Hong Kong and Macau, the temperature is about 25℃(77℉)-30℃(86℉), it is hot and you could wear T-shirts and shorts. Lussie Lu replied on 2014-01-10
S. Ramachandran
2014-01-09
Show Answer
What about visiting Beijing on 7th and 8th September, 2014
Dear Ramachandran, The average temperature is from 20℃(68℉)-25℃(77℉), it is always sunny. It is comfortable for traveling. You could take some shirts and jeans. Lussie Lu replied on 2014-01-10
salman
2012-09-26
Show Answer
hi, wil b in beijing from 08/11/12 til 14/11/12. pls advise on weather n cloths to bring. thnks
Hi Salman, in November Beijing slowly gets colder and colder, The first snow usually falls in this month. From 08/11/12 tilL 14/11/12, the temperature is 5°C-12°C. You can prepare winter clothes such as sweaters or padded coats. If you need any tour service or hotel booking, I would be more than happy to assist. Nice day! Whitney Liao replied on 2012-09-26
faridah
2012-09-26
Show Answer
helo dear I am a muslim how about halal food in beijing
Hi Faridah, there are a lots of halal restaurants in Beijing. Here is one for you. Dong Lai Shun Restaurant 东来顺饭庄 Add: No.63, Guang'an Men Street, Xicheng District, Beijing 北京西城区广安门内大街临63号 Tel:+86-10-83168911 Whitney Liao replied on 2012-09-26
Helene
2012-08-27
Show Answer
How common is open/free/highspeed wifi/internetspots in Beijing?What with prepaid set 3G/internet simcard?(I Will only stay for five days)
It is hard to find or use open/free/highspeed wifi/internetspots in Beijing. Because the place of the wifi point is only available in some public places and the speed is not stable. I suggest you to choose our Wi-Fi Rental service which is fast, stable, can be share, cheap. Please check your email box. You will get more information Thank You Nero Hou replied on 2012-08-29
April Offer $25 Coupon
Send your inquiry before Apr. 30, 2014, and we will email you a $25 coupon.
The coupon is valid till Dec. 31, 2014, for paying tour packages worth $250 or up.
The coupon cannot be used for paying flight tickets, train tickets, hotel rooms and day trips.
Travel Advice or Question? Ask us here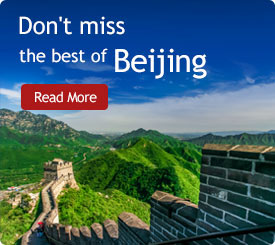 The Most Popular Articles
The Latest Travel Articles