Top China Winter Destinations
Although China may not yet be a preferred winter destination for most foreign travelers in terms of specific winter activities (though China actually has some decent ski slopes, as our extensive ex-pat community can affirm), it does have its getaway beaches where one can escape winter entirely. In addition, there are many places of stunning natural beauty in China that have mild weather all year round, so there is always something compelling to see or fun to do in China during winter, regardless of the tourist's specific interests.
Below is a list of China's prime winter destinations, with descriptions that will hopefully inspire you to choose China for your winter vacation this year. Check out our China Winter Tours, or ask us to tailor-make a tour for you.
Read benefits of traveling in China's winter low season.
1.

Seaside Winter Escape in Hainan Island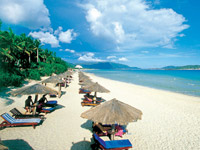 Sun, water and beaches are what travelers enjoy about Hainan. For winter travelers, it is not unlike Hawaii in the US, which serves as a favorite tropical oasis to escape the frozen winter. Hainan is overflowing with the appeal of an island paradise: golden beaches, sea, waves and seaside holiday resorts. See below for the most famous beaches on Hainan Island. Covered below are some of China's top beaches. See China Highlights Beach Holidays
2.

China Ski Resorts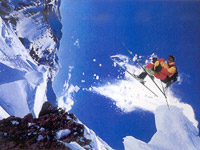 Despite the fact that ski resorts in China are currently still only beginning to be discovered by foreign travelers, winter travelers to China are increasingly opting for China's ski slopes as an alternative diversion. China's ski resorts are concentrated in Northeast China and the region around Beijing.
However, there are a few in West China such as the Xiling Ski Resort in Chengdu. Yabuli Ski Resorts and the ski resorts around Beijing are the most popular among winter travelers. Find below the most famous ski resorts in China. Listed below are some of China's top ski resorts. Take a China Highlights Ski Tour and have fun.
3.

Harbin Ice And Snow Festival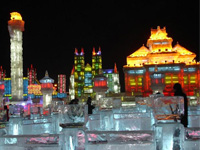 The Ice And Snow Festival is undoubtedly Harbin's most famous attraction, held in Zhaolin Park every winter from January 5th to the end of February. During the festival, the the whole park is changed into a world of ice sculptures and lanterns. Fanciful and elaborate ice sculptures in teh shapes of animals, plants, buildings or motifs taken from legends sparkle in the frigid air. See China Highlights China Winter Vacation Deals to appreciate the Ice Lantern Festival in Harbin.
4.

Mountain Snowscape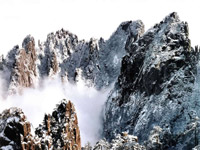 Take a China Highlights Yellow Mountain Tour and enjoy the Yellow Mountain in quite winter.
Yellow Mountain is famous for its marvelous and beautiful scenery. In winter, the mountain becomes a world of frost and ice with silver boughs and rocks everywhere. Yellow Mountain is one of the best places to view snowy landscapes and rime and glaze scenery in China.
Mt. Emei, in Southwest China's Sichuan Province, is known for its sweeping cliffs, high reaching peaks, gushing waterfalls, gurgling springs, towering ancient trees and ancient temples. In winter, the mountain is very quiet, free from the tourist crowds, allowing winter travelers to enjoy the mountain, which is a blanket of white with a capping of snow-laden trees.
5.

Warm Winter Locations
Famous Three Towers in Dali, Yunnan Province Yunan
Yunnan is without doubt one of the most tempting travel destinations in China. Its varied landscape, with terrain ranging from topical rainforest to snow-capped peaks, never fails to allure even the most fastidious travelers. Winter travelers are fond of Yunnan because of its mild weather. Famous tourist cities in Yunan Province: Kunming, Dali, Lijiang, Xishuangbanna Take China Highlighs Yunnan Tours to have a warm winter vacation in Yunnan. Other famous warm travel destinations include Guangzhou and Hong Kong in south China.
6.

Culture Experience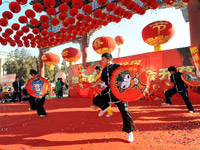 Take a China Highlights New Year Tour and celebrate an authentic Chinese New Year in Beijing as locals do.
There are various cultural activities held in the temples and parks of Beijing during the Chinese New Year holiday usually from late January to early February. This is best time of the year to experience Chinese culture.
The Miao and Dong minority peoples hold their own traditional celebrations to celebrate the Chinese New Year. Colorful dress, folk performances and interesting activities can be seen during January or February.

China Highlights
Planning a trip? Ask us here 800-2682918 (USA & CA)
86-773-2831999 (Int'l)
Q:
Vivien
Asked on 2013-09-02
Reply
Hi, are Jiuzhaigou and Zhangjiajie suitable for young children during winter?
Dear Vivien, Thank you for your inquiry. Winter is the tourist low season in Jiuzhaigou and Zhangjiajie, the weather is cold. The coldest months are December and January, and the average high and low temperature in these area can reach 15℃ and -7℃. If you want to take children there during this period, please do prepare some down jackets and sweaters. Note: Huanglong in Jiuzhaigou will be close if the snow is too heavy. Doris Huang Replied on 2013-09-05
Q:
Tom Kocher
Asked on 2013-02-27
Reply
What months of the year constitute winter in China. And how or when does the monsoon season effect Sanya?
Hi Tom, the winter months in China is Dec.-Feb. The monsoon season to effect Sanya usually takes place in May. and June.
Whitney Liao Replied on 2013-02-27
Q:
pooh
Asked on 2013-01-28
Reply
hi im pooh living in keqiou . plz tell me some cheap, attractive nd warm places in china to go fr 3-4 days in new year .
Hi Pooh, I recommend Sanya in Hainan Province to you. It is the warmest place in China in winter. Whitney Liao Replied on 2013-01-28
Q:
sam
Asked on 2013-01-17
Reply
I had read that Beijing, Harbin, and Hainan would be the best places to go! http://trip-per.com/blog/index.php/the-best-winter-tourist-destinations-in-china/. Is this true? Where should I go to have the best winter in China?
Hi Sam, yes, quite true. Beijing and Harbin are the most popular cities for ski resorts and ice & snow festival. While Hainan is the warmest place during winter in China. Besides, there are beautiful sea and beaches.
Whitney Liao Replied on 2013-01-18
Q:
robin
Asked on 2012-12-21
Reply
I live in Jinan and would like some suggestions where to go for a 3 day trip at christmas and and a short trip for new years. i would like somewhere close to go and not to expensive. If there is any beautiful scenery that would be great to.Thanks
Hi Robin,
Thanks for visiting our website and your interest in our service, my name is Cecilia, I am your trip advisor at China Highlights, it's my pleasure to assist you in planning your Christmas and New Year Trip.
Based on what I understand of your requirements, Qingdao is highly recommended to you. It is located in the southeast of Shandong Peninsula, about 380 kms away from Jinan, where you just need to take only 2.5-3 hours by speed train. At the foot of Mt. Laoshan and borders the Yellow Sea, Qingdao is well known for its pleasant weather, clean beaches, colonial style architecture and Tsingtao Beer.
In order to provide an itinerary that best fits your needs, would you please let me know the number of people in your group? So that we can construct an itinerary that gives you what you want at the best possible price.
Thank you for choosing China Highlights Travel. We will do our best to serve you.
Kind regards,
Cecilia
Cecilia Peng Replied on 2012-12-22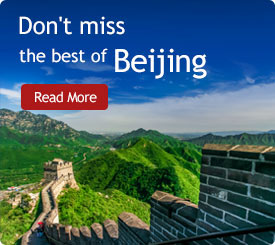 The Most Popular Articles
The Latest Travel Articles