Year of The Dragon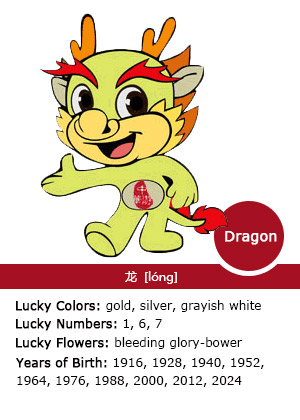 Lucky Colors: gold, silver, grayish white
Lucky Numbers: 1, 6, 7
Lucky Flowers: bleeding glory-bower
Years of Birth: 1916, 1928, 1940, 1952, 1964, 1976, 1988, 2000, 2012, 2024
Personality of the Dragon
As the sole imaginary animal, the dragon ranks fifth in the Chinese Zodiac. The dragon is the most vital and powerful of any in the Chinese zodiac, although with an infamous reputation for being a hothead and possessing a sharp tongue. In ancient times, people thought that dragons could control everything in the world, for they symbolized the character traits of dominance and ambition.
Gifted with innate courage, tenacity and intelligence, dragons are enthusiastic and confident. They are not afraid of challenges, and willing to take risks. However, the dragon is sometimes regarded as aggressive, and angry dragons are not open to criticism. They don't consider themselves irritating and arrogant. Instead of following the past, they are striving for a smooth and nice future.
Health of the Dragon
Taking the hardworking nature of dragons into consideration, they are healthy in general. They may be stressed and suffer from periodic tension, for they like to embrace challenges and take risks. Old people born in a Chinese zodiac dragon year should pay more attention to liver and gall, blood, intestines and stomach, while the middle-aged and young people should care more about their skins. Yoga or taking a walk would be an effective way to keep healthy, as these activities can be good for their minds as well as their bodies.
Career of the Dragon
Dragons like to embrace challenges and take risks. Jobs that allow them to test themselves are good choices. Some good careers include: journalist, teacher, inventor, manager, computer analyst, lawyer, engineer, architect, broker, and sales person.
Relationships of the Dragon
In the search for the ideal partner, dragons might find themselves often hesitating to move forward in a relationship and/or unwilling to make a permanent commitment. When they do, however, it is their intention for it to last. Dragons are likely to have a warm, giving personality. They can be very generous to their loved ones.
Compatibility of the Dragon
Best with: Rat, Monkey or Rooster
Worst with: Dog, Ox, Dragon or Rabbit
Check your romantic relationship compatibility before it's too late.
2014 Predictions for the Dragon
Love: People who belong to the Dragon sign may not have a high probability of finding love and they may only get it due to their hard work and cultivation. To find love, single people should be more active in order to get it. Married people may have a stable relationship and they should learn how to get along with each other in life.
Career: This year, stability in a career is a priority to people who belong to the Dragon sign. Therefore, they should be cautious about changing jobs. Moreover, faced with numerous obstacles in their career, they shouldn't trust others easily in cooperation and investment. In addition, they should be wary of harm caused by unkind people and avoid trusting the wrong people.
Fortune: Fortune will go up and down for people who belong to the Dragon sign. They may have imbalanced incomes and expenses. Being more careful when earning and spending money, they should invest and manage their money according to their own abilities. Moreover, they should keep in mind that stability is a priority to others when making money and should avoid greediness.
Health: Health fortunes for people who belong to the Dragon sign are just so-so this year. They should pay more attention to taking good care of themselves in daily life. If they have a disposition, they should get medical treatment in time instead of delaying the disease. Furthermore, they should pay more attention to details. When they go out or go traveling, they should be careful to have healthy food and drinks in order to avoid discomfort.
Best Travel Destinations for the Dragon in 2014
Go West!
Go west, Dragons. For all to be well, go west and stay west. There's plenty to amuse you in Chengdu and Chongqing, Xi'an and Lanzhou. For further details on these see above. It will be a good year if you only go west.
Places to avoid
Pretty much anywhere not west is to be avoided this year. Shanghai, Nanjing, Suzhou, Wuxi, Ningbo... not for you this year. Likewise the northwest, so don't stray. Forget Ningxia, Gansu, Xinjiang, Shanxi and Inner Mongolia. West they may be, but they have a northern component. Sorry. These especially are to be avoided. Inauspicious stars will not look kindly upon you should you trespass.
Famous People Who Belong to Dragon
Zhu Yuanzhang, born in 1328 AD, the first emperor of the Ming Dynasty.
Ban Chao, born in 32 AD, was a famous militarist and diplomat of the Eastern Han Dynasty.
Tsai Yuan-Pei (1868-1940), a Chinese revolutionist, educator and statesman.
Guo Moruo (1892-1978), from Shandong County of Sichuan Province, was a famous writer, poet, historian, playwright, archaeologist and ancient writing expert.
Deng Xiaoping, born in 1904, one of the main leaders of the People's Republic of China.
Vladimir Putin, born in 1952, President of Russia.
Ariel Sharon, born in 1928, President of Israel.
The City the Dragon Represent - Beijing
If any animal may be said to dominate the Chinese zodiac, that animal is the dragon. A symbol of royalty, its appropriate home is Beijing, the Chinese capital.
With a history of over 3,000 years, Beijing reins supreme in the public imagination, both nationally and internationally, in their considerations of China. Through the centuries it has transformed itself from animperial capital to that of a modern and thriving economy, and its nature has changed along with it while retaining much that is ancient as testament to its greatness in the past.
In considering its modernity and vibrancy in the present day, the visitor would do well to see Sanlitun Bar Street, (三里屯酒吧街), China'sNational Grand Theatre, (国家大剧院), the magnificent 'Bird's Nest' Olympic stadium, ('鸟巢'), and the 'Water Cube', ('水立方').
These sit alongside Beijing's historical and more scenic spots. The world's biggest Imperial Palace is to be found within the walls of the Forbidden City and the Palace museum. The magnificent Temple of Heaven pays testament to ancient worship practices and, with Beihai, we see landscape architecture at its best with the ancient royal gardens. The Summer Palace mingles both stately Imperial architecture with pleasant, carefully-crafted scenery. More grandeur may be seen with a visit to the Prince Gong Mansion, (恭王府). No trip to Beijing — nor even China — would be complete without a visit to the Great Wall, and Beijing boasts some of its finest architecture with the sites of Badaling and Mutianyu, (慕田峪长城). With all this on show, the Ming Dynasty Tombs in the city seem almost ironic; it is as if those late, great Emperors had never died as they live on through the architecture they inspired. China's more recent history is reflected here as well through the vast expanse of Tiananmen Square, the government building of the Great Hall of the People, and the Monument to the People's Heroes.
Surely any trip to China would be incomplete without a visit to Beijing.
Related Reading
Send a Chinese Zodiac Birthday Card to Your "Dragon" Friend