Year of The Dragon
Personality of the Dragon
As the sole imaginary animal, the dragon ranks fifth in the Chinese Zodiac. The dragon is the most vital and powerful of any in the Chinese zodiac, although with an infamous reputation for being a hothead and possessing a sharp tongue. In ancient times, people thought that dragons could control everything in the world, for they symbolized the character traits of dominance and ambition.
Gifted with innate courage, tenacity and intelligence, dragons are enthusiastic and confident. They are not afraid of challenges, and willing to take risks. However, the dragon is sometimes regarded as aggressive, and angry dragons are not open to criticism. They don't consider themselves irritating and arrogant. Instead of following the past, they are striving for a smooth and nice future.
Health of the Dragon
Taking the hardworking nature of dragons into consideration, they are healthy in general. They may be stressed and suffer from periodic tension, for they like to embrace challenges and take risks. Old people born in a Chinese zodiac dragon year should pay more attention to liver and gall, blood, intestines and stomach, while the middle-aged and young people should care more about their skins. Yoga or taking a walk would be an effective way to keep healthy, as these activities can be good for their minds as well as their bodies.
Career of the Dragon
Dragons like to embrace challenges and take risks. Jobs that allow them to test themselves are good choices. Some good careers include: journalist, teacher, inventor, manager, computer analyst, lawyer, engineer, architect, broker, and sales person.
Relationships of the Dragon
In the search for the ideal partner, dragons might find themselves often hesitating to move forward in a relationship and/or unwilling to make a permanent commitment. When they do, however, it is their intention for it to last. Dragons are likely to have a warm, giving personality. They can be very generous to their loved ones.
Compatibility of the Dragon
Best with: Rat, Monkey or Rooster
Worst with: Dog, Ox, Dragon or Rabbit
Check your romantic relationship compatibility before it's too late.
Send a Chinese Zodiac Birthday Card to Your "Dragon" Friend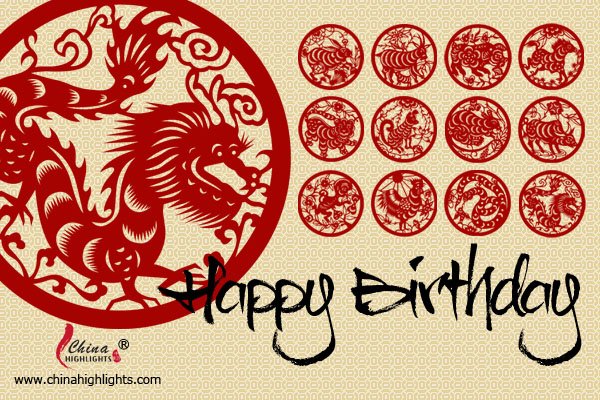 More Chinese Zodiac Birthday Cards
Related Links
Planning a trip? Ask us here

800-2682918 (USA & CA)

86-773-2831999

1800-764678 (AU)

0800-0327753 (UK)

800-8793-007 (China)
Q:
marycris lago
Asked on 02:36 AM Jul. 27 2013
Reply
i want to go to china visit my boyfriend my bf will invite me?
Dear marycris,
You need to apply for a China visa in advance. For the details of the process, I suggest you contact Chinese Embassy in your country directly. Lussie Lu Replied on 10:44 PM Jul. 28 2013
Q:
shikha
Asked on 6:34 PM Oct. 05 2012
Reply
My Daughter born on 1-1-1990 when she will get a jon and when she will get married
Dear Shikha,
Based on the information on line, the Chinese zodiac sign is Snake. About more details, you could read it on this website. Please click:http://www.chinahighlights.com/travelguide/chinese-zodiac/dragon.asp
This information is just for reference, it depennds on your daughter's desire.
Lussie Lu Replied on 06:56 AM Oct. 08 2012
Q:
Nethravathi
Asked on 10:25 AM Aug. 30 2012
Reply
Born in 1988, my Chinese zodiac year is Dragon, of course. In which month of the year can I receive a rig job?
Hi Anil, 8 is a lucky number in China. You have double 8, which means you will be very lucky especially in this Dragon year, your recurrent year in the twelve-year cycle. Don't worry about your job. As long as you pay, you will gain.
Whitney Liao Replied on 06:40 AM Aug. 31 2012
Q:
vell
Asked on 11:25 AM Jun. 25 2012
Reply
hello i was born on 1976 year of the dragon lately i saw in a small store who sell''s feng shui products, and i have read their copy about the dragons financial for this year and it is bad. is this true?

Not true. YOu have to work hard for your money. guest Replied on 2:57 PM Jul. 19 2012
Q:
Didarul Iqbal
Asked on 2:56 PM Mar. 25 2012
Reply
Of the 12 signs in the Chinese Zodiac, in which place do you think the dragon comes?
Dear Didarul Iqbal,
Based on the Chinese lengendary, the dragon came from the heaven.
Thanks. Candice Song Replied on 04:12 AM Mar. 26 2012