Goat - Chinese Zodiac Animal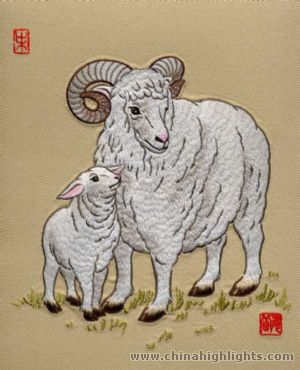 Lucky Colors: green, red, purple
Lucky Numbers: 2, 7
Lucky Flowers: carnation, primrose
Year of Birth: 1919, 1931, 1943, 1955, 1967, 1979, 1991, 2003, 2015, 2027
Personality
The goat ranks the eighth of all the animals in the Chinese zodiac. People born in the year of the goat are mild mannered, pessimistic, shy, and sympathetic. Personality traits, such as creativity, dependability, intelligence, and calmness make them very charming to be with. They are more comfortable when left alone or stay at home.
Though they love to be in groups, they do not want to be the center of attention. They are reserved and quiet, most likely because they like spending much time in their thoughts. Goats like to spend money on fashionable things that give them a first class appearance. Although goats enjoy spending money on the finer things in life, they are not snobbish.
Health
People born in the year of the goat are very serene and calm; therefore, they tend to have fewer health problems. If goat people are in mental and emotional good spirits, this should have a positive affect on their physical health. Eating fresh and organic produce, and eliminating red meat from their diet when possible, is an effective way to keep healthy. They should get out among nature and commune with the great outdoors. Fresh air, trees, and sunshine will all do wonders for their health. Make sure that goat people have a regular schedule for meals and keep their sleep and waking times consistent.
Career
People born in the year of the goat prefer to work in a team. They are not crazy about status and power. Unless asked, they won't ever volunteer for anything and act as the leaders. Good career choices for goats are pediatrician, actor, daycare teacher, interior designer, florist, hair stylist, musician, editor, illustrator and art history teacher.
Relationships
Generally speaking, goats are private. Therefore, it may take time and effort to know those who born in the year of the goat. Goats would be the one to decide with whom to share their own personal things and when to do so. This is likely to be the reason why most goats have few intimate friends. Once becoming friends, their relationships would be peaceful and fulfilling. They'll work hard for those they love.
Compatibility
Best with: Rabbit, Horse or Pig
Worst with: Rat, Ox or Dog
Send a Chinese Zodiac Birthday Card to Your "Goat" Friend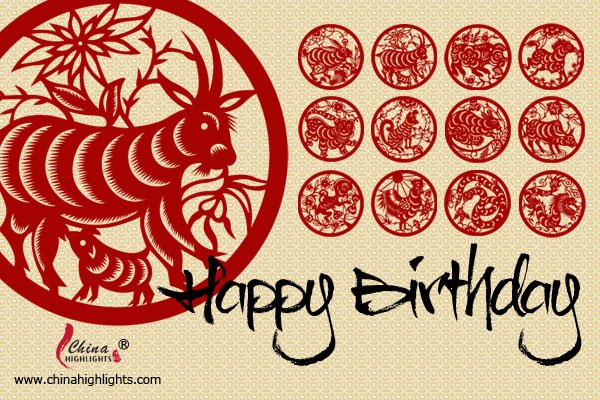 More Chinese Zodiac Birthday Cards
Related Links
Planning a trip? Ask us here

800-2682918 (USA & CA)

86-773-2831999

1800-764678 (AU)

0800-0327753 (UK)

800-8793-007 (China)
Q:
mario wagayen
Asked on 08:07 AM Jan. 22 2012
Reply
are goats compatible also with snake? in marriage or relationship?
Hi, as a travel agency, sorry we are not so good at fortune telling. If you would like to come to China this year, we are more than happy to arrange a wonderful tour for you.
Happy Chinese New Year! Nora Ou Replied on 01:21 AM Jan. 24 2012
Q:
Fe
Asked on 01:07 AM Jan. 07 2012
Reply
are goats compatible with dragons? in love and in business?
Hi, below is for reference only.
male dragon+female goat: not good for business, but relationship is fine.
female dragon+male goat: not compatible in relationship because the male goat does not know how to appreciate or admire you.
Mia Yang Replied on 02:37 AM Jan. 09 2012