Horse - Chinese Zodiac Animal
Personality
The horse ranks seventh of all the animals in the Chinese zodiac. People born in the year of the horse are extremely animated, active and energetic. Horses love to be in a crowd, and they can usually be seen in such occasions as concerts, theaters, meetings, sporting occasions, and parties. With a deft sense of humor, horses are masters of repartee. They love to take center stage and delight audiences everywhere.
Sometimes, the horse is a little self-centered, but it doesn't mean that he will not be interested in any problems except his own. However, a horse person is really more cunning than intelligent, that is probably due to the fact that most horse people lack confidence.
Health
Basically, horse people are very healthy, most likely because they hold a positive attitude towards life. However, heavy responsibility or pressure from their job may make them weak. Therefore horse people shouldn't do overtime too often and then come home very late. Also, they should refuse some invitations to join parties at night.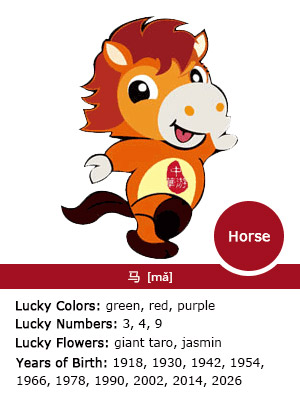 Career
Jobs involving communicating with others attract horse people most. The sign of horse stands for leadership, management and decision-making. Horse people dislike taking orders. The horse can make it in any career that demands neither solitude nor meditation, for he is an extrovert and he needs to be surrounded by people who approve of him and flatter him. Good career choices for horses include: publicist, sales representative, journalist, language instructor, translator, bartender, performer, tour operator, librarian or pilot.
Relationships
People born during the year of the horse have a pleasant, amiable, easy going disposition. With good humor and geniality, they are extremely comfortable to get along with, for they have the ability of instantly putting people at their ease. They are very quick-witted and are  right in there with you before you have had the chance to finish what you were saying; they are on to the thought in your mind even before you've expressed it. All these guarantee their popularity and a large following of friends.
Compatibility
Best with: Tiger, Goat or Dog
Worst with: Rat, Ox, Rabbit or Horse
Send a Chinese Zodiac Birthday Card to Your "Horse" Friend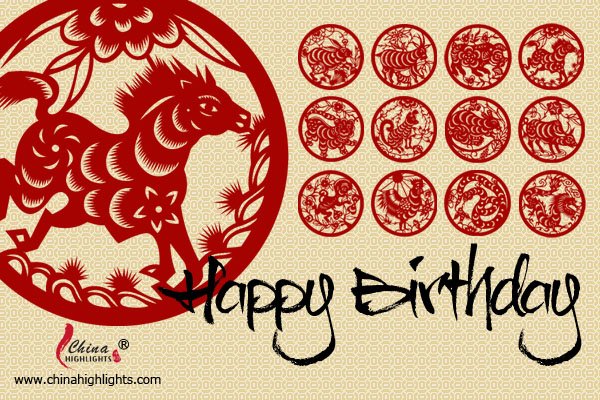 More Chinese Zodiac Birthday Cards
Related Links
Planning a trip? Ask us here

800-2682918 (USA & CA)

86-773-2831999

1800-764678 (AU)

0800-0327753 (UK)

800-8793-007 (China)
Q:
Nina
Asked on 11:34 AM Nov. 04 2013
Reply
I ox really not compatible with a horse?why is it so?
Hi Nina, we are travel agent and only provide the information according to our culture and cannot tell you the reason.
Simon Huang Replied on 00:20 AM Nov. 05 2013
Q:
koji fujihama
Asked on 09:25 AM Jan. 22 2012
Reply
sign ox will lucky this year,about work,love,and health
Hi Koji,
Good luck for you.
If any enuqiry about the China trip, just let me know.
Regards,
Coco Coco Yang Replied on 11:03 PM Jan. 24 2012