Ox - Chinese Zodiac Animal
Personality
The ox occupies the second position on the Chinese Zodiac. They are known for diligence, dependability, strength and determination. Owning an honest nature, oxen have strong patriotism for their country, have ideals and ambitions for life, and attach importance to family and work. These things reflect the traditional characteristics of conservatives. Women belonging to the ox zodiac sign are traditional good wives who attach great importance to children's education.
With a desire to advance and great patience, oxen can achieve their goals after consistent efforts. They are not influenced by others or the environment, but persist to do things in accordance with their ideas and abilities. Before taking action to do anything, they will have a specific plan and detailed steps, adding their strong faith and physical strength, so people of ox zodiac will enjoy great success.
The most disadvantageous trait in oxen is poor communication skills. They are not good at communicating with others, or even think it not worth exchanging ideas with others. They are stubborn and stick to their own ways.
Health
Strong and robust, people born in the year of the ox enjoy a fairly healthy condition with a long life span and less illness. Because of hard work with a stubborn personality, they often forget meals, which make them have intestinal problems. So enough rest and regular diet are needed for oxen to work efficiently. With a stubborn temperament, they find it easy to bear stress and tension, and they are reluctant to reveal themselves to others. Proper relaxation and regular short travels will benefit the ox.
Career
As the symbol of hard work, oxen always work hard at everything and stick to finishing it. Possessing a serious and responsible attitude toward work, they can come up with different approaches to their task. With a keen eye for details and an admirable work ethic, they are competent at such careers as agriculture, manufacturing, pharmacy, mechanics, engineering, draftsmanship, artistry, politics, real estate, interior design, painting, carpentry, or quarry work.
Relationships
Oxen are not good at communicating with others, so they have less social intercourse. They prefer to stay alone and enjoy solitude instead of participating in various of social activities. They treat friends sincerely and count much on friendship. For love relationships, oxen tend to keep a long term relationship with their lovers. Frequent changes of lover make them uncomfortable. Ladies of the ox zodiac sign lack femininity. If they can realize their own inadequacies, and change the cautious attitude of indifference to affection and enthusiasm, they will have love relationships to their hearts' desire.
Compatibility
Best with: Rat, Snake or Rooster
Worst with: Dragon, Horse, Goat, Dog or Rabbit
Send a Chinese Zodiac Birthday Card to Your "Ox" Friend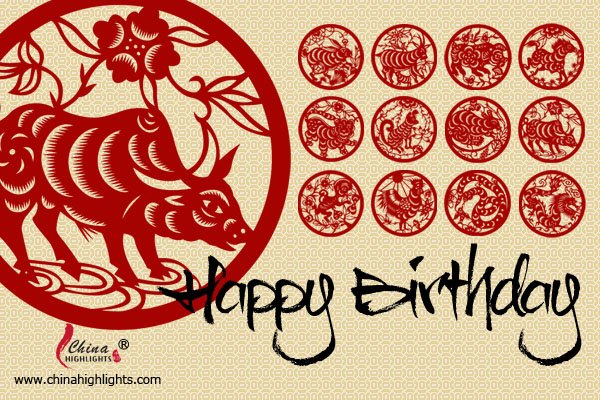 More Chinese Zodiac Birthday Cards
Related Links
Planning a trip? Ask us here

800-2682918 (USA & CA)

86-773-2831999

1800-764678 (AU)

0800-0327753 (UK)

800-8793-007 (China)
Q:
Michael
Asked on 10:22 PM Oct. 08 2013
Reply
I was born jun 24 1984 & my partner born Jul 13 1985. are we compatible? please tell us what things to avoid
I'm sorry I couldn't offer advice to improve this, but if you plan to visit China, I'm happy to asssit you in planning an itinerary as a travel advisor. Ruby Zhao Replied on 01:52 AM Oct. 09 2013
Q:
maylyn
Asked on 01:49 AM Jul. 19 2013
Reply
My birthday is august 06 1973.Im planning go abroad.what can u say about it?
Dear Maylyn,
If you are interested in traveling to China, we are pleased to arrange a tailor-made tour for you. We are a travel agency in China, specializing in designing a tour package. Please realize more details on our website: http://www.chinahighlights.com/tour/ Lussie Lu Replied on 01:37 AM Jul. 22 2013
Q:
palwasha
Asked on 01:37 AM May. 28 2013
Reply
my date of birth is 1 januray 1997.plz tell me something about me
Hi Palwasha, the lucky number is just a superstition.
Whitney Liao Replied on 08:40 AM May. 28 2013
Q:
rogion barro
Asked on 3:35 PM Sep. 20 2012
Reply
what is my lucky number betwen september 30 to october 1
Dear Rogion Barro,
Our system can search your lucky number based on your birthday. Would you please let me know in which year you was born, so that I can search the lucky number for you. Thank you.
Lussie Lu Replied on 02:43 AM Sep. 21 2012
Q:
Maurice
Asked on 8:20 PM Jun. 23 2012
Reply
I was born in 1961 of I''m told. I have a dragon after me .what should I do , I''m married to a 1956 monkey and are very happy .