Pig - Chinese Zodiac Animal
Personality
The pig is the last animal sign on the Chinese zodiac. They have such traits as diligence, sympathy, and generosity. With great concentration, once set a goal, they will devote all energy to achieve the goal. Though pigs rarely seek help from others, they will not refuse to give a hand to others. They never suspect someone else, so they are easily fooled by others. If one wants to have a long-term relationship with pigs, one should be honest with them and have a knowledge of their inner thoughts.
General speaking, pigs are relatively calm when facing trouble. No matter how difficult the problems are they encounter, they can handle things properly with carefulness. They have a great sense of responsibility to finish what they are engaged in.
Health
Pigs have a good health all through life. Frequent dinner parties and social activities are inevitable for pigs, so they should avoid excessive eating, drinking and smoking, which can cause sickness. In addition to adopting a balanced diet, proper exercise is badly needed for pigs to keep fit. As pigs have a free mind on everything, they rarely encounter stress trouble. Faced with overload work, they know how to relax themselves from tiredness. Sleep is a usual way for them to refresh themselves.
Career
Pigs enjoy great fortune in their careers. Their work and cause develop in a relative smooth way. When encountering trouble and difficulties, they tend to receive help from others. With a great sense of responsibility, they are not afraid to try to do what they are interested in. They have rich creativity and imagination. They can take up such careers as entertainer, caterer, doctor, veterinarian, or interior decorator. Besides, some promising careers include transportation, entertainment, retail or hospitality. In social relationships, they should build up their own interpersonal network to help them achieve career success.
Relationships
Pigs enjoy good social relationships. With traits of sincerity and integrity, they are popular friends. They are simply-minded and not preoccupied with minor things concerning other people. They value friendship highly and never betray friends unless in special circumstances.
In love relationships pigs are affectionate and sexual. They are faithful to their partners. Once they find the right partner, they're typically committed for the long-term. However, due to lack of proper communicating skills, sometimes they can not handle problems in relationships.
Compatibility
Best with: Goat or Rabbit
Worst with: Snake, Pig or Monkey
Send a Chinese Zodiac Birthday Card to Your "Pig" Friend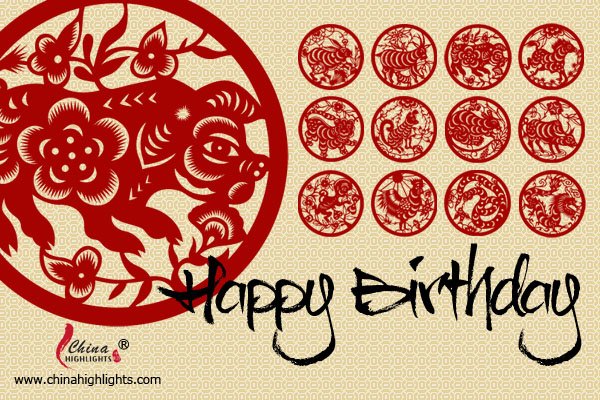 More Chinese Zodiac Birthday Cards
Related Links
Planning a trip? Ask us here

800-2682918 (USA & CA)

86-773-2831999

1800-764678 (AU)

0800-0327753 (UK)

800-8793-007 (China)
Q:
angela alindogan
Asked on 8:40 PM Jun. 25 2013
Reply
I have been planning a trip in the near future.
Dear Angela,
We are glad to construct a tailor-made tour for you. If you need, please feel free to let us know your travel plan, such as below:
1. When will you come to China
2. How many people in your group
3. Which cities would you like to visit
4. Which hotel do you prefer, 3,4 or 5 star
5. How long will you stay in China
You could send an e-mail to us, our e-mail address is service@chinahighlights.com
You also could realize some classic tour packages on our website, please click: http://www.chinahighlights.com/tour/top-china-tours/ Lussie Lu Replied on 02:38 AM Jun. 26 2013