Pig - Chinese Zodiac Animal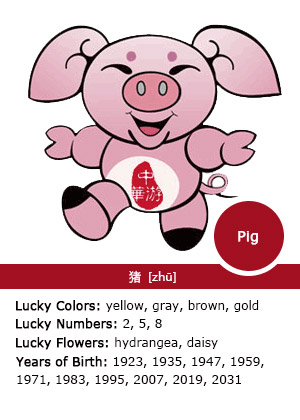 Lucky Colors: yellow, gray, brown, gold
Lucky Numbers: 2, 5, 8
Lucky Flowers: hydrangea, daisy
Year of Birth: 1923, 1935, 1947, 1959, 1971, 1983, 1995, 2007, 2019, 2031
Personality
The pig is the last animal sign on the Chinese zodiac. They have such traits as diligence, sympathy, and generosity. With great concentration, once set a goal, they will devote all energy to achieve the goal. Though pigs rarely seek help from others, they will not refuse to give a hand to others. They never suspect someone else, so they are easily fooled by others. If one wants to have a long-term relationship with pigs, one should be honest with them and have a knowledge of their inner thoughts.
General speaking, pigs are relatively calm when facing trouble. No matter how difficult the problems are they encounter, they can handle things properly with carefulness. They have a great sense of responsibility to finish what they are engaged in.
Health
Pigs have a good health all through life. Frequent dinner parties and social activities are inevitable for pigs, so they should avoid excessive eating, drinking and smoking, which can cause sickness. In addition to adopting a balanced diet, proper exercise is badly needed for pigs to keep fit. As pigs have a free mind on everything, they rarely encounter stress trouble. Faced with overload work, they know how to relax themselves from tiredness. Sleep is a usual way for them to refresh themselves.
Career
Pigs enjoy great fortune in their careers. Their work and cause develop in a relative smooth way. When encountering trouble and difficulties, they tend to receive help from others. With a great sense of responsibility, they are not afraid to try to do what they are interested in. They have rich creativity and imagination. They can take up such careers as entertainer, caterer, doctor, veterinarian, or interior decorator. Besides, some promising careers include transportation, entertainment, retail or hospitality. In social relationships, they should build up their own interpersonal network to help them achieve career success.
Relationships
Pigs enjoy good social relationships. With traits of sincerity and integrity, they are popular friends. They are simply-minded and not preoccupied with minor things concerning other people. They value friendship highly and never betray friends unless in special circumstances.
In love relationships pigs are affectionate and sexual. They are faithful to their partners. Once they find the right partner, they're typically committed for the long-term. However, due to lack of proper communicating skills, sometimes they can not handle problems in relationships.
Compatibility
Best with: Goat or Rabbit
Worst with: Snake, Pig or Monkey
2014 Predictions for the Pig
Love: Good opportunities are rare for seekers of love. That should be taken into consideration by single Pigs this year. The most likely outcome is that nothing in the way of an opportunity will arise. However, should something do so, then that opportunity is likely to be excellent and lasting. Don't expect too much but, should an opportunity come and seem auspicious, seize upon it. Meanwhile, couples should avoid potentially troublesome social occasions. These are likely to bring disharmony into the relationship.
Career: For pigs, this is a year to be opportunistic. A highly auspicious year overall, work should go smoothly and partnerships will prove fruitful. Work hard. Any difficulties you encounter are likely to be temporary, so be patient and work, work, work. It's likely to be an uneventful year for love, so you'll have plenty of time on your hands for that.
Wealth: In considering your opportunities for making a profit beyond hard work, there will be chances, but the risks accompanying them may be too great for speculation to be advisable. Threats also come from outside upon those things you already have, so keep your possessions safe and consider the security of your home. Make sure this year is backed up with a solid financial plan overall. As already stated, this is a good year to capitalize on hard work and speculation within your career, but other opportunities should not be pursued.
Health: Neither an auspicious nor an inauspicious year, the best advice is to look after yourself generally. Keep your mind and mood steady this year, these are vulnerable areas and, if this is maintained, then the body should follow in stable good health. Should you become too emotional this year, it may lead to physical ailments. In particular, avoid situations that make you angry and, should some frustration arise, remain calm. Children should be guarded against hot liquids this year. Be particularly careful when they are partaking of soup or hot drinks, and keep them away from sources of boiling water.
General Outlook: A good year overall which should see steady improvements in most areas given auspicious stars. You will find the people around you to be generally positive, helpful and beneficial. Do not hesitate to grasp career opportunities this year. However, please bear in mind throughout: "Joy at its height engenders sorrow." Do not get carried away, seeing opportunities as greater than they are, or overspending with success in the over-sure expectation of more to come. Cautiously take your good fortune where you find it rather than get too excited at any success, and you will capitalise upon the year overall.
The Best Travel Destinations for the Pig in 2014
The east for Pigs this year. However, not the south. Indeed, if Pigs want to save their bacon, the inauspicious nature of the south is so severe that even south east is out. Truffles may be sought in Shanghai, Nanjing, Hangzhou, Suzhou, Wuxi and Ningbo, for example, while Guangzhou, Guilin, Nanning, Shanghai, Nanjing, Xiamen, Taipei, Hong Kong, Macao, Hangzhou, Suzhou, Sichuan, Chongqing, Guizhou, Yunnan, Guangxi and Tibet are potential sausage factories. Head east – but not south east – and stay there is the best advice for Pigs.
Famous People Who Belong to Pig
Oliver Cromwell (1599-1658), the leader of the British bourgeois revolution in the 17th century, a statesman and militarist.
Henry Ford, an American automotive engineer and entrepreneur, the founder of Ford Motor Company.
Thomas Mann, a German novelist and essayist.
Ernest Hemingway, an American novelist.
Hillary Clinton, the First Lady of the United States.
Lao She (1899-1966), an excellent writer in modern Chinese times.
The City That Represent Pig - Chengdu
The relaxed and self-indulgent image of the pig is well-suited to Chengdu. This is a city whose history has seen it the recipient of the good things in life more than most. Relatively free of conflict, situated at the heart of the productive farmland of Sichuan province known as the 'Heavenly land of plenty', Chengdu is a city of calm plenty, the perfect place to sit back and enjoy what's on offer.
That is not to say that modern Chengdu is passive. In the modern day, it plays a significant role in the rise of China as a center of science and technology, a hub for commerce, trade, finance, transportation and communication. In China's vast mid-west, Chengdu plays a highly significant role.
Chengdu is the home of the panda, with two major breeding bases located here — Bifengxia Panda Base, (碧峰峡大熊猫基地), and Chengdu Panda Base (成都大熊猫基地). Indeed, the city is far more famous for this spectacular and unique black-and-white resident than for its association with pigs, but the pigs don't mind. They don't want all the attention. They're content dining on what's on offer here in the varied Chengdu cuisine —Mapo Tofu, (stewed bean curd with minced pork in pepper sauce); Kung Pao Chicken, (spicy diced chicken with peanuts); and eggplant with garlic sauce. Let the tourists coo over the pandas. While they're distracted, all the more food for the pigs. Read more on Chengdu
Related Reading
Send a Chinese Zodiac Birthday Card to Your "Pig" Friend