Rabbit - Chinese Zodiac Animal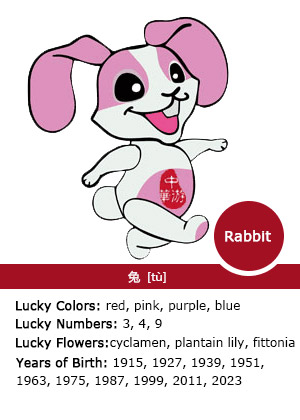 Lucky Colors: red, pink, purple, blue
Lucky Numbers: 3, 4, 9
Lucky Flowers: cyclamen, plantain lily, fittonia
Year of Birth: 1915, 1927, 1939, 1951, 1963, 1975, 1987, 1999, 2011, 2023
Personality
The rabbit ranks fourth in the Chinese zodiac. Rabbits always tends to be gentle and quiet, elegant and alert, kind and patient, and particularly full of responsibility. Generally speaking, people who belong to the rabbit zodiac sign have likable characters.
Gentlemen who belong to the rabbit zodiac sign always treat people politely with a gentle smile, which makes people feel that they are credible and sincere. When meeting trouble, they can handle it in an orderly way; when encountering tough difficulties they are never discouraged, but are persistent to seek solutions. So they eventually achieve enviable success. Ladies belonging to the rabbit zodiac sign, apart from a pretty and demure appearance, have a pure heart. They always have good faithfulness toward the people around them. With a pair of dexterous hands, they have a gift for calligraphy and painting, as well as tailoring and cooking. Owning an elegant temperament, they are able to manage everything to people's wishes.
Rabbits are reluctant to reveal their minds to others and have a tendency to escape reality. They are too cautious and conservative, which means they miss good opportunities.
Health
Overall rabbits have an average health condition. In winter to late spring, when in relatively poor health, they should pay more attention to doing sports to prevent colds and other infectious diseases, and develop a healthy daily diet. In dry seasons, they should drink more water to keep fit, and do some maintenance for the skin to prevent skin problems. Rabbits are advised to do some indoor exercise to cope with stress and tension.
Career
With a good-hearted trait, rabbits are loved by others; with intellectual scholarship and learnt knowledge, rabbits can enjoy a good career as well as wealth. But rabbits should bear in mind that they must never give up half way when striving for something.
People belonging to rabbit zodiac may pursue such careers as cultivation, breeding, education, religion, health care, medicine, culture, police work, judiciary, and politics.
Relationships
Rabbits have a good social relationship. They are popular with others for they are gentle and considerate. With a good sense of humor, they can make a dispute into a good discussion and make enemies into friends. Possessing a gentle temperament, they are hospitable, considerate, and ready to help others. With an excess of universal love and charity, they may have conflicts of interest. With a lack of resolution, they can not deal with some sentimental troubles.
Compatibility
Best with: Goat, Dog or Pig
Worst with: Rat, Ox, Dragon, Rooster or Horse.
Predictions for Rabbit in 2014
Love: The affections of people who belong to the Rabbit sign will mostly develop in a positive way. During the year, they may have many opportunities to get married while single people may find their loved ones. Married people should be aware of trouble from the outside world and should keep away from exotic places.
Career: People who belong to the Rabbit sign may confront a bottleneck in their career this year. Therefore, they should pay attention to building harmonious interpersonal relationships, especially with the executives or superior staff. It is also possible for them to come across unfavorable situations. They should be more patient as the situation may turn out to be favorable. On the other hand, they shouldn't do things in a foolhardy manner, being headstrong without discipline, only to find that things are made worse.
Fortune: People who belong to the Rabbit sign may earn money with numerous fluctuations, leading to a limited amount of total revenue. Therefore, more stable ways of making money are suggested this year. Unconventional or speculate ways of making money should be avoided. Although their fortune is unstable, they may get some help from a predestined friend in 2014.
Health: People who belong to the Rabbit sign should pay more attention to preventing themselves from extrinsic damage and should keep away from sharp objects as they tend to injure themselves. People who drive or work outdoors should attach importance to security measures, especially in August of the Chinese lunar calendar.
Best Travel Destinations for Rabbit in 2014
If you're looking for a place to burrow in 2014, the stars should guide you northwesterly, or down towards the south.
The Silk Road
Destinations along the ancient Silk Road of China are fascinating for their culture, and amongst the best destinations for the traveling Rabbit this year. For further information, check out the relevant destinations recommended for Tigers, above. These will be amongst your traveling companions for the year, so play nice. You can also consider destinations in Xinjiang and Shaanxi provinces.
If you're a little anxious about entering the Tigers' den, you could always look at our Silk Road Adventure Tours instead of scrolling up the page.
Guangzhou
Located south of the center of Guangdong province, Guangzhou borders upon the famed Pearl River Deltaarea to its north. Known as the 'Southern Gate Into China', Guangzhou has a long history centered upon its excellent port which has made it a magnet for traders from far afield for centuries. Indeed, as such, it has the longest history in China and is thus unique. Add to this that it found itself on the southernmost reaches of theSilk Road, and you will see that Guangzhou is of considerable cultural, historical and political significance throughout China's long past, so much so that its being deemed 'the trading metropolis with a thousand years of history' may be something of an understatement.
That tradition is carried through to the modern day, seeing Guangzhou an explosion of life as a busy, vibrant city in touch with the wider world, an excellent place to find the New China in all its thrusting excitement. Here you can find much from home difficult to find elsewhere if you are seeking out food, books and other items as well as any souvenirs and local produce from China that you are interested in. If going to Guangzhou, be prepared to spend and spend. Its seductions are such you will not be able to resist.
Shenzhen
Shenzhen is so large, so busy, that it is almost impossible to see how it could be that it was so small and insignificant only a few decades ago. It was here that Deng Xiaoping delivered his perhaps most famous speech containing his most famous remark – 'It doesn't matter if it's a black cat or a white cat as long as it catches the mice' – in preparation for the reforms that have brought about the dramatic changes the rising China has seen in its adopting free-market economics.
Deng chose his location well. Situated at the entrance to Hong Kong, an obvious connection point between the South China Sea and thence to the Atlantic and the Pacific, Shenzhen was ripe for development as a central trading hub for the rising economy. The city that stands there today from the small town there previously is testimony to Deng's skill in his choosing. With the largest number of entry- and exit-ports in all China, the visitor can get a taste of the vibrancy of the nation as a whole in this one city perhaps more than anywhere else. The lights here never go out, the climate is (almost) invariably clement, (though you may want to be wary in the typhoon season), and here you can shop and gaze in awe at the high-rise buildings that have taken the place of what, so recently, was farmland. In particular, visit Happy Valley, theOverseas Chinese quarter at Shenzhen's eastern end and, for pure relaxation, the beaches of Dameisha and Xiaomeisha.
Xiamen
Such are the attractions of Xiamen that it has been graced with the name of 'The International Garden City'. The name gives you an idea of what you may find in this pretty coastal resort in southeastern China, bordering upon the Straits of Taiwan, retaining its New Chinese pragmatism in being one of the four earliest of its special economic zones. That pragmatism is secondary for the casual visitor, however, and Xiamen remains one of China's top-ten tourist destination cities.
There's much here to explore with nearby islands, rock formations and caves, mountainous scenery, temples and pavilions from a bygone age, well-tended gardens and pristine forest. Favorite amongst the scenic spots are Gulangyu Island and Wanshi Mountain, the mountain at Sanming city, the historical sites aroundQuanzhou, the culture and customs of the womenfolk of Hui'an, Anxi's tea culture, the local traditions of theMazu people, the earthworks of Nanjing county and scenic Wuyi mountain mean you have so much here to be getting one with you may remain beneath auspicious stars even until the year ends and you can move on again.
Places to avoid
Inner Mongolia? Forget it. Beijing and Tianjin? Don't even think about it. These are no place for rabbits this year.
Famous People Who Belong to Rabbit
Liu Xun, Emperor Xuan of Han (born in 90 BC).
Qianlong (1711-1799), the sixth emperor of the Qing Dynasty.
Einstein, an American physicist, thinker and philosopher.
David Beckham, a football player from England.
Michael Jordan, a famous basketball player for the NBA in America.
Hangzhou, the Chinese City Represent Rabbit
In its lively, sweet delicacy, the rabbit is perfectly matched with the city of Hangzhou. Though one of theEight Great Ancient Capitals of China, now the capital of Zhejiang province, its pragmatism has never overshadowed the beauty of its location which has had it deemed 'Heaven on Earth' in the Chinese mind, and which led Marco Polo to describe it as '... the finest and most splendid city in the world'.
The main reason for all this praise is West Lake. It is, perhaps, the most famous lake in all China, not only for its own intrinsic beauty, but also for the history that surrounds and complements it in ancient buildings and revered locations. It is in Man's harmony with nature that West Lake is unique and reigns supreme. Of particular note are the Temple of the Soul's Retreat, (灵隐寺); the Tomb of General Yue Fei, (岳飞墓); thePagoda of Six Harmonies, (六和塔); Flying Peak, (飞来峰); Three Pools Mirroring the Moon, (三潭印月); andDreaming of the Tiger Spring (虎跑泉).
Related Links
Send a Chinese Zodiac Birthday Card to Your "Rabbit" Friend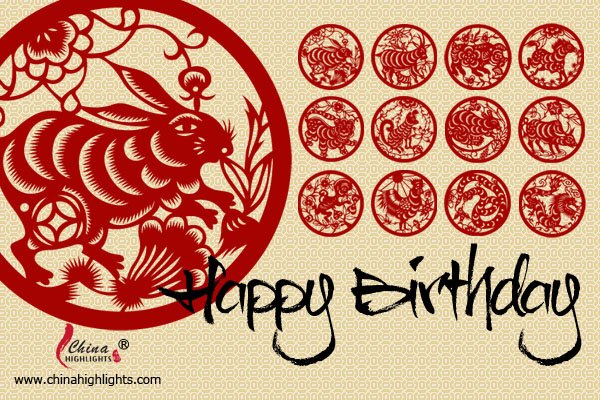 More Chinese Zodiac Birthday Cards