Rabbit - Chinese Zodiac Animal
Personality
The rabbit ranks fourth in the Chinese zodiac. Rabbits always tends to be gentle and quiet, elegant and alert, kind and patient, and particularly full of responsibility. Generally speaking, people who belong to the rabbit zodiac sign have likable characters.
Gentlemen who belong to the rabbit zodiac sign always treat people politely with a gentle smile, which makes people feel that they are credible and sincere. When meeting trouble, they can handle it in an orderly way; when encountering tough difficulties they are never discouraged, but are persistent to seek solutions. So they eventually achieve enviable success. Ladies belonging to the rabbit zodiac sign, apart from a pretty and demure appearance, have a pure heart. They always have good faithfulness toward the people around them. With a pair of dexterous hands, they have a gift for calligraphy and painting, as well as tailoring and cooking. Owning an elegant temperament, they are able to manage everything to people's wishes.
Rabbits are reluctant to reveal their minds to others and have a tendency to escape reality. They are too cautious and conservative, which means they miss good opportunities.
Health
Overall rabbits have an average health condition. In winter to late spring, when in relatively poor health, they should pay more attention to doing sports to prevent colds and other infectious diseases, and develop a healthy daily diet. In dry seasons, they should drink more water to keep fit, and do some maintenance for the skin to prevent skin problems. Rabbits are advised to do some indoor exercise to cope with stress and tension.
Career
With a good-hearted trait, rabbits are loved by others; with intellectual scholarship and learnt knowledge, rabbits can enjoy a good career as well as wealth. But rabbits should bear in mind that they must never give up half way when striving for something.
People belonging to rabbit zodiac may pursue such careers as cultivation, breeding, education, religion, health care, medicine, culture, police work, judiciary, and politics.
Relationships
Rabbits have a good social relationship. They are popular with others for they are gentle and considerate. With a good sense of humor, they can make a dispute into a good discussion and make enemies into friends. Possessing a gentle temperament, they are hospitable, considerate, and ready to help others. With an excess of universal love and charity, they may have conflicts of interest. With a lack of resolution, they can not deal with some sentimental troubles.
Compatibility
Best with: Goat, Dog or Pig
Worst with: Rat, Ox, Dragon, Rooster or Horse.
Send a Chinese Zodiac Birthday Card to Your "Rabbit" Friend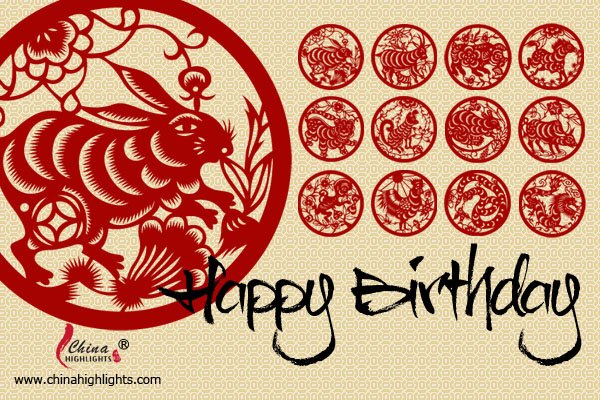 More Chinese Zodiac Birthday Cards
Related Links
Planning a trip? Ask us here

800-2682918 (USA & CA)

86-773-2831999

1800-764678 (AU)

0800-0327753 (UK)

800-8793-007 (China)
Q:
David
Asked on 8:07 PM Aug. 11 2012
Reply
I''m looking to get a gift for a friend who is born in this year.Could you please recommend me a particular item such as a gemstone?
Dear David,
The luck gemstone for a person born in Rabbit year is crystal, you could buy some decoration make by crystal as a birthday gift to your friend.
Nancy
Nancy Deng Replied on 07:35 AM Aug. 13 2012
Q:
Jezreel
Asked on 4:53 PM Feb. 10 2012
Reply
is the rabbits season winter?
Yes, they have thick feather and warm holes. Iris Zhong Replied on 02:54 AM Feb. 13 2012